Haiti Earthquake Update (1/20/2010)
Posted on:

20 January 2010

By:

Bryan Schaaf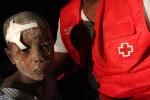 The suffering caused by the earthquake is difficult to fully comprehend.  Haitian authorities report that at least 72,000 bodies have been recovered.  Some predict the final death toll will be as high as 150,000 in Port au Prince alone.  Up to 1.5 million people may be homeless. ICRC reports approximately 55,000 people in 40 informal temporary camps throughout the city.  As you read this, many people are going back to the countryside.  While most of the damage took place in the southern portion of Haiti, the whole country will be affected. The Government has declared a period of national mourning until February 17.  We all grieve for what Haiti has lost.

I have mixed feelings about the media coverage of the earthquake.  On one hand, the intense visuals have conveyed to the international community the magnitude of this emergency.  It has generated interest, attention, and donations.  But then again, the Gonaives floods (part one and two) did the same although the interest and attention waned.  There will always be other emergencies.  Given Haiti's (re)integration into the Latin America and Caribbean region, the backing of the United States and other partner governments as well as key regional organizations such as the Caribbean Community (CARICOM) and the Organization of American States (OAS), I do believe this time will be different.
Some of the media has been sensationalistic – what is it about looting that fascinates the media so? Granted this has been a major problem, as many shops have not opened for fear of it.  But would we not also loot if we were hungry enough?  Josette Sheeran, head of the UN World Food Programme (WFP) often says that the difference between stability and chaos in any country around the world is five days without food.  It is difficult to be rational when starving, and we are seeing increasing hunger in an already hungry country.
However, I was pleased that the coverage repeatedly emphasized the importance of sending cash contributions instead of canned goods, clothes, and other items that do no good in emergencies. I definitely noticed this more than in previous emergencies. Maybe we've learned our lessons from the Tsunami?  I hope so.  More information about that available at the Center for International Disaster Information.
MINUSTAH reports that the overall security situation in Port-au-Prince remains stable, with limited, localized violence and looting. It has assessed that most security incidents have been reported from areas that were categorized as high risk prior to the earthquake.  The situation is admittedly fragile.  Several thousand prisoners, including gang leaders who orchestrated the kidnapping crisis that peaked in 2006 have escaped from prison onto the streets. They have the potential to re-establish themselves in their shaken, broken city.  Military escorts are being provided for the delivery of humanitarian assistance.
Given the lack of (Haitian) policing on the streets, the burden for security disproportionately falls upon MINUSTAH despite the heavy losses they have taken.  At least now they have the American military to back them up.  2,000 U.S. soldiers have been deployed to Haiti and this figure could increase to as high as 10,000. Further,  UN Secretary General Ban Ki Moon asked the Security Council to raise the number of UN police officers in the Mission by 1500 to a total of 3,711, and the number of troops by 2000 to a total of 8,940, for a period of six months
This is both a Haitian and an international tragedy.  It was the worst calamity to strike the United Nations ever.  646 MINUSTAH personnel are unaccounted for including 603 national staff, 23 international civilians, 9 police, 7 military and 4 UN volunteers.   People from Argentina, Austria, Beligum, Brazil, Britan, Canada, Chile, China, Colombia, Costa Rica, the Dominican Republic, El Salvador, France, Germany, Italy, Jordan, Kenya, Mexico, Netherlands, Peru, Poland, Spain, Tunisia, the United States, Uruguay, and the European Union have died.
Assessment teams are finally making it outside of Port au Prince.  For example, the ICRC managed to reach the city of Léogane, 60 kilometers west of Port-au-Prince.  Leogane is the worst affected city west of Port au Prince, having lost up to ninety percent of its buildings.  ICRC is stepping up medical assistance in the area.  In addition, ICRC engineers assessed the damage sustained by the water tower that serves the entire population of Cité-Soleil. The tower is said to be heavily damaged and will require extensive repairs.  ICRC is building latrines in Delmas and providing water for 7,500 in tent cities in three other parts of the capital.  The ICRC is also working with the Haitian Red Cross to reunite separated families.  So far, more than 23,000 names have been registered on the ICRC website set up to help people who have lost contact with family members. More than 400 Red Cross Red Crescent aid workers – including 180 from Caribbean and Central and South American National Red Cross Societies – have arrived in Port-au-Prince, with dozens more en route.
The earthquake affected the Dominican Republic as well.  Hard numbers are difficult to come by, but it is likely that several thousand Haitians are seeking care in the border region of the Dominican Republic.  Health care facilities are said to be overwhelmed.  The Dominican Red Cross and the Universidad Autónoma de Santo Domingo are setting up a field hospital in Jimani to provide additional access to care.  The Dominican Red Cross is reporting a shortage of specialized medical supplies, equipment, and physicians.
During this emergency, Haiti's lack of physical infrastructure cost lives.  Haiti's substandard port had been damaged beyond use, although the WFP now thinks they can eventually repair it.  That left the Toussaint Louverture Airport in Port au Prince, a rather small airport with a rather small runway not at all sufficient to bring in a huge number of planes with humanitarian cargo.
Haiti's lack of a good, secondary airport also proved to be a liability.  Haiti's road network has also disrupted in numerous locations.  The road from the Jimani crossing in the Dominican Republic to Port au Prince was left intact, but heavy use has meant that trips take up to eighteen hours.   The American military is now opening two new airfields suitable for C-17 flights, one of them in Jacmel and the other in the Dominican Republic.  Infrastructure is essential both for building a strong economy and for emergency preparedness and response.
Human infrastructure is important too.  Because of the bottlenecks, humanitarian workers and supplies that were not already in country were slow to arrive.  As usual, the communities responded first.  The Haitian Red Cross and non-governmental organizations (NGOs) were on the front lines.  As U.N. Secretary General Ban Ki Moon noted during his recent visit, their swift assistance saved lives, particularly in providing medical services.  Some NGOs in other regions such as Partners in Health and Project Medishare rapidly deployed teams to Port au Prince to provide emergency health services.
It also strikes me how over-populated Port au Prince has become.  What is the antidote?  Perhaps most importantly would be the opportunity for Haitians in the countryside to be able to have productive livelihoods in the agricultural sector, an increasingly hard thing to do when deforestation and erosion continue unabated.  Haiti must also develop its secondary cities of Cap Haitian and Jacmel which have the potential to be economic and logistical hubs in their regions.  Port au Prince is devastated – but Haiti is bigger than Port au Prince.  The infrastucture of other cities must also be improved.
The money is going to start pouring in for recovery – to the international organizations, to the NGOs, and to the government itself.  If having many NGOs were all it took to create development, Haiti would be a very prosperous country indeed.  There has to be more engagement of the Haitian government and an emphasis on building its capacity to plan, to budget, and to lead in a transparent and accountable way.  Easier said than done I know, but it is essential for long term progress.  Also, I hope that funds will be used to cultivate Haitian industry.  For example, Haiti is in need of a well developed national construction industry.  It will take years just to rebuild what was lost - but hopefully it can be built back better in such a way that will withstand future quakes. 
I was watching an interview of Paul Farmer by a CNN correspondent.  The correspondent asked Paul whether Haiti had a government or not.  Haiti does indeed have a government – a fragile government that has taken heavy losses but it still has one.  It does not have a high profile but it is trying to play an active role.  For example, the Haitian Ministry of Health (MOH), traditionally one of the better ones, has created a National Health Commission to coordinate the local and international response. The MOH has defined 3 levels of healthcare: mobile health centers, fixed health centers (minor health problems), and finally hospitals with surgical capacities.
In addition, the Government is prioritizing the establishment of food and cash-for-work programs, particularly to remove debris from roads. The Government is advising people to leave the city if they have friends or family in non-affected areas. In order to facilitate, it provided cash and fuel to a company to provide free transport. Reports have been received that thousands of displaced are leaving Port-au-Prince for rural areas.
In addition to the government, the Office for the Coordination of Humanitarian Affairs (OCHA) is also coordinating assistance.  It has deployed a 14-member United Nations Disaster Assessment and Coordination team to promote coordination in the sectors of shelter, sanitation, water, food, medical care, etc. A very quick summary of these sectors, most of which comes directly from OCHA updates, is listed below:
Food: WFP started food distributions within 24 hours of the earthquake.  Within 15 days, WFP will be helping one million people – and two million another 15 days after that.  WFP is establishing four distribution hubs for over 100 points of food distribution. The 100 distribution points are in locations with concentrations of affected populations.
Health:  The World Health Organization (WHO) is focusing on the rescue of survivors and emergency treatment of the wounded. The Government announced that efforts will focus on increasing basic medical assistance to affected populations on-site; strengthening capacity of the remaining primary care facilities which are still able to function through provision of equipment, supplies and medical staff; and strengthening capacity of the hospital and surgical facilities. Safety assessment by structural engineers of all medical facilities in affected areas is planned for the coming days.  Seven field hospitals, necessary given the damage that the health system (such as it was) had sustained, have arrived and three are fully operational.
Water: The U.N. Children's Fund (UNICEF) is coordinating water and sanitation activities.  More than 60,000 people have received clean-water supplies. Initially, $300K of bottled water was purchased and distributed. A transition to tankered water and other sources of potable water is currently taking place.  ICRC started a water trucking program in the Delmas neighborhood, which is now providing clean water for around 1,000 people living in a makeshift camp. Latrines have also been built in the same neighborhood.
Shelter: The International Organization for Migration (IOM) has distributed tarpaulins and plastic sheeting for 12,000 victims in priority locations. IOM reports that a decision was made today with the government to organize a temporary settlement for 100,000 people. The overall aim is to cover the needs for 200,000. The Government has emphasized the need to involve municipal authorities fully and has proposed that local civil society personnel and existing contingency plans be fully utilized. The Department of Civil Protection will be the key counterpart for assessments.
On January 25, a Donors Conference will be held in Montreal to discuss recovery and reconstruction. José Miguel Insulza, the OAS Secretary General, asked the international community to continue to provide help and to organize itself, plan and distribute aid under a single effort of coordination.  The Global Summit for Haiti convened by the President of the Dominican Republic was an effort to develop mechanisms for multi-national cooperation for supporting Haiti throughout the long-term recovery process. Dominican President Leonel Fernandez proposed the creation of a $2 billion-a-year fund to finance Haiti's recovery over five years.  Preval and Fernandez have a good working relationship and it shows.
Jamaica has been designated the center through which CARICOM will provide relief to Haiti. CARICOM will focus on providing medicine and medical personnel for Haiti.  CARICOM is establishing a military contingent with skills sets to establish temporary medical facilities, medical posts, and temporary housing. Additionally, electricity companies in the region are exploring the possibility of assisting in the restoration of power. Meantime, the Jamaica Defence Force (JDF) has established a base camp in Haiti from which all CARICOM donations and aid staff are being dispatched. Approximately US$5 million has been released to support the regional body's activities. US$1 million will be provided by Australia and Trinidad and Tobago, and the Caribbean Development Bank plans to contribute as well.
The president of the Inter-American Development Bank, Luis Alberto Moreno, visited Haiti on Monday.  The IDB's Haiti portfolio currently holds some $330 million in undisbursed funds, of which $90 million could be quickly redirected to high-priority civil works and reconstruction projects.  Its sustained support will be very important for recovery.
Local banks have announced their plans to open 30 to 40 distribution points within the week for the population to access their bank accounts.  Telecommunications are steadily improving.  These are small but important steps toward recovery.  A major question going forward will be how to tap the expertise and resources of the Haitian Diaspora.  They can bring capacity and management skills which are needed now more than ever - if they are welcomed and supported.
Haitians are survivors but they face a long and very difficult recovery.  Thank you to all who have demonstrated solidarity with Haiti.  In particular, we appreciate the efforts of everyone who has held fundraisers, raised awareness, or just given moral support to Haitian counterparts.  Despite everything, there is still hope for Haiti. We will make it through this and Haiti will recover.
Bryan
*Photo Credit: Matt Marek (American Red Cross)