State: An Exhibit By Paolo Woods
Posted on:

24 September 2013

By:

Bryan Schaaf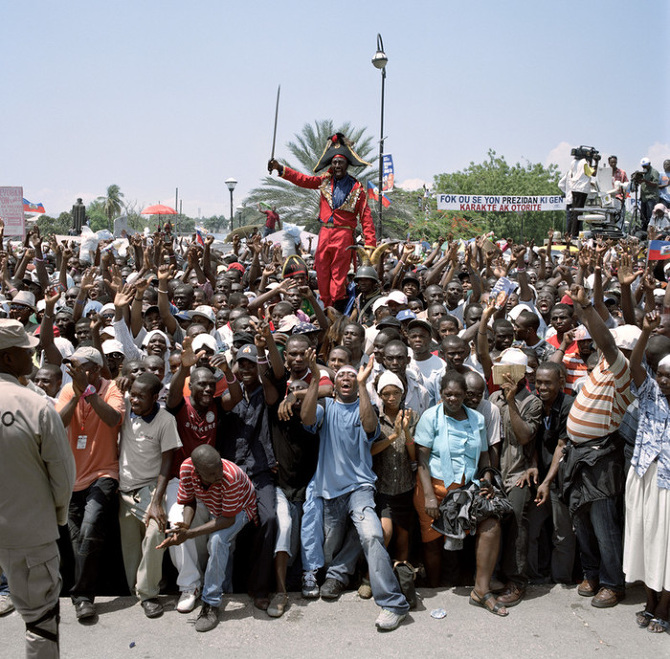 Below is a New York Times article by David Gonzales concerning a photo exhibit and book by Paolo Woods entitled "State" – the idea of it vs. the reality, how/if it is a part of everyday life, and how society is organized when the capacity of the state to govern is minimal.  Based out of Les Cayes, Woods explored these questions through his journalism and photography.  Haiti has often been a victim of lazy journalism and sensational photography that over-emphasizes the bad without seeking the good.  Woods consistenly sees the good, the positive, and the hopeful, making his exhibit and book worth a look.
New York Times (Lens)
By DAVID GONZALEZ
Growing up in Italy as the child of a Dutch mother and a Canadian father, Paolo Woods was fascinated by the notion of the state. How does where you live, and how you live, shape individual and national identity? To find out, he moved to a country most often described as anything but a state: Haiti. "When you see Haiti in the press, it is almost always described as a failed state," he said. "How does a failed state live? Who takes the place of the state? How is society organized and how does it reorganize on the corpse of a failed state?" Mr. Woods, 43, has been exploring those questions since late 2010, based out of Les Cayes in southern Haiti and traveling with the journalist Arnaud Robert for a series of stories dealing with everything from religion to the country's oligarchs. The result of this collaboration is "State," an imposing exhibition that just opened at Photoville in New York and at the Musée de l'Élysée in Lausanne, Switzerland. An accompanying book was published by the museum and Éditions Photosynthèses.
Mr. Woods's images do not rely on the jarring visual tropes of misery, grime and violence employed by the hordes of photojournalists who have descended on Haiti since the fall of Jean-Claude Duvalier's regime in 1986. Instead, he has found a series of quiet, even ordinary, scenes that add up to a layered portrait of a complicated place. Would-be saviors and so-called experts seem lost and spouting nonsense, while seen-it-all Haitians note the absurdities playing out before them. "Photojournalists tend to divide the world into good and bad," Mr. Woods said by phone from Lausanne last week. "You constantly find those two elements that we so clearly think define our vision of the world. But things are a lot more mixed. There are not just bad guys and good guys. That is what is interesting to me, to get into the nuances and make images that are not answers, but raise more questions." The idea to examine the concept of the state came to him after a series of projects in places like Iran where he was limited to two-week stays. Rather than be at the mercy of a short-term visa, he wanted to dig in somewhere. He considered Somalia, but dismissed it as too dangerous. Haiti, which had been left reeling after the 2010 earthquake, was his next choice. Besides, he had been there in the early 1990s after graduating high school."All my other friends went to Amsterdam to smoke joints," he said. "I went to Haiti on vacation."
His choice, he acknowledges, was hardly a good one from the perspective of news. Photo editors said they had had their fill of images depicting the ravages of the earthquake and the cholera epidemic that followed. But this forced him to stay away from the typical photo stories that had come out of the island as he and Mr. Robert worked on pieces for a variety of European and American publications. And rather than live in the capital, he moved to Les Cayes to avoid the usual tug of the news cycle. He said that approach allowed him to delve into several topics of great importance that had been overlooked. For example, while the country's economic elites have been denounced as corrupt or as profiteers, Mr. Woods and Mr. Robert spent time with them to gain an understanding of how they made their money and whether they were forces for change. The resulting story provoked a strong reaction on the island. "I have enormous respect for someone who wants to be a businessman in Haiti," Mr. Woods said. "They can do what so many others did and move to Miami and live a comfortable life. But being an entrepreneur in Haiti is not easy. You have to love your country enormously."
If anything, he said, one of the biggest challenges to the nation's economy has come from the very sector that is supposedly there to help: the nongovernmental organizations that have flooded the island over the decades. Apart from inflating prices for cars, food and lodging, he said, these groups have hired away educated locals to work on projects that collapse once the financing ends. "I am convinced the NGOs do not do development," Mr. Woods said. "If you go through Haiti, it is littered with the projects of NGOs — mills, canals, thousands of different projects that were built and inaugurated with beautiful pictures that ended up in glossy brochures and that no longer exist. They come to Haiti without a knowledge of the place, and when they leave, everything they constructed falls because they did not create a structure to keep it up."
A similar lack of understanding, he said, can be seen in the evangelical missionaries that have targeted Voodoo believers as souls in need of salvation from the grip of Satan. He calls them "misery tourists" who are brought to villages by various missionary groups and told to pray over the people they encounter. In one case, a Haitian man who took an American woman to pray over his father admitted to Mr. Woods that he did this every time missionaries brought in a group. The father, Mr. Woods said, only wanted to be left alone, but the son described the near-daily encounters as "our work." Another time, he was left aghast by an American preacher who proclaimed that anyone who accepted Jesus did not have to worry about falling victim to the cholera epidemic (which, according to a recent report, was introduced to the country by United Nations peacekeepers). "There is such an amount of psychological violence in this," Mr. Woods said. "They have this neocolonialist mentality of freeing people from evil. It creates an enormous amount of problems because these missionaries have schools and money, and make people dependent." And yet, for every outrage, there were signs of hope and faith for the future. In an illegal development called Canaan, shacks sprang up, unpaved paths were given street names and lots were left empty for a town hall and a police precinct. "It's such an unbelievable place," Mr. Woods said. "This is a completely illegal settlement, yet they desire the presence of elements that represent the state. The whole idea of anarchy and that they are people who do not want a functioning government is completely contradicted by that."
One reason he was able to get closer to the country's real situation, he said, was that he knew his work was being seen not just by Western audiences but by his neighbors, too. Every story he published in the United States or Europe was provided free to the Haitian newspaper Le Nouvelliste. The local reaction was always stronger, he said, but the knowledge that every word and picture would be scrutinized and debated kept him honest. Haiti can be what people look for. In his case, Mr. Woods found a home — he will return in October to Les Cayes, where he lives with his partner and son. As he has learned, it is hardly a shallow place. Nor is it a failure.  "Haiti's basic identity is that it became a state, the first black republic," he said. "Through every standard we look, it is a failed state. But a failed state means the idea of the state has failed, and that is not the case. The realization has had an enormous amount of trouble, but people keep an enormous amount of faith. Everything that deals with how the state runs concerns Haitians."