Valentine For Bourik
Posted on:

14 February 2008

By:

Bryan Schaaf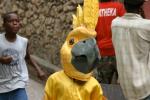 Just out of the starting gate with only one interview under his saddle and already Bourik On Street BOS is receiving fan mail. It seems a little bird has fallen for this stubborn beast. Here is the Valentine Bourik received this February 14th:
Ti Sonet
Chak jou e toujou, Koukou chita nan pye bwa.
Li pa pale e manje anyen, jis gade toupatou.
Syèl la anwo, fè yo anfas, bèt yo anba.
(Lòt zwazo ri e di, "Koukou sa a fou!")
Zwazo yo, yo te korèk: Koukou vreman loke.
Paske li te tonbe damou ak yon bèt!
Lè Bourik pase anba, ke Koukou gonfle.
Jou lè Koukou pa wè l, li chagren, net.
Men ki moun ka akize Koukou pou anvi li?
Se pat selman kò fò Bourik, ni selilè li.
No, Koukou te we bon kè li - li vreman janti.
Donk, pwochen fwa Bourik pase, Koukou tonbe sou li.
E Kijan istwa sa a fini?
Avek lanmou, lajwa, e anpil ri.