Humanitarian OpenStreetMap Team Deploys to Haiti
Posted on:

21 March 2010

By:

Bryan Schaaf

A Humanitarian OpenStreetMap (HOT) Team was deployed to Port au Prince last night with all the equipment needed to train earthquake responders on OpenStreetMap. Essentially, OpenStreetMap is a free, editable map of the whole world.  Why does this matter to Haiti? OpenStreetMap, being available to everyone without cost, provides a mechanism for humanitarian responders and development actors to rapidly share geographic information.  The HOT team will spend the next several weeks in Port au Prince helping to bring this about. 
Members of the team include Nicolas Chavent who authored the UN Spatial Data Infrastructure for Transport (UNSDI-T) and Robert Soden, the Geographic Information Systems (GIS) Lead for Development Seed.  Nicolas and Robert will train Haitian government agencies, as well as local and international actors to use open source data data to support immediate humanitarian assistance and longer term reconstruction.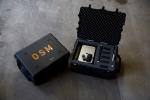 To the left is a Pelican case with laptops, all-in-one printers, GPS Units, USBs, cameras, and a variety of cables, cords, batteries, needed to work OpenStreetMaps while in Haiti.  Click here to read Robert's blog on preparing the hardware for the deployment.  These boxes will be used in trainings with the Centre National de l'Information Géo Spatiale (CNIGS), the Haitian National Mapping Agency, and other agencies within the Haitian government. Like many Haitian government agencies, CNIGS lost its building, as well as several staff and much of its data, during the earthquake.  Building back its capacity to use geographic data to inform the activities of Haitian Ministries is an important goal.    
Trainings will also include local NGOs, such as Katye pa Katye, which have often been overlooked in humanitarian response efforts.  The intent of this two pronged approach is to strengthen both the Haitian government and civil society's capacity to collect, analyze, and use geo-spatial data.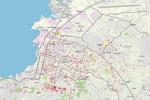 To the left is an example of OpenStreetMaps data for Haiti.  It may be hard to see, so better yet, enter the OpenStreetMap website and enter "Port au Prince" to see what data is available. OpenStreetMaps can essentially function as a "Wikipida of Haiti GIS."  As the infrastructure is already up and running, it is easy for organizations, with the proper training, to plug into a centralized repository, download data sets, and add their own data.  There is an incentive to share data within the Haiti network as data can be rapidly shared, verified, discussed, and applied.  
If any local or international NGOs would like to learn more about how they can use OpenStreetMaps in Haiti, contact Robert at robert@developmentseed.org to receive a schedule of trainings. This mission is organized by the Humanitarian OpenStreetMap Team, coordinated with Map Action and the U.N. Office for the Coordination of Humanitarian Affairs (OCHA). Trainings are made possible with the support of the European Commission Humanitarian Aid Department (ECHO). 
For organizations in Haiti, consider participating in an upcoming training to learn how OpenStreetMap might help you and your partners.  For those not in country, you can follow updates on the Development Seed website.  Thanks!
Bryan