Digicel Haiti Foundation Delivers Promise of 20 Schools in Year One
Posted on:

18 March 2008

By:

Bryan Schaaf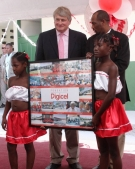 The article below (courtesy of bonpabon) announces that the Digicel Haiti Foundation met its goal of building twenty primary schools in its first year of operation.   Digicel, as the largest foreign investor in the history of Haiti, prevents a compelling model for others to follow - a socially conscious corporation that provides a much needed product, employs a substantial number of local staff, and funnels some of its its profits into education projects.  It makes sense for Digicel who will need educated employees as it grows and it makes sense for Haiti where long term development will depend on education.
Two schools were built in each of Haiti's ten districts and it is estimated that 7,000 children will benefit.   The Digicel Founation and its partners will guarantee the operations of the schools for at least the next three years.   You can learn more on their website about each of these schools.  The website is well designed but, alas, noticeably lacking in Kreyol.
Students in the schools will benefit from a hot meal every day and teachers will receive training in teaching.  We can't state enough how critical this is.  First, it is extremely difficult to learn on an empty stomach.   Second, most Haitian instructors do not really teach - they make children sit, stand, and recite in a language (French) that neither s/he or the students fully understand.   Schools adhering to this sort of pedagogy are disempowering  - it is time to break that cycle one confident, well trained (and regularly paid) teacher at a time.
Digicel is not working by itself - partners include Food for the Poor, Catholic Relief Services (CRS), World Vision, USAID, the World Food Program, the Catholic Mission, Crose (Coordination Regionale des Organisation du Sud East), Concern and the French NGO Initiative Developement (ID).
Digicel Haiti reached 1.8 1.8 million customers in September 2007.  This means approximately one in every four Haitians owns a Digicel cellular phone.   The corporation employs 650 staff and has invested more than US$260 million in Haiti. 
According to the press release, "Digicel is incorporated in Bermuda and has operations in twenty three markets including Anguilla, Antigua & Barbuda, Aruba, Barbados, Bermuda, Bonaire, Curaçao, The Cayman Islands, Dominica, El Salvador, French Guiana, Grenada, Guadeloupe, Guyana, Haiti, Jamaica, Martinique, St Kitts & Nevis, St. Lucia, St. Vincent & the Grenadines, Suriname, Trinidad & Tobago and Turks & Caicos. Digicel also has a license in the British Virgin Islands and coverage in St. Martin and St. Barths."
Looking for more information?  Take a look at the Digicel Haiti Foundation website or contact:  
Maureen Rabbitt
Head of Group Public Relations
Digicel
+1 (876) 361 2852 (Jamaica)
Maureen.Rabbitt@digicelgroup.com
Bryan