Wyclef Jean Kicks Off Next Phase of Historic Vaccination Campaign
Posted on:

1 May 2008

By:

Bryan Schaaf

A press release by the Pan American Health Organization (PAHO) announced the next phase of Haiti's largest vaccination campaign ever.  According to PAHO, Haiti has the worst health indicators of any country in the Americas, including the highest rates of infant mortality and lowest rates of childhood immunization. This campaign will go a long way towards changing that. As Wyclef states in the Public Service Announcements that kicked off the campaign, "To vaccinate a child is an act of love".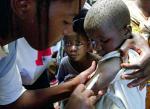 The second phase of the campaign starts in June and targets young people ages 1 to 19 in urban areas. The first phase, focused on young people in rural areas, was launched in November and is complere.  The announcement describes how Haitian health workers in the first phase of the campaign delivered vaccines to an estimated 2.3 million young people in rural areas and some urban schools. Children also received Vitamin A supplements to strengthen their immune systems.  School age children were dewormed.  As little food as many children are eating, nutrients cannot afford to be lost to tapeworms and other parasites.

It is hoped that the campaign will make progress toward eliminating rubella, congenital rubella syndrome (CRS), and measles.  What that would mean is that the diseases would no longer be present in Haiti and attention could be turned to other significant public health issues.  On Rubella, PAHO states "Rubella, caused by a virus, is normally a mild childhood disease, but if a woman is infected early in pregnancy, her baby can be born with CRS, resulting in birth defects that can include blindness, deafness, heart defects and mental retardation. Before countries began to vaccinate against rubella, more than 20,000 children were born with CRS in the Americas alone. Today, more than 145 million men, women, and children in the region have been vaccinated against the disease.  Eliminating rubella from the Americas thus demands eliminating rubella from Haiti.

Supporters of the campaign are listed as the Government of Haiti, PAHO, the Canadian Public Health Agency, the European Union, the Ministry of Foreign Affairs and Cooperation of Spain, the United Nations Children's Fund (UNICEF), the United Nations Foundation, the U.S. Agency for International Development (USAID), the U.S. Centers for Disease Control and Prevention (CDC), and the ALAS Foundation.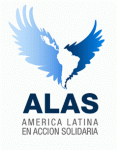 According to the announcement, "ALAS is a movement dedicated to the children of Latin America. Founded by Latin America's most influential artists, intellectuals and business leaders, this unique non-profit organization strives to launch a new social movement that will generate a collective commitment to early childhood development programs for the children of Latin America...This campaign is something ALAS members all care deeply about," said Araceli Ruano, chief executive officer of the foundation. "We are happy that, through the commitment of governments, the private sector, NGOs and families throughout Haiti, we will be able to save the lives of thousands of boys and girls who otherwise die each year from preventable diseases."

Yéle Haiti is a foundation started by Wyclef Jea.  Yele is active in education, health, environment and community development and promoting Haitan music and arts.

PAHO, founded in 1902, works with all the countries of the Americas to improve the health and quality of life of their peoples. It also serves as the Regional Office for the Americas of the World Health Organization.
As the Haitian proverb goes, "Piti Piti Zwazo fe niche li" (Little by little, the bird makes its nest).   We have a long way to go in promoting the survival and health of Haitian children, but progress is being made.  This vaccination campaign is an essential step in the right direction.  Global Health requires a Healthy Haiti.  
Bryan