Thugs, Drugs, and Guns: Haitian Ex-Military Re-Emerge in the North
Posted on:

30 July 2008

By:

Bryan Schaaf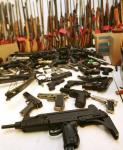 Like the United States, Haiti has a military tradition.  Both countries won freedom through warcraft.  Sadly, the Haitian military went on to kill far more Haitians than all attacking forces combined.  The Haitian military degraded into an engine for corruption, human rights abuses, and coup after coup. Jean Bertrand Aristide disbanded the military in 1995 but they remain a threat as Jonathan Katz reminds us in the Miami Herald.  
It has become very predictable.  When the ex-soliders smell weakness, they re-appear and demand concessions from the government which range from back salaries to full reinstatement of the military.  We've argued for the bolstering of the Haitian Police Force and the creation of a Haitian Civilian Conservation Corps - but bringing back the military is the last thing Haiti needs.
The ex-solidiers usually come in from the North via the Dominican Republic, often occupying police stations.  It is not difficult considering they are invariably better armed than the Haitian National Police.  Yesterday, several hundred converged on Cap Haitian and occupied a former military barracks. 
The Preval administration dispatched negotiatiors.  However,  it is not as if former administrations have not tried to negotiate with them before going so far as to pay them the "back wages" for the salaries they feel they deserve between 1995 and the present.  This would essentially be giving bribes to the very people who are trafficking guns in and drugs out of Haiti. 
According to the article, President Preval commissioned a task force to study whether Haiti needs a security force of some kind.  I usually stay away from political topics like this, but given the damage the military has caused to Haiti, in the past and now I feel I have to.  Haiti needs to look to the future instead of appeasing those who brought about some of the worst chapters of Haitian history.   Neither a new military nor a security force should be created. 
It is time to move on.   Below is the article:
Posted on Tue, Jul. 29, 2008
Report: Ex-soldiers take over old Haiti barracks
By JONATHAN M. KATZ
Hundreds of armed former soldiers from Haiti's disbanded army stormed an old  barracks and civilian prison on Tuesday to demand the force be reinstated, local radio reported.
Radio Kiskeya said the former troops occupied the buildings in the northern city of Cap-Haitien armed with pistols and wearing camouflage. They reportedly demanded back pay and called for the government bring back the army to provide security against kidnappers.There were no immediate reports of shots being fired during the takeover of the buildings, which are now used by Haitian government ministries.
The protesters raised a white flag to indicate they did not intend to fight against U.N. peacekeepers or Haitian police, a Radio Kiskeya journalist said from the scene.
Radio reports said hundreds of former soldiers took part in the takeover, but  an exact number could not be independently confirmed. U.N. peacekeepers are monitoring the situation, mission spokesman David Wimhurst said.
The Armed Forces of Haiti were disbanded in 1995 by then-President Jean-Bertrand Aristide, who had been ousted by a military coup four years  earlier. Aristide was again toppled by a civilian rebellion in 2004, and a  9,000-member U.N. peacekeeping force has provided the country's only real security ever since.
Last year, President Rene Preval appointed a commission of academics and ex-military officers to study whether a new security force is needed to one day replace the U.N. troops. But he also said in a visit to U.N. headquarters that he saw no reason to restore the army.
Commission head Patrick Elie, a former undersecretary of defense under Aristide, said Tuesday that the commission has not yet reached any conclusions.
© 2008 Miami Herald Media Company. All Rights
Reserved.http://www.miamiherald.com