A Tale of Two (Haitian) Cities: Cap Haitian and Jacmel
Posted on:

12 April 2008

By:

Bryan Schaaf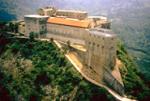 If you want to read about social unrest in Port au Prince, take a look at this collection of articles on Reliefweb.   However, if you need a break from reading about Port au Prince the way I need a break from writing about it, here we are.  Haiti is, thankfully, bigger than Port au Prince.  Haiti's two secondary cities are Cap Haitian, the city of history, and Jacmel, the city of arts and culture.   Though these cities have been neglected under generations of dicatators, each has much to offer and each will play an important part as Haiti rebuilds. 
Let's begin in the North with Cap Haitian.  Cap-Haïtien (Okap in Kreyol) is Haiti's second largest city and the largest in the North.  It was founded during French colonial rule in 1670 as Cap Francais.   The name change took place immediately after Haitians won their independence after many years of struggle.
It is here in the North that Columbus first landed in the New World (and lost one of his ships somewhere off the coast in the process.)  It is here where a Haitian mystic by the name of Makandal led a band of runaway slaves in revolt against the French.   It is here in the North where the Vodoun ceremony which launched the fight for independence began.  Say what you want about the religion, but Vodoun gave Haitians the strength to rise up against their slavers - most of whom probably considered themselves good Catholics!  Here also is where the Battle of Vertières (the last in the revolution) took place on November 18th, 2003.  Freedom was won in the North.  The result had global implications.  The loss of Haiti was directly related to Napolean's decision to let go of his claim to the southern portion of North America through the Louisiana Purchase.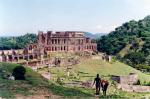 Cap Haitian and the entire northern region is peppered with forts and other architectural ruins that remind one of the struggle for liberation,   In the town of Milot, one sees the Sans Souci Palace which Bourik visted recently.   The Palace was built by King Henri Christophe who took control of the northern portion of the country in 1807.  All that is left are the earthquake shattered, fire charred remains of a once opulent palace.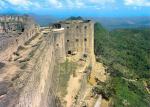 Beyond the Sans Souci Palace is the mighty Citadel,  the least known wonder of the world.   Christophe constructed the Citadelle to ensure that if the French came back, they would pay dearly for any attempt to wrest control of the North.   To walk the path to the Citadelle unencumbered is a challenge, even for the physcially fit.  One feels the pain of those who day after day and week after week carried both stone and cannon to the top of the mountain.  By some estimates, the lives of 14,000 individuals were lost in the construction of the Citadelle between 1805 and 1820.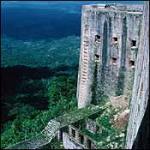 The French never came back and no army has ever tried to attack it - a rarity for forts in the western hemisphere.   It has been said that Christophe, the royal family and its garrison of 5,000 soldiers could have easily held out for a year against a possible French return.   Cannon balls, never fired, are everywhere.   It has been designated as a UNESCO World Heritage site. 
We Americans have a short historical memory.   The longest occupation of any country by U.S. forces ever was not Vietnam, but Haiti from 1915 1934.   During this time the north south streets of Cap Haitian were renamed with letters starting with Rue A.  The side streets were designated with numbers.  Very orderly, very boring.   This is the way it remains today.   Much of the architecture in the center of the town is faded but fairly well preserved.  One can tell that indeed this was once the "Pearl of the Antilles".   Now the rural to urban exodus continues and the town is encircled by slums that continue to grow - and will grow so long as farming families can not make a living off of the land. 
Cap Haitian is not immune to instability, but it is certainly more calm than Port au Prince.  There is a small airport, which if it were expanded as I've been told is planned, would be a real asset to Haiti.  It would allow people to experience Haiti through a city that is calmer and less congested than Port au Prince and is closer to the United States as a bonus.  It could be to Haiti what the Montego Bay Airport is to Jamaica.   Right now my understanding the only flights are to and from on Lynx Air. 
The city has a better developed tourist infrastructure than most Haitian cities.   Generally speaking, there are comparatively few large hotels in Haiti.  Hotels tend to be very cheap or very expensive with not as much in between.  In the old days, there were many beds and breakfasts but in the aftermatch of the HIV crisis/scare/scandal most have been converted to schools or offices.  That having been said, Cap Haitian has a handful of nice hotels.   Most don't have websites but here are some reviews which may be helpful to you: :
HOTEL DU ROI CHRISTOPHE (262-0414*)
HOTEL IMPERIAL (262-0171/0534*)
HOTEL BECK (262-0001*)
HOTEL DU MONT JOLI (262-0326/0300*)
HOTEL LES JARDINS DE L'OCEAN (262-2277*)
HOTEL CORMIER PLAGE (262-0100*)
HABITATION LABADIE (223-5900*)
PENSION BRISE DE MER (262-0821*)

If you want a unique experience check out Norm's Place.  Norm's is a very quiet, secluded coastal hotel on the site of what used to be a plantation.  I greatly enjoyed my stay there.  It is peaceful and idyllic.  
The North has beautiful beaches.  Cormier Plage, Labadie or Coco Beach , Belli Beach and Rival Beach and more are on that coast   Most are reachable in fifteen minutes if the road is not muddy.  The best known is, of course, Labadie where Royal Carribean docks.   I had read that there were plans for additional stops in other port cities but I have yet seen anything that would confirm this. 
For basic information on Cap Haitian, click here.  Some more background with photos and music can be found here.  Logistical information and a list of hotels to be found here. For video of some goofball driving through Cap Haitian with a video camera click here - a little obnoxious, but it gives a sense of the street life.   A video of the town-square here. For a travel blog with photos, click here.  Tourinnord is an organization devoted to promoting tourism in the north and a good resource.  If you would like some more pictures of Cap Haitian and the general area, click here.  Finally, the Haiti Support Group has assembled some information about how to get to Cap Haitian, where to stay, and other basics that might be useful to first time visitors.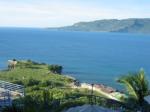 Now that we've covered history, we can move on Jacmel (Jakmel in Kreyol).  Jacmel is not the historical hub of Haiti but it is without a doubt center of gravity for arts and culture. Jacmel was founded in 1698.  Although it is growing, it has a small town feel compared to Cap Haitian.   Generally it is safe, attractive, and vibrant.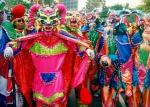 Hands down, Jacmel has the best Carinvale in the country.    It also has a robust artistic community that sells everything from handicrafts, carvings, paintings, iron work, and papier-mache masks with incredible detail.   I've not been back in years, but have been told that efforts have been made to revive their cigar and coffee industries.  I've had the cigars and they are decent though they won't last long without a humidor.  

Haiti was once the largest coffee producer in the world, now it has a niche as a producer of high quality coffee.   I've heard entrepreneurs express a desire to combine both art and coffee by selling high quality coffee in tins that had been hand painted by Haitian artists.  The time is right to try that in Jacmel.  I would certainly be a loyal customer. The architecture here, as in Cap Haitian, is faded but still elegant.
There have been some compelling efforts to tap the artistic energy of this town for the benefit of Haiti and tourists alike.  A large and well run film festival is held here each year.  In a country where most do not have televisions and where theaters are few and far between, this is a rare opportunity for the young.  Haitians have a rich artistic and music tradition – why not film?  Haiti's future Directors may have been exposed to cinema through this festival.    In 2007, an International Film Festival was launched in Jacmel.   Music feeds the soul and Haiti needs a festival like this.   As a secondary benefit, these festivals may provide an opportunity to re-introduce tourists to what is beautiful about Haiti.
Outside of Haiti is the Bassin Bleu – a beautiful water pool of cool, clean water where Simbi a spirit/collection of spirits resides.  One needs a rope to get down to to the pool which the locals will be happy to provide you with for a fee after an extended negotiation.   The rock outcroppings provide a number of places from which to jump or dive.  No worries, the water is quite deep. 

Beaches here are also nice both in and outside of town.   You can visit the  Cyvadier Plage and enjoy a nice meal on the balcony. Raymond Les Bains is located just before Cayes-Jacmel about 15 km away.  This is a public beach and has no facilities except for showers.  Further on, there is Ti-Mouillage which also has public beaches.  There is a restaurant and beach homes for rent.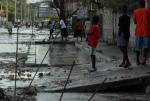 As with Cap Haitian,  Jacmel is urbanizing somewhat.   Walking around at night for the most part is quite safe. You should definitely check out the Yaquimo Nightclub & Restaurant.    They have good food and live bands.  There are othe venues for music as well.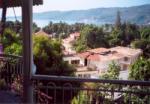 There are not as many hotels as there should be in Jacmel.  The Manoir Alexandre is a guesthouse that offers views of the city from a veranda. Hotel de la Place is conveniently located on the main square but accommodations are nothing special. La Jacmelienne is considered the nicest hotel in Jacmel.  It is right on the beach.  Accomodations are nice, but the hotel is a bit expensive.  Guy's Guest House is your best bet if you are only looking for a place to crash.  Don't mind being fifteen minutes out of town?  The Cyvadier Hotel, on the beach that shares the same name, is a calm beach with a beautiful location.

Wadner Pierre, a Haitian blogger, invites us to discover Jacmel here.   Find basic information about Jamcel and what it has to offer here. Travel photos of Jacmel available here.  A hanfull mor are available here.   A travel blog is available here.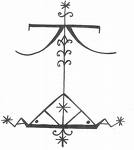 Cap Haitian and the northern region embodies the past - the resistance, the struggle, and the liberation.   In leading a successful slave rebeliion and becoming a free black republic, Haiti accomplished what no other country could and it happened here in the North.   The price was extreme and the struggle continued against racism, cut throat cold war politics, and misguided development adventures whose failures would ultimately be pinned on Haitians themselves.

Jacmel and its sorrounding area in the south embody the future - the creativity, the energy, and the pride that will help Haiti become stronger. Perhaps more than anyone, Jacmellians have a sense of Haiti's potential and are willing to work for it.  

For a long time, Haiti has been stuck in the crossroads.  Cap Haitian in the North reminds us of what Haiti has been.  Jacmel in the south reminds us of what the country could yet be.  Going forward, these two citiies will be more important than they ever have been before. 
Knowing Haiti requires knowing Cap Haitian and Jamcel.
Bryan