Search and Rescue Operations Conclude, No More Survivors
Posted on:

11 November 2008

By:

Bryan Schaaf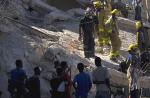 Search and rescue operations in response to the Petionville school collapse have concluded and there are no more survivors. In the Miami Herald article below, Jacqueline Charles notes that 89 individuals were killed and 150 survived, although many were badly injured. Thank you to Martinique, France, the United States and other countries that contributed equipment, search and rescue teams, or financial support. For the families, the mourning process begins. For the Haitian government, the pressure is on as they try to develop a strategy for preventing a similar tragedy from happening again. Nationwide school inspections would be a good start.
Jacqueline Charles
Miami Herald 
For days, Pierre Michel Laguerre refused to give in to the possibility that his younger brother would not be found alive. Even as the stench of death filled the air and rescue workers trudged by with white body bags, the teen refused to believe that workers searching the rubble of his former school in this Port-au-Prince suburb would not find 16 year old Wilky Moise alive.
''I still had hope, even if a little,'' Pierre Michel said as his mother wailed. Hope for the Laguerres and countless other Haitian families ended Monday. Three days after the church-run College La Promesse Evangelique school collapsed, Haitian and foreign rescue workers said the search and rescue was officially over.
Authorities said 89 people died while 150 students and teachers had been pulled from the rubble alive, many with broken bones and missing limbs. ''We have checked every possible void space or opening that we can get to,'' Michael Istvan of the Fairfax County, Va., Urban Search and Rescue Team said as he stood a few feet away from the crumpled structure. ``We have done everything we can to assure there are no people in there alive.''
Istvan and others could not say for sure how many bodies may still be in the building -- some workers had counted up to seven earlier in the day. But those that remained did not die because rescuers failed to reach them in time, authorities said. ''It's all impact,'' said Rebecca Gustafson of the U.S. Agency for International Development, which flew in the 38-member Fairfax team to help in the complicated rescue mission. A fire brigade from Martinique, Haitian firefighters and several Haitian civilians as well as U.N. peacekeepers were also involved.
Though some on site had believed since Sunday that there was no longer any chance of anyone emerging from the wreckage alive, many parents continued to hold out hope. They carried photos of their missing children with them as they desperately searched from one hospital to the next -- and finally the public morgue.
Rather than provide them with closure Monday, the announcement that the rescue effort was over dealt a crushing blow as frustrations grew. Parents of the dead aimed their anger at the government, blaming it for not being strict enough on school buildings, while others demanded that authorities release their children's bodies for burial.
''I want them to give us authorization, for us to bury our dead,'' said Carmelo Cedelca, standing outside of the Petionville mayor's office where scores of parents had been invited to attend a meeting to discuss funeral arrangements.
Cedelca, whose 17-year-old cousin Valencia died shortly after she was rescued, refused to go inside the un-air-conditioned glass room, where more than 100 parents and relatives were standing shoulder to shoulder, demanding answers and help.
Robert Noel, who also refused to enter, said the body of his 18-year-old cousin Gregory Louis was at the public morgue inside General Hospital in Port-au-Prince. ''I went to the General Hospital and from what I saw there, they are letting the bodies rot,'' he said. ``There is no air conditioner. The bodies are on the ground in the hallways with only a fan on them. All I am asking from them is to give me the child so that we, his family, can bury him.''
Petionville Mayor Claire Lydie Parent had invited the parents in hopes of seeing how the state could be of assistance, she said. Earlier in the day, she said, the city had declared both Tuesday and Wednesday as official days of mourning.
After searching for survivors in a school collapse, workers ended the search and rescue operation and prepared to demolish the building.  Also on Monday, the ministry of education announced that all of the country's 1,500 public schools will be inspected as well as the estimated 8,000 privately run schools in the wake of Friday's school collapse.
''We will do an evaluation of the schools, and we could close some of them,'' Miloody Vincent, spokesman for the ministry of education, said. Vincent said the plan for inspecting the schools will be devised by a commission and will involve a coordinated effort of all the mayors and representatives of the country's villages.
But while parents of the dead worried about their burial and those of the living pleaded for more government assistance with medicine and schooling, rescue workers still had to figure out how to demolish the building and remove the remaining bodies.
Earlier in the day, rescue workers chipped away at the school building using drills and other hand-held equipment while working in 12-hour shifts. They are hoping to move in heavier equipment Tuesday, down the narrow roads where houses are squeezed together in ravines.
Martinique brigade members, clad in orange hats, shoveled cement off the roof. Next to them, five Fairfax County rescuers worked on gaining access to another part of the structure.  Capt. David Rohr of the Fairfax rescue team said the ''pancake'' way in which the collapse happened -- flat as opposed to a tent-like collapse -- and the lack of access to the building hampered rescue efforts.
''There are several challenges. Access to the building, the slope . . . the large pieces of concrete hanging from the highest point have presented the inability to secure and shore up the structure,'' he said. Meanwhile, authorities invited teachers and employees of the school -- or family members -- to register loved ones at the mayor's office, in hopes of figuring out how many people were in the building when it caved in.
Also, after announcing there was no longer hope of finding anyone alive, the government called in a judge to gain access to the owner's office. They seized his records, which presumably contained information on student enrollment. The owner, Pastor Augustin Fortin, turned himself in Saturday and remains in police custody. He faces charges of involuntary homicide and was questioned Monday by government prosecutors.