Safe Water System: A Community-Based Approach
Posted on:

2 March 2008

By:

Bryan Schaaf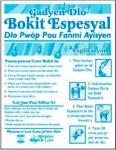 The Jolivert Safe Water System developed by the Centers for Disease Control (CDC) and Pan American Health Organization is a successful example of a community-based clean water program. CDC partnered with Missions of Love Clinic in Jolivert and Deep Springs International to treat water using a hypochlorite solution in a safe container at home. The program employs local Haitians to produce and distribute the solution, while providing community education on healthy water and sanitation practices.
According to World Health Organization, 1.1 billion people lack access to safe drinking water. Millions more drink contaminated water due to unsafe water treatment, storage, and handling practices. This lack of clean drinking water is estimated to kill almost 1.9 million children per year- about 4 children per minute. A great reason to invest in water treatment and water education programs.
CDC has partnered with Population Services International, USAID, and CARE to establish Safe Water System (SWS) programs in over 30 countries- Haiti becoming one in 2002. For organizations looking to implement a water treatment project, this may be appropriate option.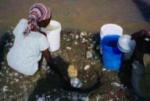 Jolivert's community had a strong interest in safe water since they were well aware of the link between water, diarrhea, and health. The Trois Riviere, a river that runs about 60 km from the middle of the northern peninsula to the coast, provided the community with a sufficient water resource to implement the project. However, the water would sometimes be turbid and require prior treatment using a natural flocculant such as raket (a type of cactus grown in Haiti).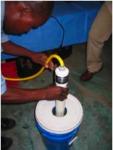 Through the Safe Water System program, SWS hires a local Program Administrator to supervise the day-to-day activities of the project as well as train the local technicians/community health workers in water treatment. The health workers are responsible for preparing the hypochlorite solutions and safe water storage containers, making visits to SWS homes to check for proper use, and maintaining records of results. In this project, health workers are also in charge of selling the product and educating groups on healthy water and sanitation practices. I would be interested to see a SWS project that provides microfinance loans to local women cooperatives in order to sell the product.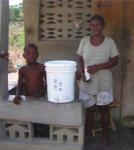 As a result of Jolivert's significant distance to Port-au-Prince, the only place where bleach is manufactured, the program decided to develop its own hypochlorite solution via a sodium hypochlorite generator sold in Florida. Other than water and electricity, the only product needed is salt. The solution is sold in plastic bottles, purchased in bulk from local manufacturers, and labeled with instructions. Each millileter of solution can treat 19-liters of water. Since five gallon plastic buckets are most commonly used in Haiti, adding a lid, educational label, and a tap modifies an already existing culturally appropriate container. This, coupled with public education at community events and churches, helps SWS prevent water contamination from the point of treatment to use. Funding to purchase the hypochlorite solution and safe water containers was subsidized through a grant from USAID in order to enroll 3,000 families into the program- about 15,000 individuals.
The Safe Water System program is looking to start SWS projects in Les Cayes and Thomonde this coming year. If you are interested in supporting or implementing a Safe Water System project, please contact Michael Ritter at mjritte@sph.emory.edu.