PPAF to Hold Consultation on Ethanol Cookstoves (April 4, 2013)
Posted on:

18 March 2013

By:

Bryan Schaaf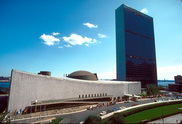 The Public-Private Alliance Foundation (PPAF) is holding a consultation on ethanol cookstoves at the United Nations on April 4th.  The purpose of the meeting is to bring together stakeholders that could expand production and use of ethanol in Haiti and to raise awareness about how clean energy could slow deforestation and created green jobs.  Another good source of information is Project Gaia, which has been promoting ethanol stoves in Mozambique, Nigeria, Ethiopia, Brazil, and most recently Haiti. The full announcement follows.     
The Public-Private Alliance Foundation (PPAF) will hold a Consultation on Ethanol Cookstoves and Fuel on April 4 at the United Nations, sponsored by the UN Office for Partnerships and others.  PPAF, Path to Haiti Business Consulting LLC, SImACT Inc. and other partners are currently conducting a pilot project toward commercialization of these stoves and ethanol supply.  It is the first project of its kind in Haiti. Dometic Group AB manufactures the stoves and Project Gaia, Inc. has donated an initial supply to this project. The consultation has two purposes:  (1) to advance expansion of the project in Haiti by bringing together a range of actors for agreement and next steps and (2) to promote the benefits and possibilities of ethanol cookstoves and fuel in Haiti and elsewhere.  Technical specialists, policymakers, community representatives, UN and government officials, remittances companies, diaspora members, non-governmental organizations and other stakeholders including UNA members will participate.   The consultation will include plenary and small group discussions. Participation is by invitation and seating is limited. If you are interested, please email ppafoundation@gmail.com with your name, contact information and nature of your interest. 
You can become part of our effort to help Haiti transform from reliance on wood and charcoal to clean fuels.  Pilot implementation of the Haiti Cookstoves and Fuel Alternatives project began in September.  The PPAF team's third trip to Haiti took place from January 16 to 23, 2013.   Team members included David Stillman. PPAF Executive Director, George Garland, PPAF Board Member, and Fritz Clairvil, of Path To Haiti Business Consulting LLC and SimACT, Inc. In Haiti 75 % of total energy use is wood and charcoal for cooking.  This has contributed to massive deforestation, leading to erosion and hurricane mudslides.  Fumes from the four million tons of firewood Haitians consume each year produce health hazards, especially for women and children, and reinforce the cycle of poverty.  Clean-burning cookstoves will help solve these problems and will help improve the lives and well-being of many.  The hot food street vendor pictured above spoke with us about how happy she would be if she could cook with a cleaner fuel.  Many others have echoed this hope.  The Public-Private Alliance Foundation and several partners are leading pilot projects in Jacmel and Leogane that are laying the basis for major changes in how people cook in Haiti.  Time-tested boat and leisure camping alcohol (ethanol) stoves made by Dometic AB and promoted by Project Gaia, Inc., plus high-proof alcohol distilled from Haitian sugarcane, are combining to meet a latent demand in households and small business to exit the poverty-disease-deforestation trap of cooking with charcoal.
PPAF's prior research, hosting of seminars and other preparations have brought a focus to the potential of bioenergy in developing countries.  Consultations with Project Gaia, collaboration with Path To Haiti Business Consulting Firm, LLC and SImACT Inc., networking with others, and fundraising for project work in Haiti are now bearing fruit.  Pilot implementation is now taking place with the first of 1,300 Dometic cookstoves that Project Gaia imported as humanitarian items after the 2010 earthquake.  PPAF has also funded a briquette press created by Konbit Pou Ayiti (KONPAY), through Social Tap, Inc.   The resulting briquettes, created from organic or agricultural by-products, are used in improved-efficiency charcoal stoves.    PPAF has received initial project support from the Community Church of New York - Unitarian Universalist, from the Rotary Club of New York, from Participant Media, from Resource Furniture and from private donors.  Additional funds are needed.  Please help support this project by donating generously online - see the Donate buttons to the right or go to our What You Can Do page.