The Power of (Haitian) Cinema : FFFJ Continues to Expand
Posted on:

16 August 2008

By:

Bryan Schaaf
We've written about the Jacmel Film Festival and the efforts of the Foundation Festival Film Jacmel (FFFJ) to train a new generation of Haitian film-makers.  Through the medium of film, FFFJ continues to tap the creativity and energy of Haitian culture to engage youth, build partnerships with other countries, and lay the groundwork for producing local content for use nationally and abroad.  It would be impossible to understand Haiti without knowing its music, art, and dance - perhaps someday we'll say the same about Haitian cinema.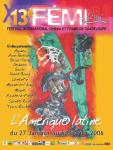 I was interested to learn that FEMI (Guadeloupe International Film Festival) asked FFFJ to lead a delegation of Haitian professionals to participate in a two-day conference on the creation of a Caribbean Market on Film and Television.  Participants from throughout the Caribbean discussed the importance of growing their national film industries, challenges for growth, opportunities for trade, and potential source of revenue.  Some countries such as Cuba have a long cinematic tradition.  Haiti does not, but there is potential.  Major challenges for Haiti however include a lack of governmental protection against privacy, a near absence of movie theaters, few televisions, and a hesitance to invest as a result of unrest.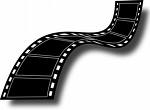 Revenue from the production of movies can be significant.  Jamaica, the Dominican Republic, and Dominique have all benefiited.  As a result of a "Pirates of the Carribean" sequel shot in Dominique, $18 million was injected into the economy and 3% of locals were involved in the production. Since then, the government has created a film commission bureau and launched a major campaign for generating economic revenues through film.  Sadly, many films in which a portion of the story takes place in Haiti (such as Miami Vice) are shot elsewhere.
Participants discussed the importance of creating content for local TV channels.  This content can be used to promote cultural values and pride as opposed to being bombarded with images, many of them violent, from American films.  Imagine for a moment never seeing a film in your first language.  FFFJ is dubbing films from neighbor islands as it dubs foreign movies in Creole for Haitian viewers.  CARICOM offered to facilitate a lobbying campaign towards governments of member countries for stronger support of cultural industries (in particular, audiovisual productions, trade fairs and festivals).
FFFJ also participated in a major fundraiser, organized by Hedge Against Poverty. The proceeds has helped FFFJ to establish Sine Lekol, a facility offering year round educational screenings, technical training and production support for aspiring local filmmakers. Located in the Concord Cine Complex of Jacmel, FFFJ's renovated theater serves as screening room during the Film Festival and for other occasional showings, but will accommodate long-term projects.  FFFJ is collaborating with the Haitian Ministry of Education to provide students from the National Schools of Jacmel, with monthly educational screenings relevant to their current curriculums.  In addition to the ongoing workshop, a cinema club will screen films three nights a week selected upon recommendations of our guest instructors.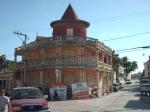 FFFJ continues to add to the Jacmel Journals, a regularly updated collection of multimedia shorts produced by FFFJ students about Haitian subjects.  The updates lists some of the shorts that are available on the site which include Pumpkin Soup, Cockfighting, The High Cost of Living, Motorcycle Traffic in Jacmel, Holiday in Haiti – 2008 (Christmas in rural Haiti), and Boat Traffic.  According to FFFJ, thei students are producing eight Jacmel Journals per month, each averaging 3-4 minutes.  These journals provide Haitian perspectives on Haitian issues and provide job training that will lead to larger projects.
FFFJ has also expanded their training program. 26 aspiring filmmakers have been picked from a pool of 150 applicants to take part in our 8 feature film training summer workshops.  Those who participate are immersed in the craft of filmmaking.  High profile guest instructors visit Jacmel to instruct on film production, directing, script writing, acting, sound-recording, cinematography and editing.  You can view online a schedule of the sessions and who will be instructing each.  This expansion was made possible by a $15,000 grant given by Cinereach Ltd.
FFFJ has also been working with Wyclef Jean.  While on a tour of Jacmel with staff from CBS/60 Minutes and a group of foreign investors, Wyclef Jean visited the FFFJ Creole Dubbing studio.  Part of his visit also featured an outdoor screening in Place du Canape Vert.  The film screened?  Kung Fu Hustle of course. This mobile cinema project is jointly implemented by FFFJ and Yéle Haiti in popular neighborhoods around the capital of Port-au-Prince.  To my knowledge, there is only one theater in Port au Prince and the cost is prohibitive for most.  These mobile cinemas provide an opportunity to expose the young, regardless of their income level, to film.
Finally, FFFJ has created the La Kay Awards to honor the best in Haitian cinemaitc achievments.  The presentation of the Lakay Awards will be nationally televised, which will raise the visibility of local productions and motivat as well as compensate local artists in the industry.  FFFJ noted that an international jury will administer the Lakay Awards in nine different categories.
Through film, FFFJ is able to give young Haitians a voice and to expose the world to positive aspects of Haitian culture, of which there are many, although one would not realize it from the coverage the country usually receives in the press.   There are many ways to get involved and we encourage you to visit the FFFJ website.  Also, you can click here here to receive FFFJ updates directly via email. 
Been thinking of going to Haiti for the first time?  Consider attending the next Jacmel Film Festival!
Bryan