The Other Side of the Water: Miami Rara Festival (May 21-24,2009)
Posted on:

19 May 2009

By:

Bryan Schaaf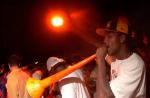 From May 21st-24th, there will be a festival of films, workshops, and music in Miami to celebrate the premiere of the documentary "The Other Side of the Water".  The Other Side follows the 20 year journey of a Haitian rara band in America. Much like Haiti itself, rara is unique, compelling and chaotic.  If you have a chance to attend, by all means do.  The Miami Light Project, the Backyard Movement, Change Charity, Inc., Moksha Family, and HaitiXchange.com will be participating.  Below is more information and a schedule.
What is rara?  Ask ten people and you might very well get ten answers.  Let's start with what it looks like.  Imagine yourself in Port au Prince or perhaps the deep countryside during a Vodoun/Catholic holiday.  You will see dozens of people in brightly colored costumes parading down the street, dancing, singing, and playing homemade instruments.  The music is rhythmic and even hypnotic.  It stays in your head and makes you want to dance. The rara bands are bold, loud and will travel miles down both goat paths and national roads.  They will start early and finish late, some will pass out from a combination of klerin and fatigue.
Whether you live in a slum or a village, if Vodoun is important to you than so too are crossroads.  All bands will page homage with songs and dance when passing through them. Rara bands are intensely competitive and they will compete for appreciation and donations from observers.  Most "rara battles" will be civil, although some will get heated.  Rara is not something that you can just observe - participate or get out of the way.  Take a look at Samira's blog on a rara celebration in Thomonde.
Where did rara come from?  My understanding is that it is rooted in slavery.  The French slavers viewed Haitians as little more than livestock.  Periodically, the colonists would round up their slaves and "herd" them toward other plantations where they would be encouraged to "inter-mix" with slaves at other plantations.  A colonist would be behind the slaves cracking a whip and urging them on.  Keep your eyes open - many rara bands have a participant with a whip.  But these are only rara's roots.  Like Haiti itself, rara was born of opression and transformed into something distinct, even unique.
Elizabeth McAlister, an American rara expert, describes it as being about play, religion, and politics.  Watching rara, it is clear that people are having a great time.  It is a raucous celebration of life, living in the moment, a Caribbean Zen experience.  There are also religious elements, a celebration of Vodoun and the African roots that Haitians want to keep alive, despite plane-load after plane load of North American visitors who feel that Haitians should speak, act, and be like themselves.
Rara can be a form of resistance.  Abetted by the international community, Haiti has lived under generations of dictatorship where speaking one's mind was to risk torture or death.  Rara songs allowed bands to speak their minds in ways that would not be easily recognizable to the political elite.  It is also a form of protest against social problems such as corruption, inflation, etc. 
If you are interested in learning more about rara, visit Elizabeth McAlister's excellent rara website. Here you can watch a fifteen minute film on it and view numerous clips of rara in both Haiti and in New York City.  McAlister regularly posts anecdotes and quotes from new research and documentaries.  She also has written a well-researched book on rara, entitled "Rara! Vodoun, Power, and Performance in Haiti and its Diaspora," which you can view here.
Now back to "The Other Side of the Water."  Take a look at the video clips posted on the official website and examine the still shots in the Flickr Photo Stream.  If you want to stay informed, you can sign up ffor the email list.
If you are fortunate enough to be in Miami or can make it for the festival, below is the schedule:
Thursday May 21st, 7pm:
Workshop: "Rara and Cultural Activism", at the Light Box Studio Screening scenes from the documentary featuring historical footage of rara's role in the "Haitian Civil Rights Movement", and discussion with artists/activists about the music's role in social change. Co-Presented by Miami Light Project. 3000 Biscayne Blvd., #100 Miami, Fl (305) 576-4350 ($8 suggested)
Friday, May 22nd:
5pm, Masterclass: "The Roots of Haitian Music", at the Light Box Studio.  Screening some of the earliest known archival footage of rara in existence, discussion of rara's roots, music demonstration, and chance to play in a traditional rara procession.Co-Presented by Miami Light Project. 3000 Biscayne Blvd., #100 Miami, Fl (305) 576-4350 ($8 suggested)
8pm, Live performances & screenings at Tap Tap Restaurant
819 Fifth St, Miami Beach (305) 672-2898 Free
Saturday May 23rd, 8pm:
The Haitian Rara Experience @The Colony Theatre. Documentary screening & live rara battle between Brooklyn's DJARARA Vs. Miami's Rara Lakay. 1040 Lincoln Road Miami Beach (305) 674-1040 Tix $15 in advance, $20 at door, at box office (Tu-Sat noon-5pm) and ticketmaster.com
Sunday May 24th, All Day: Noon-1am:
Family Day & Culture Jam @7th Circuit Studio
12-6pm Short films, food, music, arts for kids.
6:30 Documentary Screening
7:30-1am: Roots & Rara featuring Jan Sebon & Kazak,
Djarara vs Rara Lakay
228 NE. 59th St., Miami (305) 757-7277
Tix $10 / $50 VIP. $5 for Kids under 15