No Reservations: Haiti
Posted on:

21 July 2011

By:

Bryan Schaaf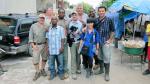 I finally got around to watching the  No Reservations episode in which Anthony Bourdain travels to Port au Prince.  While it is a shame that he did not visit Haiti's secondary cities or countryside, he and his team were able to capture some of the beauty, the tragedy, and the potential of Haiti.  He comes away understanding Haitians are trying their best to get their lives, communities, and country back on track.  You can catch the entire episode (in three parts) on Youtube.
Clip One: Clip one begins at the Hotel Oloffson, upon which the hotel in Graham Greene's novel "The Comedians" is based.   In a sense, comedians still gather at Hotel Oloffson, all playing their roles – journalists, aid workers, politicians, and the occasional tourist.  When Peace Corps was active in Haiti, owner Richard Morris gave a discount to the volunteers, allowing us to stay in a much nicer place than we normally could.  Most of us have fond memories of RAM concerts and long nights of arguing politics and telling jokes on the veranda, rum punch in hand.  The hotel embraces Haitian art, music, and the vodoun that runs through it all.  Later in this clip, Bourdain is having lunch in a market and notices hungry children (of which there are many)  watching him.  He decided to buy them all a hot meal, which despite his good intentions, results in chaos.  According to Bourdain, " What happens is both predictable and a metaphor for what's wrong with so much well-intentioned aid effort around the world. Hungry people anywhere behave like hungry people. When you've got big kids and small kids, young people and old, many of whom haven't had a meal in days, in the real world, outside of the commercial in our heads, people get whacked with a belt."  This clip also includes (continuing into clip two) excellent footage of Fete Guede – the Haitian Day of the Dead, traditionally a celebration of life and the impact that those who have come before have on it.  It is particularly poignant after the earthquake – especially for those who will never be sure the remains of their friends and family lie buried.
Clip Two: Clip two features an interview with Sean Penn.  I give Penn credit for making a transition from brash advocate with all the answers to quiet aid worker who understand the complexities.  Still, the majority of sites where internally displaced persons are staying do not have the luxury of an NGO managing it, let alone a celebrity who can function as the de facto mayor.  It would have been better for Bourdain to visit several of these sites to get a feel for how the displaced are living.  The second half of the clip features the work of artists who, despite the beauty of their work, will never see a dime from it.  After, he enjoys a meal in Petionville of fish in kreyol sauce, plantain, and griot (fried pork).  At this point, I realized I could not recall the last time I had a good Haitian meal.  This clip concludes with an observation that if Haiti's political past was any guide, the (then) upcoming presidential elections were bound to be flawed.  Unfortunately, he was right.
Clip Three:  Uncertainty pervades clip three – will the incoming hurricane strike Port au Prince?  In the end, there is little most people can do to prepare.  Those in the camps have nowhere else to go.  Richard has nowhere but his hotel.  Nothing to do but wait, watch, and hope.  The next day there is a sense of celebration on the street – of having made it through another challenge.  Pito Nou Led Nou La, a proverb which means in Haitian "We may be ugly, but we're still here."  In Haiti, one is aware of the fragility of life.  We are here today but may not be tomorrow -  but for now, we have made it through and that is cause for celebration.  The end of this clip is the best part of the entire episode – coverage of a rara band, intoxicated by the moment and with klerin, playing oddly hypnotic music as it moves down streets, always paying hommage to the crossroads.  Rara is a celebration of being alive.
What did you think of the episode? Please feel free to post your thoughts below.  Thanks. 
Bryan