The Legacy of Jean-Baptiste Point du Sable
Posted on:

8 March 2013

By:

Bryan Schaaf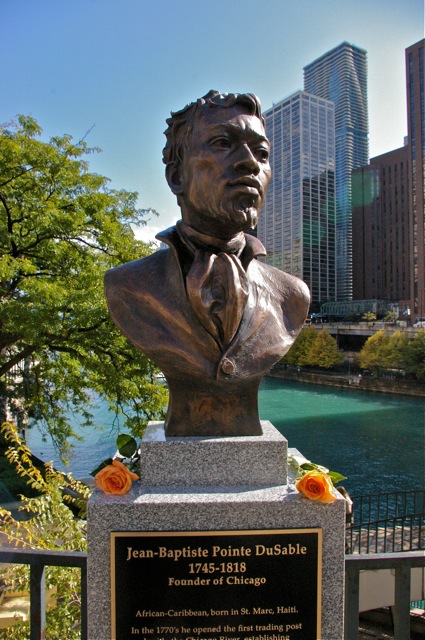 I grew up in the midwest and Chicago, being our largest city, was the promised land.  Only well after living in Haiti did I learn that the first non-native resident of Chicago was Jean-Baptiste Point du Sable, a Haitian who made the long voyage from Saint Marc.  A Haitian Times article about the "Founder of Chicago" follows and you can learn more through the Du Sable Heritage Association.  The Haitian-American population there may not be large, but Chicago's history is forever connect to Haiti's.
Depending on who you ask, African-American history began in 1502, when Columbus introduced the African slave trade to the island he had claimed 10 years earlier for the Spanish crown, naming it Hispaniola. Our readers know that the people he met there called it Ayiti. It didn't have a last name then, and neither did its first heroes Caonabo, Anacoana, Enriquillo. Later, two of Hispanola's African sons went North — one of them, Juan Rodriguez, landed in Manhattan in 1613, before the Dutch or English, becoming its first non-native settler. In the mid-18th century, Jean-Baptiste Point du Sable, a traveler and entrepreneur, would migrate from St. Marc to New Orleans, then St. Louis to Peoria and Michigan City, before he ended up Chicago. The indigenous people he was most closely associated with — the Bodéwadmi (Pottawatomi) or "keepers of fire" — presumably said "the first white man here was a black man…" Point du Sable, however, might be better understood as something other than a link in the long chain of white discoverer-conquerors.
Both Point du Sable and Rodriguez were in a sense the harvest of empire, economic refugees leaving home for new opportunities, new vistas. They were unsanctioned, unchartered by European powers; and in today's parlance, undocumented. Others may say, that in a way, we were not yet African, until we were forced together in the pressure chamber of the slaveship, in the box of the plantation, prisoners of war and abductees stripped of names with no common tongue. Following this thread, African-American history could equally be said to begin centuries later, with the Haitian Revolution, as the first Pan-African moment in world history. Perhaps we didn't become black at the moment they named us, but became black in 1805, at the moment Dessalines named us so, (even the Suisse and the Poles, for a moment), whatever child of Africa made it whole to our shores, was Haitian — and free.
Point du Sable missed that moment of uprising and solidarity, which spurred the Louisiana Purchase, and brought the French empire to its knees. Maroon, rebel and affranchi together, the fragile moment of red and blue union, that birthed a black nation. But his own story, though equally limited by colonial realities, was also driven by a dream of peace and freedom. For the most part, historians claim that it was 1764, when Point du Sable was shipwrecked near New Orleans, with his childhood friend Jacques Clemorgan, on their journey to carve out a new life. Having lost his free papers in the wreck, he occupied a precarious position in the colonial South, before heading North with Clemorgan, and their newfound comrade Choctaw, for a land free of slavery. Mentored by Pontiac, a French ally and visionary leader of several Great Lakes tribes, Point du Sable was instrumental in negotiating and preserving peace among the Miami, Illinois, and Bodéwadmi peoples during the turbulent times that followed Pontiac's War. His joint ventures with Clemorgan proved very lucrative, producing outposts in New Orleans, Peoria, and eventually Chicago, where Point du Sable intended to settle permanently with his wife Kittiwaha (Catherine).
His tenure was interrupted by the onset of the American Revolution. Point du Sable's land was occupied, and he became a political prisoner, spending the final two years of the American Revolutionary War under British arrest for refusing to allow his settlement to be used as a military outpost by either side of the conflict. After the War, he established his most famous settlement, at a historic regional crossroads, where the Eschikagou River met a freshwater sea.  From roughly 1780 to 1800, Point du Sable maintained a massive settlement that became the center of commerce and communication in the region, before selling his property and moving to St. Charles, where he remained until his death in 1818. The reasons he left Chicago, as much of the rest of the historical record, are unclear. One account is he left after being ordered to pay taxes or to purchase from the young United States the land he had developed into a thriving settlement. Another maintains that the encroachment of pro-slavery forces as the nation pushed West made the environment less hospitable. He relocated to St.Charles, MO, where he died penniless, like so many of our greatest trailblazers.
By 1893, the memory of Point du Sable lived on primarily through the oral tradition of Chicago's growing black community, whose members waged a major protest at the Chicago World's Fair that year. It was there, at the Haitian Pavilion, African-Americans organized with pride; and Frederick Douglass delivered his most famous public address on Haiti — and Ida B. Wells launched her anti-lynching campaign. The struggles for inclusion, and the preservation of history endured by Chicago's black community, yielded in 1936, the founding of DuSable High School. In 1968, the Ebony Museum of Negro History and Art was renamed as the DuSable Museum of African-American History. And in 1986, the State of Illinois included the DuSable homesite, 'Pioneer Court' in the National Registry of Historic Places. By 1987, the US Postal Service featured a portrait of Point du Sable on the 10th stamp in their Black Heritage Series, and the city's prominent black mayor, Harold Washington, led the dedication of DuSable Park. Washington was one of a long list of eminent DuSable HS alumni that included Nat 'King' Cole, Ebony Magazine founder John H. Johnson, legendary comedian Redd Foxx and Soul Train creator Don Cornelius.
In recent years, these efforts have been augmented by the area's politically maturing Haitian community; and have yielded more official recognition of the pioneer. In 2006, the Chicago City Council officially adjusted Point du Sable's status from "Father" to "Founder" of Chicago. And in 2009, a new monument, donated by a Haitian family spearheading the DuSable Heritage Association, was dedicated at Pioneer Court. One year later, in a compromise solution to the controversy surrounding a proposed renaming of the city's famous Lake Shore Drive, the Michigan Avenue Bridge was renamed the DuSable Bridge. A leader at the forefront of the efforts was activist, scholar and artist, Dr. Margaret Burroughs (1915-2010). In her fight to preserve and promote black legacies, she founded what would become the DuSable Museum with her husband Charles, in the parlor of their home. The Museum's Director of Educational Services and Public Programs, Pemon Rami, spoke to The Haitian Times recently — he had just come from a meeting with Lesly Conde, Consul General of Haiti for Chicago and the Midwest. They discussed the capstone of a two-year digital history project initiated by the Museum's post-Burroughs administration.
Launching online on March 3, 2013 (the official birthday of the City of Chicago is March 4, also celebrated by the Museum as DuSable Day) the project centers around a series of short films tracing the key points of Point du Sable's journey. In April, the Museum's production crew will travel to Haiti film in St. Marc, Point du Sable's birthplace. Rami, who grew up down the street from the Burroughs family, and whose mother attended DuSable High School, "always knew" who Point du Sable was. But the silences persist. On January 14th, 2010, Newsweek featured a missive to the nation from Barack Obama: Why Haiti Matters. None of Haiti's contributions in US history were mentioned, but as the president's Hyde Park home is mere blocks from the Museum, Point du Sable's absence may have been the most surprising. Historical exclusion is its own type of violence. Among other outcomes, it obliterates the foundation for potential communal memory and solidarity.
These days, the mention of Chicago yields similar consternation and dismay as that of Haiti — a tightening of the mouth, a flick of the eyes, a shake of the head, and something happens to the shoulders. Call it DuSable City, or Site Desab. Depending on who one asks, DuSable City, like Haiti, has a last name — one which represents a parallel devolution to our own bloody divorce from France and history of exclusion — from the "Pearl of the Antilles" to the "Poorest Country in the Western Hemisphere." Likewise, the "City of Big Shoulders" is now referred to as the "Murder Capital of America." These surnames suggest madness, and serve to silence. When asked about Point du Sable's significance today for Chicago's black community, and the Haitian community specifically, Rami provided an impassioned response.
"Part of our problem is that we have to see ourselves as a collective," Rami said. "Whether we are Haitian, Jamaican, Trinidadian, Bahian… at some point we were all Africans dropped off in different places. African-Americans have ownership over this story. Africans have ownership over this story as well. Our collective greatness has been our ability to overcome adversity no matter where we wound up. [His story yields several lessons] how you build collectively with people, how you get along…" This month, President Barack Obama returned to the city he also adopted. After assuring us for years that there is no "Black America," (or White America, only United States of America) perhaps he could have told us why the realities are so disparate. Since it appears he could not, we may be better informed by Rami's analysis, that our greatest obstacles are rooted in "lack of truth of [who] we are, and what we're up against."There are places, crossroads, deltas, and graveyards, where new worlds are possible — where warriors have the power to cripple empires, where the sound of a horn, or lanbi, can summon men to fight for freedom. Haiti is still one of those places, Chicago too. Both could stand to draw from their connection to the spirit of Point du Sable.
Ayinde Jean-Baptiste is a senior writer at The Haitian Times, who writes essays that explore the black experience across the African diaspora. He is a poet and political strategist who hails from Chicago, IL, and now resides in Brooklyn, NY. Follow him on Twitter; he can be reached at ayinde@haitiantimes.com