Konbit Sante and Direct Relief International Announce Hurricane Preparedness Partnership
Posted on:

5 July 2009

By:

Bryan Schaaf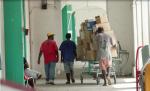 Konbit Sante is a Maine-based non profit organization focused on building the physical infrastructure of Cap Haitian's Justinian Hospital and the capacity of its staff, significant given that this health facility is the largest in the north.  Last week, Konbit Sante announced a new partnership with Direct Relief International (DRI).  DRI has agreed to provide close to half a million dollars worth of medications to the Justinian Hospital.  Should tropical storms hit northern Haiti again this year, having these medicines on hand will considerably improve response time.  A press release is copied below.  
Konbit Sante and Direct Relief International Form Hurricane Preparedness Collaboration (Cap-Haitien, Haiti) 
Maine-based Konbit Sante Cap-Haitien Health Partnership and California-based Direct Relief International have teamed up to preposition more than $450,000 worth of critical medical supplies – the contents of a 40 foot container – at the Justinian University Hospital in northern Haiti. 
Haiti has a tragic history of natural disasters during the June to November hurricane season.  Haiti is particularly vulnerable, not only because of its Caribbean location in the path of dangerous tropical storms, but also because of widespread deforestation.  Lacking affordable alternative fuels for cooking, impoverished Haitians have denuded the mountains for charcoal production thus creating the conditions conducive to landslides and flash flooding.  
In 2004, Tropical Storm Jeanne dropped 13 inches of rain on the northern mountains of Haiti, causing flooding that killed more than 3,000 people in the town of Gonaives and surrounding areas.  During 2008, four back-to-back storms devastated villages, homes, crops, and livestock, causing major suffering and loss of life. The situation was made even worse by storm-related shipping delays.
After last year's storms, road washouts caused disaster relief as well as basic medical supplies to take four to six weeks to reach affected areas, despite being immediately released from donor warehouses.  The country now braces for the 2009 hurricane season.
"Having adequate supplies to provide decent health care is a struggle every day in Haiti," says Konbit Sante executive director, Nate Nickerson. "Every day Haitian health care providers face chronic shortages of life-saving medications, supplies, and equipment that limit their ability to provide care.  But in the context of a humanitarian disaster, the urgency is amplified many fold. Now, with the appropriate medical supplies stockpiled and ready, lifesaving resources will be immediately available when the next emergency arises."
The container carrying the Direct Relief International resources is currently in transit from California to Cap-Haitien.  Should Haiti be fortunate enough to not suffer natural disasters this year, the supplies and pharmaceuticals will be integrated into the inventory of the local public hospitals and clinic and a new container will be prepositioned for the following year. 
"Working with Konbit Sante is a natural fit," says Brett Williams, Emergency Response Coordinator of Direct Relief International.  "They have a proven track record and both the relationships and commitment that show they plan to be there for the long run. Most importantly, they care about changing the way things are done.  We have a thoughtful partner in Konbit Sante and look forward to growing the relationship over time." 
Konbit Sante, a Maine-based nonprofit organization, has worked in Haiti for eight years developing programs to improve health care for the people of northern Haiti through collaboration and empowerment.  Konbit Sante maintains offices in Maine and in Cap-Haitien, Haiti, where it oversees programs in women's health, pediatrics, disease prevention, procurement and management of medical equipment and supplies, improvement of water quality at the regional hospital, and community collaborations.
Direct Relief International is a California-based nonprofit corporation whose mission is to improve health and lives of people affected by poverty, disaster, and civil unrest. Established in 1948, Direct Relief International strengthens the efforts of its partners through provision of financial, technical, and essential medical material resources. Direct Relief International currently ships containers of medical equipment and supplies to 58 countries.
 
For more information, contact  Nate Nickerson, RN, MSN, DrPH, at either 207-347-6733 or nnickerson@konbitsante.org