IDB Gives Haiti $25 million Grant for Roads
Posted on:

26 October 2008

By:

Bryan Schaaf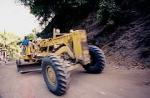 According to Caribbean 360, The Inter-American Development (IDB) has announced a US$25 million grant to improve the road network and road maintenance in Haiti's southwestern departments.  If you've travelled the Grande Anse by road, you know how important this is. The grant is part of a four-phase IDB program to provide Haiti with US$100 million to rehabilitate its roads.
A first US$25 million grant, approved last year, is already financing several projects in that region. The program is also receiving support from a US$58.7 million grant from Canada.
"Rebuilding the national road network is a top priority for the Haitian government, which views these investments as fundamental to boost economic and social development by linking remote communities with the rest of the country," said IDB Representative in Haiti, Philippe Dewez.
Most of the new grant will be used to rehabilitate 22 kilometres of primary roads and 45 kilometres of rural roads, as well as to improve paving and drainage at urban crossings in the departments of Grande Anse, Nippes and Sud. Resources will be provided for building bridges on the stretch between Gros Morne and Port-de-Paix, on Haiti's northern coast.
Under the programme, the Ministry of Public Works, Transportation and Communications' southwestern departmental offices will receive assistance to purchase tools and equipment and to train their staff to supervise road maintenance work carried out by local firms and microenterprises.
Caribbean 360 also notes that China has been inducted as the 48th member of the IDB this week.  China made available 350 million which will benefit Bolivia, Guyana, Haiti, Honduras and Nicaragua in the form of soft loans.  After the United States, China is the second largest trading partner in the region. 
Chinese Ambassador to the US, Zhou Wenzhong, said the assistance would create the opportunity for increased two-way trade and investment and greater technological cooperation between China and the region.   
*Photo courtesy of Aaron Nivey.