Hillary Heading to Haiti
Posted on:

11 April 2009

By:

Bryan Schaaf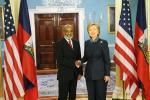 The Miami Herald ran an article concerning Secretary of State Hillary Clinton's upcoming visit to Haiti, which will take place shortly after the International Donors' Conference.  While the visit will be brief, we take this as a welcome sign that Secretary Clinton, whose responsibilities include overseeing the foreign assistance programs of both the State Department and USAID, is interested in and committed to Haiti's development. 
WASHINGTON -- Signaling the United States' strong commitment to Haiti, Secretary of State Hillary Clinton is expected to visit the storm-ravaged Caribbean nation next week to meet with Haitian President René Préval.  State Department officials have not yet confirmed the visit, but Haitian officials say they have been told that Clinton plans to make a brief visit to the Haitian capital of Port-au-Prince on Thursday while enroute to Trinidad and Tobago to attend the Fifth Summit of the Americas alongside President Barack Obama.
The Haiti visit would come just two days after Clinton leads the U.S. delegation at a critical Haiti donors conference in Washington and three days before Haitians head to the polls on Sunday to choose among 105 hopefuls vying for 12 Senate seats.  The elections are the first of two legislative elections Haiti is expected to hold this year and will be a critical test of the country's fledgling democracy. Like Tuesday's donors conference, which is being hosted by the Inter-American Development Bank, the elections are long overdue.
Haiti has faced a gloomy prognosis since spiking global food and fuel prices triggered days of deadly riots last April and two tropical storms and two hurricanes battered the country in less than a month last summer. The storms killed nearly 800 people and left nearly $1 billion in damages.  With the the global economic crisis, the country now faces a $125 million budget shortfall, rising double-digit inflation and a slowdown in remittances.
In February, Préval became the first head of state to meet with Clinton following her confirmation as secretary of state. During the meeting, he pleaded for urgent aid support on behalf of his cash-strapped government, which was facing a $125 million budget shortfall.  Those familiar with the bilateral talks told The Miami Herald that at the donors conference, the United States is expected to announce at least $50 million in additional aid for the poverty stricken country, including money for direct budget support.
For months, Haiti supporters have been calling on the international community to help keep the fragile nation from slipping deeper into misery and help keep instability at bay.  Among those who have come to the country's aid is former President Bill Clinton, who along with UN Secretary General Ban Ki-moon, visited Haiti last month and pledged to help garner donor support. Both are scheduled to attend the donors meeting at which Haitian authorities are seeking at least $2 billion toward a three-year poverty reduction plan in the hemisphere's poorest nation.
Ahead of the meeting, Ban has personally written to donors telling them that the conference is ``of fundamental importance for consolidating the fragile stability of Haiti.''  But he warned that while international aid is needed, it ``alone will not provide economic security, and what's required is sustainable social and economic development to enable Haiti to move beyond recurrent crises.''
Just what Clinton's message to Préval will be remains unclear. The day before, she's scheduled to meet with Prime Minister Michèle Pierre-Louis, who will attend the donors meeting. But Pierre-Louis will first travel to New York, where powerful New York Democratic Rep. Charlie Rangel is hosting a Monday meeting with textile business leaders to take advantage of the U.S. Congress-approved HOPE legislation.
The law has helped inject 11,000 new jobs into Haiti's once ailing textile industry. Nine companies have moved to the country to take advantage of the nine-year window of duty-free access to the U.S. market for textiles.
Following the meeting in New York, Pierre-Louis will be the guest of honor at a dinner hosted by Inter-American Development Bank President Luis Alberto Moreno, again aimed at fueling investments into the country.The United States is Haiti's single largest donor, and the additional aid would bring its commitment to $287 million for the fiscal year.