A Haitian Doctor in Lesotho - Way to Go Jonas!
Posted on:

17 October 2007

By:

Bryan Schaaf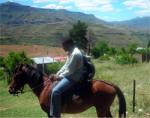 An article on the Partners in Health website recently caught my eye.  For those not familiar, Partners in Health is a non profit organization that pioneered community based methods of treating HIV/AIDS and tuberculosis in low resource settings with incredible success.  The program started in Haiti and was expanded into Latin America and Africa. 
As part of this program, Haitian doctors are teaching Africans health care providers how to establish similar programs in Lesotho, Rwanda, and other countries.
The subject of this article, Dr. Jonas Rigodon, began working in Thomonde when I was a Peace Corps Volunteer in Thomonde from 2000-2002.  I remember him as a friendly, hard working individual.  Getting doctors from Port au Prince to work in rural areas is notoriously difficult, but he was happy in Thomonde.  He never complained, even in the rainy season.
The story is about Jonas riding six hours on horseback to care for patients who had no means to visit a health clinic for routine care.  One of these patients was HIV positive and was put on anti-retrovirals.  The before and after pictures are striking.   Truly a new lease on life for the sick among the poorest of the poor. 
Vintage Jonas and Vintage Partners in Health.  
I encourage you to examine the Partners in Health website, learn about their pioneering approach to meeting the health needs of the poor, and consider making a donation. You can read more on their website by clicking here:  
Bryan