Haiti Earthquake: Who Is Doing What Where? How Can I Help?
Posted on:

15 January 2010

By:

Bryan Schaaf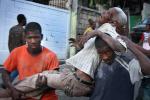 Immediately after the earthquake, the main source of information was Twitter, which I have a new respect for.  Journalists and aid workers are arriving in Haiti and we are gaining a better sense of just how extensive the damage to Port au Prince is.  We also know that Jacmel was seriously affected as well.  Aid from the United States, other governments, and humanitarian responders both big and small is picking up.  This is a summary of the current situation, who is doing what where, and how you can help.  Additional updates will be posted as comments.
Community members are always the first responders to disasters, and this earthquake was no exception.  Seismologists say that earthquakes do not kill people, shelter does. Haitians tried their best to free people trapped in the rubble, even with their bare hands, but in many cases, heavy equipment was needed.  Both MINUSTAH and the Haitian government have taken serious losses, impacting their ability to respond.  Despite this,  MINUSTAH is doing all it can under extremely difficult circumstances.  About 3,000 police and peacekeepers cleared debris, directed traffic and maintained security.  But as numerous sources noted, law enforcement was stretched thin even before the quake and is not prepared to deal with major unrest - which is bound to occur if survivors do not receive assistance soon.
There are said to have been have 30 aftershocks so far and people are very wary of another earthquake.  According to the UN Office for the Coordination of Humanitarian Affairs (OCHA), there is no regular water supply.  Communications are down and there is no electricity.  While authorities have warned of looting and other crimes, and despite reports that criminals escaped from a prison, security is holding for the time being.
We don't know how many people died yet, but the Red Cross is estimating between 40,000 – 50,000.   The Red Cross notes growing desperation over food and water.  Aid is being slowed down by poor roads, a crowded airport, and a damaged seaport. "There's only so much concrete" for parking planes, U.S. Air Force Col. Buck Elton said at the airport. "It's a constant puzzle of trying to move aircraft in and out.""  According to the AP, donations are coming in to the airport, but there is not yet a system in place to stock and distribute supplies.
The Haitian government still controls spacing and landing of flights. It is only operational for humanitarian and military flights. Lack of fuel is a major constraint. This means aircraft must be able to return on their own fuel. According to OCHA, MINUSTAH began prepositioning trucks and forklifts at the airport. The port is not operational, with all three cranes destroyed. Traffic congestion and debris in the streets are impeding general movement.
OCHA states the highest priorities are  urgent search-and-rescue assistance, including  teams with vital heavy-lifting equipment, medical assistance and supplies. Food, clean water and sanitation, and emergency shelter are also critical.   It is widely expected that affected individuals and families may leave Port au Prince to stay with friends and relatives in the countryside.
So who is in charge of this humanitarian operation? In theory, the government.  In reality, MINUSTAH has established an Emergency Joint Operations Center to coordinate support to the overall humanitarian effort, The UN, the US, and Iceland have set up a reception center at the airport. The U.N.'s 9,000-member peacekeeping force sent patrols across the capital's streets while securing the airport, port and main buildings.
The United States government is engaged. This morning, President Obama announced "one of the largest relief efforts in our recent history backed by more than $100 million in relief funds.  On January 13, U.S Ambassador to Haiti Kenneth H. Merten declared a disaster due to the effects of the earthquake. In response, The United States Agency for International Development (USAID) provided initial fiunding to the U.S. Embassy in Port-au-Prince for an emergency response program
USAID has also deployed a top-notch Disaster Assistance and Response Team (DART) to Haiti and established a Response Management Team (RMT) in Washington DC to back it up.. USAID plans to provide additional assistance in accordance with the findings of the USAID/DART and humanitarian community assessments.  The Department of Defense (DOD) is also actively involved, over 5,000 soldiers are expected to be deployed by this weekend.  Numerous naval vessels are expected over the coming week.  The American military is generally well-regarded by Haitians, having seen them respond well to previous disasters.
Other governments are engaged.  Cargo planes from China, France, Spain, and the United States have landed in Port au Prince airport.  Cuba has many excellent health care providers in Haiti and this provides an excellent opportunity for our two countries to work together toward a common goal, something we have not done for a long, long time.  Venezuela also sent a C-130 with relief supplies and a 50 person response team.  In addition to the American search and rescue teams from Fairfax and Los Angeles, Iceland has also deployed a team. Nicaragua will send electricians to help repair power lines as much of the country's electrical and telecommunications systems are down.  Mexico is sending doctors and relief workers. Jamaica has offered the airport in Kingston as a staging area into Haiti.  The Turks and Caicos Islands have pledged heavy duty equipment and operators as well as medical supplies and personnel. The Phillipines and Switzerland are deploying emergency teams.  Peru is providing medical supplies.  New offers of assistance occur daily.
Many governments are making cash contributions to the relief effort and that includes Spain, Germany, France, the Netherlands, Sweden, Luxembourg, Belgium, China, Australia, Brazil, Canada, Switzerland, Finland, Japan, Denmark, Italy, the United Kingdom and the European Commission.  Saint Lucia has set up an earthquake relief fund.  Rotarians from countries around the world are also providing support.
The Caribbean Community (CARICOM) high level delegation is expected to arrive in Haiti tomorrow as scheduled. The Regional Response Assessment team will now be deployed to Haiti on Saturday January 15, 2010.  The International Monetary Fund and the World Bank are also providing considerable financial assistance for Haiti's recovery.
According to CNET News, the United Nations Foundation and Digicel are also providing cash assistance. Major League Baseball has pledged an immediate donation of $1 million to benefit earthquake victims in Haiti. Google has pledged $1 million and set up a special page for donations and added updated satellite imagery of the region to Google Maps.
Microsoft has said it will give up to $1.25 million in cash and in-kind donations, as well as match employee contributions as part of its standard program that matches up to $12,000 per worker in donations each year.  Apple has set up a donation mechanism within iTunes, while a campaign by the Red Cross and the cellular industry to raise money via text message donations has pulled in more than $4 million.
Rumors were circulating on Twitter that several airlines were flying doctors and nurses to Haiti free of charge to help with relief efforts.  Also that UPS was shipping to Haiti for free. It was not true.  This is not to say that airlines and UPS have not been helping.  UPS is donating a million dollars throough relief agencies while American and American Eagle sent planes to Port au Prince carrying water, food, and other goods for the response.
Alongside former President Bill Clinton, former President George W. Bush will share responsibility for raising money and keeping attention on the aftermath of the devastating earthquake. The appointment will be made shortly by President Obama.
Many organizations are responding to the needs of survivors.  This includes the American Red Cross which released $10 million dollars today for the relief effort. Thousands of local Red Cross volunteers are aiding their fellow Haitians. American Red Cross Disaster management specialists are scheduled to arrive today from the United States, Peru and Mexico to join local Red Cross staff already on the ground in the disaster zone. As soon as airports begin accepting relief shipments, tarps, hygiene items and cooking sets for approximately 5,000 families will come from the Red Cross warehouse in Panama.
The International Committee of the Red Cross (ICRC) has a plane full of mostly medical items on the way to Haiti from Geneva. ICRC staff, including engineers, a surgeon and family linking specialists are expected to arrive in Port-au-Prince this morning. Other Red Cross partners have deployed a mobile hospital, medical teams, and 40 staff to help with sheltering, providing water, sanitation, and telecommunications.  ICRC is also helping reconnect separated families in Haiti through a special web site which enables people in Haiti and outside the country to search for and register the names of missing relatives.
The World Food Programme (WFP) has established a logistics hub in the Dominican Republic and has begun acquiring logistics assets.  WFP is deploying logistics and telecommunication staff to Haiti to support humanitarian operations.  In addition, WFP is coordinating food assistance to survivors through an intial emergency operation valued at $500,000.
The UN Childrens Fund (UNICEF) is in charge of Water, Sanitation, and Hygiene – critical issues given that water systems have been severely compromised.  Having access to drinkable water and sanitation facilities will be critical to ensure disease outbreaks do not occur.   UNICEF will also establish temporary health facilities, assess damaged health facilities, and carry out vaccination campaigns.
The International Organization for Migration (IOM) is responsible for providing emergency shelter and non food items (like blankets) to survivors. IOM is to distribute emergency relief material from stocks already in the country. IOM reports it has enough stock in country to 10,000 families, but a far greater level of support is needed.  IOM reports tents are its highest need along with financial support.
The Pan American Health Organization (PAHO) is the regional branch of the World Health Organization (WHO) and so will be responsible for coordinating health services. This is important given that at least eight Port-au-Prince hospitals have been severely damaged.  A 12-person team is set to arrive soon that will conduct an assessment of the health sector and the capacity of health systems.  A field office will be set up on the DR-Haiti border to assist in deployment of more team members who will be arriving with expertise in including water/sanitation/hygiene, infectious disease, and health systems.
The United Nations Population Fund (UNFPA) is deploying commodities needed to ensure the reproductive health of disaster affected women. They will also assist with mobile clinics.
Many good non governmental organizations (NGOs) are responding as well. For example, Handicap International is deploying staff to hospitals to assist with rehabilitation and post surgery assistance.  This is essential as many, many people are going to be disabled as a result of their injuries.   Project Medishare and Partners in Health are deploying staff, medicines, and medical supplies to Port au Prince.  World Vision teams are supplying hospitals with gauze, bandages, syringes, latex gloves and antibiotics. Oxfam is providing safe water and shelter. CARE is deploying both medical supplies and emergency response staff.
How can you help?  We've received a lot of emails asking where to send clothing and food – but remember that the port is not working and that the airport is jam packed with commodities right now.  Much of what Haiti needs can be acquired locally or in the Dominican Republic (for a cost). What Haiti does not have is best brought in bulk by organizations with the capacity to do so.  It is less expensive and more efficent to distribute this way.   Any of the organizations listed above will use your money well.  More information can be found at The Center for International Disaster Information
So far, the United States has responded strongly as have other countries, the Red Cross, non-governmental organizations, and international responders.  This is going to be a long term recovery operation.  Right now it seems like the coverage of Haiti will last forever but it will not.  There will be other emergencies in other places and the attention of the international community may wane. We cannot let that happen. Haiti needs partners who will stand with it, in solidarity, as the country gets back on its feet.  As our neighbors, as our friends, as our family, as citizens of a country whose history and fate are intertwined with ours, they deserve no less than our strong committment and our best efforts.  On behalf of Haiti Innovation, thank you to all who are helping Haiti during this difficult time. 
Bryan