Despite Skepticism, There Is Hope For Haiti
Posted on:

12 February 2009

By:

Bryan Schaaf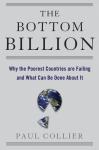 Those who know Haiti understand its potential.  The Miami Herald recently described a report by Paul Collier, author of "The Bottom Billion", on why Haiti can indeed succeed over the long term.  Regional engagement, job creation, and empowerment of the Diaspora will be key.  Do you agree with his findings?  Please post your feedback in the comments section.   
WASHINGTON D.C. -- Surprise! Contrary to general belief, there is hope for the poorest, most environmentally devastated and possibly corrupt country in the Americas -- Haiti.
A private report for the secretary general of the United Nations concludes Haiti offers the best chances of success among all so-called ''fragile states'' in the world -- countries where the government has a hard time controling its territory or collecting taxes -- that are receiving help from the international community.
The report by Oxford University professor Paul Collier, author of the recent book The Bottom Billion: Why the poorest countries are failing and what can be done about it, says that despite Haiti's chronic political problems, the current global crisis and devastation from recent hurricanes, ``the opportunities for Haiti are far more favorable than those of the fragile states with which it is habitually grouped.''
Before we get to the report's most controversial recommendation -- and to what Haiti President René Préval told me about it in an interview -- let's take a quick look at the survey's reasons for optimism:
(1) Haiti is not part of a troubled region. Unlike many African and Central Asian countries with severe internal problems, Haiti lives in a peaceful neighborhood and is not under attack from other nations or foreign-based guerrilla groups.
(2) It is not divided by civil war, nor does it have a guerrilla group ready to launch a rebellion.
(3) It has a huge and nearby diaspora. Haiti's immigrant community in the United States and Canada is proportionally one of the largest in the world, and it provides the country with massive family remittances, a reservoir of skills and a powerful political lobby.
(4) It has a preferential access to the world's largest market. Thanks in part to its lobby in Washington, Haiti has duty-free and quota-free access to the U.S. market guaranteed for the next nine years -- more than most other countries.
(5) Haiti's current political leadership is good by the standards of most troubled countries in post-conflict situations.
But the report's optimistic message comes with a catch: It calls for all key actors currently involved in helping Haiti -- the United States, Canada, the European Union, the United Nations, Brazil and the Haitian government -- to launch a coordinated and simultaneous action to rebuild the country. My translation: Haiti needs a supranational solution.
It is ''completely unrealistic'' to expect Haiti's government, which depends on foreign aid and lacks mid-level professionals to carry out most programs, to devise a viable economic development strategy, the report says. Since success lies in coordinated actions, the country's reconstruction plan ''needs to be adopted simultaneously by all key actors,'' it says.
Among other things, Collier recommends massive job creation programs to rebuild roads and bridges destroyed in the hurricanes of 2008, an expansion of garment industry export zones, increasing the availability of electric power and improving port facilities.
Préval, who was in Washington requesting up to $100 million from international financial institutions for his country's reconstruction, told me that he liked the report's parts about Haiti's chances for success, but was not too enthusiastic about a supranational development strategy.
He said a coordinated strategy is needed, because Haiti cannot embark on its economic reconstruction by itself. An estimated 80 percent of Haitian professionals live abroad, and most of the remaining 20 percent work either in the private sector or in nongovernment organizations. In addition, more than 90 percent of the country's development budget comes from international donors, he said.
''Because of a matter of capacity and because of finance, we need to do this together,'' he said.  But -- here comes the potential glitch -- Préval said that ``I am sure that I know better than the international community what is good for Haiti. We have to listen to everybody, but Haitians have to have the leadership in identifying the strategy of the plan, and in defining the projects.''
My opinion: The report makes a lot of sense. Haiti is already under a de facto United Nations protectorate, with U.N. peacekeeping troops securing law and order. To prevent a social explosion and a potential famine, it should allow foreign donors to expand their current role and embark on a jointly devised reconstruction plan.
Right now, everyone is doing their own plan. If all sides are smart enough to recognize this, we could see the rebirth of what many have long seen as the most hopeless country of the Americas.