Wout Yo Di!!! (An Update on Road Construction in Haiti)
Posted on:

24 January 2008

By:

Bryan Schaaf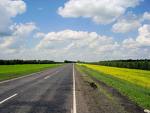 Haiti's roads are awful. When I was a volunteer, a peacekeeper told me that the only worse roads he had ever seen were in Nepal.  The lack of infrastucture has affected people's ability to do business, seek health care, visit relatives, and to travel in general.  But there is good news - For the first time in a long while progress is being made on Haiti's road system. 
I remember that in 2000 I saw people wearing shirts that said "Wout se devlopman - Mesi Preval!" (roads are development, thank you Preval!) to commemorate the paving of most of the stretch from Cap Haitian down into the Artibonite.  That was the only road to be paved during his tenure so he may have been jumping the gun a little bit.   But now would be a good time to break out those shirts again as real work is being done. 
More specifically, The Ministry of Public Works has been partnering with the Inter American Development Back, very active in Haiti now, to upgrade and expand the road system.  The IDB will be providing Haiti millions of dollars worth of road building equipment later this year.  In the meantime, work continues on the stretch between Les Cayes and Port au Prince, already a pretty decent road.   The stretch from Port au Prince to Miragoane is said to be almost done and will be extended to Aquin eventually. The Ministry is examinining options for the section from Miragoane to Jeremie - which would be a real boon to one of Haiti's most far flung and isolated departments.
Concerning the Central Plateau, the stretch from Croix des Bouquets to Mirabalais is under construction right now.  The EU has agreed to finance the stretch from Mirabalais to Hinche and then Hinche to Haiti.  A call for tenders has been put out. These sections are the worst in all of Haiti.   When completed, they would make the Central Plateau much more conducive to business and to travel.  The time required for going to Cap Haitian would be significantly reduced.
Is there a downside?  Sure.  There will be increased traffic (better add some speed bumps in Thomonde) and the cargo trucks will be able to take even more charcoal from the region.  Deforestation will likely be accelerated as the Plateau and the Grande Anse are Haiti's two main forested areas with the exception of the dwindling Pine Forest in the southeast.
If Haiti is to be competitive, though,  it must have a basic infrastructure.  Serious thought will have to go into managing the consequences of increased road use but it can be done.  This is also a very visible way for the Haitian government to show to its people and to the international community that it takes the needs of its people seriously.
We wish the Haitian government well in these endeavors and appreciate the support of donors which made it possible.   Next time I go to Thomonde, I look forward to driving on a road that will be (at least half the way) asphalted.
Bryan