Trash or Treasure? Turning Waste to Energy in Haiti
Posted on:

19 August 2008

By:

Bryan Schaaf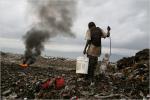 Haiti is a beautiful country but it would certainly be more so if there were a functional waste management system. What if waste, rather than winding up in the street, ocean, or a landfill could be converted into energy?  Port au Prince would become a very clean city in short order.  The New York Times carried an article stating that virtually any material containing hydrogen, carbon and oxygen could potentially be converted into fuel.  This include plastics, construction debris, forest and lawn trimmings, wood chips, wheat straw, and agricultural waste. This approach could someday help Haiti meet its energy needs without being at the mercy of oil.
With the high cost of gasoline, waste to fuel is getting a push in the United States.  The first sales could come online within months and large corporations including Honeywell, Dupont, General Motors, Shell and BP, have all made investmens in this area. The NYT reports that as of right now, 28 small plants are planned, under construction, or up and running.  The federal government is offering grants to get these plants off the ground with twice the level of subsidy offered for corn based ethanol. Click here for a slideshow describing how waste is converted to energy.
The article notes that one of the first functional plants was established by KL Process Design Group in Wyoming.  This plant uses pine wastes from a nearby national forest.  Sales could begin as early as the end of the year.  Click here to watch videos of KL converting the pine waste into ethanol. While interesting, this approach is not appropriate for Haiti as the deforestation is pervasive and forests scarce.
On the other hand, Fulcrum BioEnergy will begin construction later this year on a $120 million plant at Tahoe-Reno Industrial Center in Storey County, Nev. to make 10.5 million gallons of ethanol a year from 90,000 tons of garbage.  Operations could begin in early 2010.  Click here to see an inteview with Fulcrum's Jim Macias on CNBC.
DuPont has joined forces with Genencor to make ethanol from the nonedible parts of corn and sugar cane.  The companies plan to invest $140 million over three years.  Also, the Los Angeles County Regional Planning Commission approved a plan by BlueFire Ethanol to build a $30 million garbage-to-ethanol plant on 10 acres next to a landfill in Lancaster, Calif. Much of this new money is coming from Silicon Valley.
Admittedly, it will be years before this innovation takes off in the United States, let alone Haiti.  Even so, there are steps that could be taken to better manage waste in Haiti. First, establish a recycling center in Port au Prince.  Waste that would otherwise wind up in Port au Prince Bay could be collected by entepeneurial individuals and sold to middlemen or directly to the plant. The Haitian Community Development Project is trying to establish a waste management/incineration facility such as this.   I was also very interestred to learn recently that India is is one among three countries helping poor communities in Carrefour-Feuilles, a large slum in Port au Prince. Carrefour-Feuilles, the site of an innovative community-based waste management project funded by India, Brazil and South Africa (the IBSA alliance) along with the United Nations Development Programme (UNDP). IBSA has already committed $1.17 million to the project.  385 men and women are currently working for the IBSA-funded waste management plant and earn six dollars per day for an eight hour shift.  360 others work half days. The Haitian government is impressed by this program and would like to replicate it in other locations.  IBSA is now looking into creating a composting center. The procurement process is under way.  Learn more by clicking here.
Haiti needs alternatives to cooking with wood charcoal.  The deforestation and subsequent erosion means more hunger, more instability, and more disasters in the form of mudslides and flooding.  Agricultural waste could provide part of the answer. Byproducts such as sugarcane husk, rice husk, etc. can be pressed and dried into briquettes.  At present, there are a patchwork of communities that have adopted these presses and sell the briquettes.  Doing so slows local deforestation, creates a substitute livelihood for charcoal vendors, and provides a cheaper product to the consumer which burns with as much heat.  
For more information on community based briquette programs in Haiti, take a look at this article on MIT students who developed a simple, low cost method for creating briquettes. The students went on to form a company (D-Lab) to produce and distribute the charcoal to Haitian communities.  Their firm won $30,000 in seed money from the MIT $100K Entrepreneurship Competition to expand operations in Haiti.  Take a look at this CNN piece on D-Lab's work. For more information about the project, please contact Walter at dwalter@mit.edu.
World Concern has also been involved in promoting and teaching the production of alternative household fuel briquettes made from corn stalks, animal manure, leaves, wood shavings, paper, and even the powder and small pieces of charcoal. The press they use was developed by University of Washington Professor of Wood Utilization Technology Dr. Ben Bryant and his associates.  In some countries such as India, dung has long been a source of fuel.  In Haiti, there are going to be some significant cultural barriers to dung at first, but if wood carcoal continues to increase in price, I suspect these can be overcome.  Click here for a construction manual.  For a video, click here.
The Fondation Haitienne de L'Environnement (Haitian Environmental Foundation) was founded in 1999 and is led by a well known agronomist, Jean Andre Victor. This organization is also involved in developing alternatives to charcoal such as briquettes made from recycled paper and in encouraging charcoal and wood consumers to switch to alternative fuels.  
Operation Green Leaves, a Florida-based charity established in 1991, focuses on environmental education in Haiti and is raising funds for alternative sources of cooking fuel, such as kerosese and solar cookers.
The Legacy Foundation has been involved in developing a micro-enterprise-based briquetting technology, which converts non-productive agricultural residues and yard wastes into economic and environmentally sound heating and cooking fuels. In the USA, the emphasis is on research/development of technologies for families and community. They have a number of handbooks available online.  You can view a video about the presses here.
The Canadian Government is very involved in Haiti.  I noticed that during Haiti Environment Week they held demonstrations (the educational kind, not the burning tire kind) on briquettes. The goal is to raise awareness of the need to protect the environment and to demonstrate environmentally-friendly practices that are suitable in the Haitian context.
Pwoje Espwa (Project Hope) also has a briquette program which is novel in that they use corn stalks and vertiver, which last longer than standard charcoal.  I suspect the vertiver also makes the briquettes smell rather nice.  They have a team of 16 producing these briquettes which saves the organization from having to buy expensive wood charcoal or propane.  Until the government decides to subsidize propane like the Dominican Republic, it will remain out of reach for most.
These briquetttes have proven successfull in other low resource countries such as the Democratic Republic of the Congo.  It is important to keep things in perspective, though. Even if every rural community in Haiti had briquette presses while energy shortages were not addressed in Port au Prince, the deforestation would continue.  Each day the cargo trucks leave this city of three million people and head for the countryside.  When they return the next day, they are loaded with wood charcoal, and the rural provinces are that much more deforested.
Though these briquette presses are an important innovation, any comprehensive solution needs to address Port au Prince as well.  Electrification is key, even in the slums. These briquettes can, and we would argue should, be made on an industrial scale.  The machinery to do so is expensive, but given all the money flowing into Haiti for food, I have to believe there is a public or private donor who would be willing to pilot an industrial briquette project in an effort to turn back the deforestation that is a major cause of hunger in the first place.  Population Services International or another similar organization could be aprpoached to market these briquettes to the public, helping to make them more appealing.
My wish list for Haiti is long and includes a recycling plant and industrial briquette facilities in Port au Prince, the creation of a nationwide Civilian Conservation Corps, the establishment of "H Span" so that Haitians can hear what their elected representatives say (or don't say) while in session, the establishment of a chain of pro-poor schools that emphasize social service and the Socratic method, a clean and accountable police force that is not beholden to drug dealers, and finally a major airport in Cap Haitian that could breathe life into Haiti's troubled tourism industry. 
Thanks for reading this (long!) blog.
Bryan