Rotary in Haiti/Haitians in Rotary
Posted on:

22 January 2008

By:

Bryan Schaaf

So I've been thinking about joining Rotary Club.  Rotary is a worldwide organization of business and professional leaders interested in humanitarian service, encouraging high ethical standards, and promoting peace and goodwill around the world.  There are about 1.2 million Rotarians belonging to more than 31,000 Rotary clubs in 166 countries.  There are plenty of programs financed by Rotary International, but are there Haitian Rotary Clubs?  Turns out that there are.
Humanitarian activities are carried out through the Rotary Foundation (part of Rotary International).  Since 1947, it has provided over one billion dollars in humanitarian and educational grants - which are administered by local Rotary Clubs.  Favorite causes include poverty alleviation, global health (especially polio eradication), literacy, and violence prevention.  
A functioning Rotary Club would seem to be a welcome addition to any civil society, plus it plugs a person into a global network of philanthropists, advocates, and activists. 
I remember seeing Rotary International signs all over Haiti as a Peace Corps Volunteer.  So I decided to look up some of their activities.  Water was the emphasis of 2007 and a Clean Water Summit was held in Port au Prince.  Sanitation is the emphasis of 2008. There is also a global Rotary International Water and Sanitation Group.  On their website, you can find a powerpoint resource about designing, monitoring, and evaluating water projects.  The key is including our Haitian colleagues in all three phases.  Very few projects can pass that test, and thus cannot be called participatory.  I have attached the powerpoint below as well as another on effective implementation and scale up - a missing component.  Haiti needs water systems more than it needs another well.
In addition to water/sanitation projects, there have also been youth exchanges and funding for disaster response. I was told at first there weren't Rotary Clubs in Haiti. I did a quick search on the internet and they are indeed there.  This photo is taken from the website of the Petionville Rotary Club. It was founded in 1972 as an off-shoot of the Port Au Prince Rotary Club.  You can find a club history, list of members, humanitarian activities etc. on the website.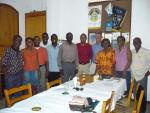 According to this website, there is a Rotary Club in Jacmel.  They seem to be involved in some Dentistry projects.  Other than that, I cant gather much more information on this one.
This article references a Rotary Club in Cap Haitian, and the partnership it has several Rotary Clubs in the United States, one of which is Portsmouth.  The partnership focuses on health and water/sanitation infrastructure.  They also work with Konbit Sante, a strong Haiti Innovation partner.

The Pignon Hospital references that the Rotary Club there has received an international charter.  Rotary International activities are plentiful in this area.   Without a doubt, it is an important hospital for a very isolated population.  Missionary Airlines Fellowship Planes take off and land from this area making it logistically important as well. 
Finally, this article references a Delmas Airport Rotary Club. Perhaps this is the Port au Prince Club?
If you know of others, Ill be happy to post them.  Like Haiti Innovation, Rotary Clubs trhy to bring together Haitian colleagues, Diaspora, and Friends of Haiti together for the common cause of humanitarian action.  We hope to learn more about them in the future.  Welcome your thoughts.
Bryan