Pre-Elections: Day 3
Posted on:

5 February 2006

By:

Bryan Schaaf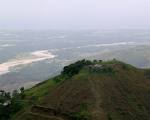 Today we set off to Leogane, slightly more than an hour south of the capital. Portions of the road had been recently paved and were quite nice; however, a significant portion around Carrefour was in desperate need of repair. Leogane was an old, quite town with many colonial buildings still in good shape. We found the CEP office with little difficulty after obtaining directions of Sri Lankan UN officers. They were extremely friendly, but seemed to do little more than stand around.
Leogane passed without incident, as did Gressier and Carrefour. There was, however, a reoccurring theme that many people felt very safe and positive towards the election despite a shaky start. Many of the workers felt as though training was done well, but they were concerned because they lacked many of the resources still to operate on Tuesday. Rumor was that tables, chairs, etc would be delivered by MINUSTAH, si dye vle.
In Carrefour, we saw a very strong Preval following. Whereas the other localities did not share their preference, the people of Carrefour were more than forthcoming. In what I would characterize typical Haitian fashion, I was surrounded by a large group with many people yelling their concerns, which made our security detail worried. We passed numerous trucks with speakers in the back blaring campaign slogans and even a helecopter dropped leaflets.
My perception of today's events is that people are motivated and still optimistic for Tuesday. The news of rain headed our way does create some concern, as we all know, ayisyen pa pe machin, menm pe lapli, or Haitians do not fear cars, but fear the rain. The still most exciting news was from yesterday's Baker rally, which I have not had to write about. We saw nearly 1500 people. But it became clear that the majority were there not for Baker, but for the party. When he took the stage, nary a person cheered. It was not until someone told us he was speaking did we actually start to pay attention. Overall, a weak message: Order, work, discipline. He could barely get the crowd to clap. More tomorrow.