Port de Paix: Past, Present, and Potential
Posted on:

28 February 2010

By:

Bryan Schaaf
The northwest is the poorest part of Haiti, long neglected by the Haitian government and the international community. Most Haitians have neve been here and comparatively little has been written about the region.  I recently was able to visit both Port de Paix and the Ile de Tortue, a nearby island that was once a hotbed of piracy. Below is a summary of the area's past, present, and also its potential.

According to the Touissant Louverture Project, the area around what is now Port de Paix was originally given the name Valparaíso by Christopher Columbus after landing here on December 6, 1492.  The city itself was founded in 1665 by French pirates who were driven from Ile de Tortue by the British.  In 1679, one of the first recorded slave revolts took place here, led by Padre Jean.  Port de Paix is said to have been prosperous during the 19th century, but in 1902 a fire destroyed almost all of the city -  an event from which it never fully recovered.  Port de Paix is notable for being the birthplace of Francois Capois, a leader in the Haitian revolution.  On April 12, 1803 Capois stormed Port de Paix and routed the French army, a major victory in the fight for independence.   
The island that you see is the Ile de Tortue.  Sailboats travel between Port de Paix and Ile de la Tortue from early morning until about five o clock.  The island has a compelling history, especially for those interested in piracy.Paraphrasing Cindy Vallar, when the Spanish drove the French boucaniers (hunters of wild pigs and cattle who smoked meat on boucans) from Hispaniola, they migrated to an island shaped like a turtle. It was named Tortuga by Christopher Columbus, and attracted all manner of unsavory characters.  The boucaniers preyed on Spanish ships using small boats.  These pirates became known as buccaneers.
When the French took control of Ile de la Tortue, they allowed the pirates to continue to plunder so long as a share was provided to the French governor.  Eventually, the Spanish took control of the island and the buccaneers fled.  The British later took control of the island in 1656 and invited the pirates to return.  Three years later, the French regained control and were at war with England.  During this time, they depended on the buccaneers for military assistance.  In the 1670s, Petit Goave replaced Ile de la Tortue as the main base for piracy.  Some raids continued from Tortuga but ceased by the 1688. Click here to learn more about the history of the island.
Port-de-Paix is also the chief town of an arrondissement of the same name.  The arrondissement consists of four communes: Port-de-Paix, Bassin Bleu, Chansolme and Tortuga Island.  The commune of Port de Paix itself is divided into the following communal sections: (1) Baudin; (2) La Pointe; (3) Aubert; (4) La Corne; (5) Mahotieres; and (6) Baie de Moustiques.  The Ile de la Tortue is dividied into two communal sections : (1) Aux Palmistes and (2) Mare Rouge.  The hospital and police station on Ile de La Tortue are both located in Aux Palmistes. 
The city is located on the ocean front, and one of the first thing you will notice is all manner of boats on the water, both for fishing and for transporting goods and people back forth between Ile de la Tortue.  The next thing you might notice are several large windmills on a hill, which were built by GTZ, a German development agency, to provide electricity. However, no one has the expertise to fix the windmills now.  They continue to spin, but generate no electricity.  Electricity is sporadic at best in Port de Paix.  The only reason there is electricity in the part of town where I have been staying is because an American Missionary school has a large generator which neighbors can pay to be connected to.  Most large business and organizations need to have and power their own generators.
Some roads in the city are good, some are bad, and some were good but are now bad due a lack of maintenance. When it is dry, the city is dusty, and when it rains, it becomes quite muddy. The city itself is very busy, and an army of scooter taxis take people to where they need to go.  You'll find many of the same landmarks as in other Haitian cities such as the blue and white catholic church on the town square, a large and white building where the mayor works, and large open markets.  MINUSTAH also has a large base here and works with the government and civil society to maintain security.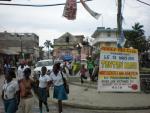 There is a Haitian city so you can count on several things.  There will be a lot of music and people like to have a good time.  No matter where you order food, it will take forever.  People are generally fond of Americans.  All prices will be listed in Haitian dollars even though there is no such thing.  Most people are religious and there are many churches.  It is easier to get around with even just a few words of Kreyol. People like to joke and argue.  Honking and graffiti are forms of dialogue.  You'll be asked for money.  If you get lost, people will help you.  Waste management is almost non existent. 
Things have changed considerably as a result of the earthquake.  The population here has increased.  Some estimates place the number of displaced in the northwest as high as 45,000.  There are those who lost everything in Port au Prince and will never go back, those who will find no opportunities here and will go back, and those who would stay if they could only find work.  Most people are staying with host families. In Haiti, you don't turn away friends or family who need you.
The public hospital (Immaculate Conception) has had a hard time keeping up with the health needs of the displaced from Port au Prince.  Both infrastructure and staffing need upgrading.  Hospital staff have treated more than 700 displaced individuals from Port au Prince who were injured.  When the quake happened, they did not have a surgeon on hand.  Fortunately, the Haitian government was able to provide them with additional staff and a Rotary Club in the United States provided some health care providers temporarily.  They are now running short of materials and equipment, such as those needed for making casts and performing surgeries.  The various buildings don't have running water.  Water has to be drawn from a common cistern and taken to the different units.  The hospital is surrounded on all sides by slum housing and the concrete fence is falling down in many locations.  Lacking a place to put their trash, nearby residents often throw it over the wall and into the hospital complex.  Livestock have free reign of the yard and occasionally make themselves comfortable in the buildings.  Thankfully, Red Cross has a blood bank here.  This is an important hospital, being one of only three in the region and the only referral hospital.  Unlike the Justinian Hospital in Cap Haitian though, they do not have partnerships with universities and/or hospitals in other countries.  If your organization is interested, let me know.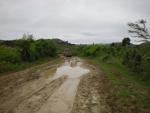 The economy has also had a hard time keeping up.  Jobs were scarce to begin with.  The rural areas outside of Port de Paix are isolated and agriculture is the only game in town when it comes to livelihoods.  However, it is mainly subsistence agriculture.  Irrigation used to be common but is now rare, except for the large land owners who have their own private systems.  Unfortunately, the bad roads make it difficult to bring crops to regional markets.  The United Nations Development Program (UNDP) intends to improve the road from Port de Paix to Jean Rabel, which would be a major help.  There are some micro-credit lending institutions here such as Fonkoze, COPLES, and ACLAM (supported by World Concern)
Sadly, people in Port de Paix feel that they have been abandoned by their own, and every other, government.  There is a sense of hopelessness here, that there will never be opportunities for an education, work, and a better future.  This partially explains two problems that this region has.  First, is that it is a trans-shipment point for cocaine and second this is the primary region by which Haitian migrants attempt to leave Haiti by boat.   As many Haitians are not able to swim, this is like purchasing a lottery ticket with one's life.  The Haitian and American Coast Guards patrol the north coast of Haiti to prevent outmigration by boat.  The chances of being able to make it to the Bahamas, Turks and Caicos, the United States, or Cuba without being inderdicted are quite low.  Those who are interdicted are returned to Cap Haitian, provided some basic assistance, and then transported back to their communities of origen.
Perhaps Port de Paix's best asset is its strategic location.  If the Port were upgraded, the city could send and receive a much broader range of (legal) commodities.  In order to do so, the very rough road from Port de Paix to Gonaives and/or Cap Haitian would have to be improved in order to make this region a new hub for trade. 
Chances are that you won't visit Port au Paix unless you are coming here for friends, family, or work.  If you do, you have the option of taking Route National One to Gonaives and then Route 150 to Port de Paix.  This would undoubtedly take most of the day.  You can also fly from Port au Prince or Cap Haitian to Port de Paix on Tortuga Air.  You could also take a scenic but rough multi leg trip between Cap Haitian and Port de Paix.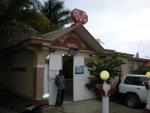 In terms of places to stay, the hotels are mostly along the waterfront.  Probably the best one to stay at is the Rendez Vous (left) as it is on the water, clean, and has a bar and a restaurant. As a backup, you could try the Hotel Holiday or the Hotel de La Paix, neither of which is anything special but will work in a pinch.
Frankly, there is little to see in the city of Port de Paix.  A more interesting excursion would be to go to Ile de la Tortue on a sail or motor boat.  Be sure to have Haitian friends with you as haggling with the boat captains can be a laborious process.  This beautiful, little island is underdeveloped.  On one hand, this means there are few economic opportunities apart from trafficking people and drugs.  On the other hand, there are still amazing beaches utterly unspoiled by construction.  There is one small hotel on the whole island. 
Port de Paix and the Ile de la Tortue are afterthoughts to the Haitian government and the international community.  People here know that.  But Haiti is much different country than it was before the earthquake.  Over 500,000 Port au Prince residents have fled to the regions they are originally from.  While the situation in Port au Prince is a tragedy, many of the displacd are not finding access to economic opportunities and health care in other departments. They also require protection and assistance, which has been slow in coming.  Haiti's future depends not just on the extent to which Port au Prince can be reconstructed, but on the extent to which all of its departments, including the northwest, are developed. 
Should you find yourself travelling to out of the way locations in Haiti such as Port de Paix, please let me know.  I would be interested to hear your experiences and/or post a blog for you.  Back to Cap Haitian tomorrow.  Thanks for reading.
Bryan