Partners in Health Continues to Expand in Lesotho
Posted on:

21 March 2008

By:

Bryan Schaaf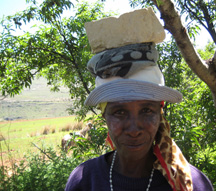 We often write about the remarkable gains that Haiti has made in halting and reversing HIV/AIDS.  It is a story that deserves to be told and heard more often.  Haiti's own Partners in Health (PIH) is taking what it has learned in Haiti and using it to make a difference in the fight against HIV/AIDS in Africa.  Lesotho may be the biggest challenge the organization has faced yet, but they are clearly up to it.  Africa continues to be a source of inspiration and strength to many Haitians but it is not a one sided relationship.  Through PIH, Haiti is giving back.
PIH has accelerated its expansion to remote clinics high in the mountrains of Lesotho.   Remote rural clinics in the high mountains?  PIH knows a thing or two about that.   Still, the logistics involved in Lesotho were more complex than anything faced in Haiti.  PIH Country Director Jen Furin stated that without roads, the only way PIH staff could get to the village of Lebakeng was on a single-engine plane flown by Mission Aviation Fellowship.  All supplies had to be flown in, or ferried on the backs of donkeys.
Meeting the health needs of the populations in these high mountainous areas is a challenge.  With minimal access to health care, many of the patients seen by PIH staff were acutely ill.   A large clinic had to built in the Lebakeng site in order to accomodate the health needs of the community.  The community built the clinic using local stone. There was simply no other way to get the building materials needed.
Lebakeng is the first PIH site in Lesotho.  They intend to take on a new site every month throughout 2008.   Several other sites are as rural as Lebakeng.   If the PIH experience in Haiti is any indication, these sites will have a ripple effect throughout the country.  Having access to treatment destigmatizes HIV/AIDS, creates an environment that energizes prevention programs as people are less afraid to talk about it, and creates a desire for voluntary counseling and testing services.  This is key in that most HIV positive individuals in Africa are unaware of their status.
I was happy to have read this article and to see that the PIH program in Lesotho is expanding.  This wouldn't be possible without Haiti.  You can read more at the PIH website. 
Bryan