Maternal Hospitals in Haiti Under Pressure
Posted on:

9 December 2008

By:

Bryan Schaaf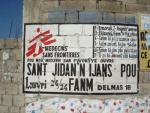 There is a Haitian Proverb, "fanm se poto mitan." It  means that women are the central pole of life, they support society.  Sadly, the maternal clinics in Port au Prince are not able to support the numbers of pregnant mothers seeking a safe facility to give birth in. Jacqueline Charles of the Miami Herald describes the under-resourced hospitals, their over-worked staff, and the negative impact on the health of women and children.  As Paul Farmer notes in the article, ``…If you are really serious about reducing maternal mortality, you have to stay in the game a long time.''  You can read this and other Haiti related stories on the Miami Herald website. Then take a look at the short video and photos that convey the gravity of the situation. 
JACQUELINE CHARLES (jcharles@MiamiHerald.com)
Spike in deliveries strains maternity hospital in Haiti
PORT-AU-PRINCE, Haiti -- Cradling her oversized belly, the expectant mother waddles into the delivery room where six other Haitian women lie with teeth clenched, their legs apart.The howls follow the woman as she makes her way toward the only empty bed. But before she gets there, gut-wrenching pain makes her drop to one knee and blood spills out, turning the tile red. 
On any given day at the three-story Doctors Without Borders Jude Anne Maternity Hospital, women give birth on the floor. Often, the delivery ward is so crowded that some women don't even make it onto the sheetless plastic cots. 'Here anybody wearing a pair of gloves will be catching a baby at some point,'' says Dr. Wendy Lai, lead medical doctor at the hospital run by the international medical humanitarian group's Holland contingent. Lai, a French-speaking family physician from Toronto, calls it the floor delivery index: The number of babies born on the floor, in the stairwells or in the courtyard determines the kind of day -- calm, medium or busy -- the staff is having. 
But more than a measure of births, the floor delivery index has come to illustrate the greater struggle for life inside a country gripped by death and hammered by crisis amid a failing public healthcare system. The chaos inside the maternity ward of one of the few free round-the-clock hospitals for expectant mothers in this deeply impoverished nation of 9 million is only a peek at a far wider and more complex problem. ''At the moment, as far we are concerned, on the level of maternal care, we are in a crisis,'' says Hans van Dillen, chief of mission. ``We have had cases where women die on our watch because we couldn't observe them because we were all over the place. ''While they were waiting for emergency surgery, and the operation theater was fully occupied, they just died,'' he adds, his voice drowned out by the wails of dozens of women laboring in natural childbirth on benches in the crammed outdoor waiting room. ``They died in our hospital, which is a very difficult thing to swallow, of course, for the family, but also for the staff involved.''
The latest healthcare crisis began in October when doctors and nurses at the country's largest medical center, the General Hospital in Port-au-Prince, went on strike. Haiti was still reeling from four successive storms -- including two hurricanes -- and just emerging from a nearly five-month-old political stalemate. Two other public hospitals that care for pregnant women in the capital also would temporarily close. Suddenly, the doctors and midwives at Jude Anne found their caseloads multiplying as women from all over the capital and countryside crowded their front gate. Last month, they logged 1,250 deliveries. October brought 1,600 -- or four times the numbers initially envisioned when the maternity hospital opened two years ago to treat high-risk pregnant women in slums.
''We can no longer manage. The women, they come from everywhere,'' van Dillen says. Situated at the crossroads of two of the county's most volatile slums -- Cité Soleil and La Saline -- the maternity hospital is the latest international effort to help Haiti reduce its exorbitant maternal mortality rate. More women die here before, during and after childbirth than anywhere else in the Western Hemisphere. Dr. Paul Farmer, a world-renowned American physician and longtime advocate of the right to safe motherhood for poor women here, says there is no indication that Haiti's maternity problem is worsening. If anything, he says, the frenzy at the Port-au-Prince hospital shows what happens when ''deadly user fees,'' which keep poor people out of hospitals and leads to 76 percent of women delivering at home, are removed.  ''Removing deadly user fees is making an invisible problem visible,'' Farmer said in a telephone interview en route from Rwanda to Haiti, where his Partners in Health organization works to improve health care in the country's Central Plateau region.
``Before, these women were dying at home. Now they are dying in front of you.'' Earlier this year, the Canadian government with the Haitian Ministry of Health launched a $6.5 million program to fight maternal mortality. The program reimburses institutions for deliveries and transportation costs for participating pregnant women and compensates traditional birth attendants who walk clients into the doors, rather than risk an at-home delivery. Some 61 medical facilities, including Farmer's, are part of the network, known as SOG. ''Safe motherhood should be a right, not a commodity,'' Farmer said.
With little access to proper healthcare, most pregnant women here rely on traditional birth attendants to help deliver their babies. But they often can't handle complications such as pregnancy-induced high blood pressure or preeclampsia, which Haitian women develop at high rates. 'They just aren't skilled or have the training,'' Farmer said of the birth attendants.  The evidence is clear at Jude Anne, where a grateful Maudeline Joseph, 22, was forced to deliver two months early after she developed preeclampsia and her blood pressure skyrocketed. Six-pound Patricia, sleeping next to her, was born healthy.  Magaly Jodely, 39, however, has had two failed pregnancies.
The latest left her clinging to life after she suffered a stroke, and she spent eight days in the hospital. The mother of two was forced to deliver early at five months, and the baby died. As she waited to be discharged, her arms and legs were still swollen, and her speech was slurred. ''If you get pregnant again, you will die,'' a nurse cautioned while urging her to practice birth control. ``Do you understand?'' Behind them, newborns slept in a makeshift neonatal ward with only heating pads to keep them warm.  Two babies -- no bigger than a stick of butter -- lay dying in a crib the size of a shoe box. A few cribs over lay a baby girl with a bleeding brain.
''We need to make sure we can link safe motherhood to family planning,'' Farmer said. ``We need to have bold family planning.''  Haiti's new health minister, Dr. Alex Larsen, agrees the country needs to rein in its exploding birth rate. He says SOG is an excellent program but worries what the government will do when the funding runs out and whether such subsidized care also serves as an incentive for pregnancy because of the attention provided.  Farmer calls such thinking medical folklore and says the best way to encourage family planning is to deliver safe, healthy babies. Meanwhile, the ministry of health has reopened all hospitals, but strikes and a lack of resources continue to threaten operations.
For instance, the General Hospital has long been a cesspool of corruption, and its kitchen and pharmacy are still closed. At least one of the other hospitals, Larsen said, had to be temporarily closed because of unsanitary conditions caused by a mosquito infestation and hurricane damage. ''There is a lot of work to be done. I don't have a bag of tricks to just fix the health system like that,'' he said of the overall healthcare issue in Haiti. Larsen says the spike in deliveries at Jude Anne isn't solely because of closures and strikes, but because the services are free. Even the public hospitals require payment.
''They prefer to go to Médecins Sans Frontières, even if it means they have to give birth on the floor,'' he says.  Van Dillen sees the Canada's SOG program as his group's exit strategy, saying free health services would allow them to increase survival rates of Haitian women and babies.  Farmer agrees but also says international agencies are handicapping Haiti by persistently treating it like a triage case. Instead, they should provide a long-term commitment that would allow the nation to build a solid foundation for healthcare. '
'When you have a disaster relief mentality that has so plagued Haiti that is not going to help,'' he says. ``It prevents the building up of institutions. If you are really serious about reducing maternal mortality, you have to stay in the game a long time.''