Hope in the Streets
Posted on:

13 February 2006

By:

Bryan Schaaf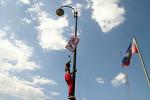 The last major movement of the people in Haiti was given the name Lavalas, meaning the flood/the rains. The current movement not completely disconnected from the previous one has campaigned on the word Lespwa which means hope. Today Lespwa took to the streets no longer hoping but demanding that Preval their candidate be announced the winner. They continuously made claims that they would not wait for a second round of elections.
Tens of thousands paraded around for hours and hours, up Delmas, up Rue Freres, through Petionville, past the national Palace, and through the streets of the poorer neighborhoods of Belè and Site Soley, so well known to support Preval. Roadblocks were set up, businesses and offices remained closed, tires burned and a chorus of slogans echoed through the maze of city walls as the combined footsteps of thousands rumbled through the streets of Port-au-Prince. Haiti is volatile, unpredictable, and desperate and the potential of this movement is powerful.
The people are pushing for results and the longer they take the more suspect they become. Delays equal fraud. And the rhetoric in the streets is they will only accept one result, 'President Preval', not a runoff election. The interim government, the CEP, political opponents are worried and the word is they are meeting to address the issues and problems at hand. There is still no word on the official count and we can expect things to continue in the streets tomorrow. However since late this afternoon the rains (Lavalas) came and a silence descended on the streets and in a country were superstition is widely obeyed lets hope this is a sign of a resolution to come.