Haitian Prime Minister to OAS - "Progress is Real"
Posted on:

29 March 2008

By:

Bryan Schaaf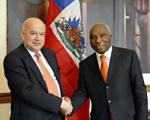 According to Caribbean Net News,  Haitian Prime Minister Jacques-Édouard Alexis gave a speech on March 28th to the Organization of American States (OAS) highlighting significant improvements in both security and governannce.  A stable, democratic Haiti is strategically important to the Americas.   Haiti needs the help of its neighbors but doing so will require convincing them that Haiti can sustain this progress - that this is not another false promise.   

So what does the OAS do? The mission of the OAS is to strengthen cooperation on democratic values, defend common interests and to provide a forum for discussing governance, human rights, and shared problems such as poverty, terrorism, corruption and drug trafficking.  Its headquarters is in Washington DC.

Permanent Council Chairman Smith introduced Prime Minister Alexis to the Permanent Council, emphasizing his leadership in government and his accomplishments in other professional endeavors such as in agriculture and academia.

During the speech, the Prime Minister highlighted much needed initiatives to reform the police force and the justice system, both of which are sorely in need of professionalization.   He thanked OAS for its support of MINUSTAH (the UN Force) which has been instrumental in improving security and especially in reducing kidnappings in Port au Prince.  He also highlighted efforts by President Préval in combating drug traffickers.  He also noted a desire to improve gender equality and services for people with disabilities - who one sees on the streets of Port au Prince every day. 
Notably, he also defended Haiti against characterizations of instability, anarchy, and chaos.  Haiti is a complicated country but such characterizations are unfair and unhelpful.   Apart from Port au Prince, the country is largely stable and safe.   Like any country, Haiti has its criminals but most Haitians are generally a kind and giving people who work hard, value life, and deplore violence.  When mischaracterizations go unaddressed, they have a way of becoming perceived as true.  I was happy to know Alexis stood up for Haiti and I hope he will continue to do so.  
Secretary General Insulza praised the economic and social progress in Haiti stating "Today, Haiti has a solid, legitimate government and institutions that work." drawing particular attention to the judicial system and in the country's public security climate.  He noted the progress achieved is remarkable given the political and historical challenges facing Haiti.

I was interested to learn that the government has adopted a strategic framework for growth and poverty reduction.   On April 25th, the government will host an international conference to discuss implemention of activities set out in the framework.   I'll try to find a copy of the framework and post it.  
Finally, the article notes that after the Permanent Council session, Prime Minister Alexis hosted a press conference and was the gues of honor at a luncheon hosted by the OAS Secretary General.

There is no fairy tale ending to Haiti's developmental challenges.   It will take good governance, an engaged civil society, and large scale job creation a good portion of which we hope will come from agricultural innovation and environmental rehabilitation. Haiti had traditionally been one of the most isolated countries in the Americas. Diplomatic engagement will help show its neighbors that progress is real and Haiti is back.
Welcome your thoughts.
Bryan