Haiti Food Security Update (5/28/2008)
Posted on:

29 May 2008

By:

Bryan Schaaf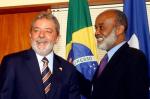 It seems as if everyone except Haiti's Deputies are desperate for Haiti to have a Prime Minister, and thus, a functional government.  Preval has named his second choice - Robert "Bob" Manuel, a close colleague and previous Secretary of State for Public Security. His chances aren't great and donors are concerned.  According to the Miami Herald, Brazilian President Luiz Inácio Lula da Silva is visiting Haiti to discuss the progress of various bilateral technical programs, such as a food program where Brazil has donated $200,000 and a trash collection program. Undoubtedly, they willl discuss the political impasse as well.  If this doesn't work, we may need to send in reinforcements - the much revered Brazilian soccer team.  

On Tuesday, the head of the International Committee for the Red Cross (ICRC), warned of a possible surge in "food-related violence" because of soaring prices that are increasing hunger around the world.   He is undoubtedly concerned as the ICRC would be responsible for a great many of those affected by armed conflict.   He noted that the Red Cross has already been forced to add more than $60 million worth of food assistance to its planned budget for 2008.  ICRC has been in Haiti without interruption since 1994.  Learn more by clicking here.
Another major news item was that Saudi Arabia made a very large contribution of $500 million to the World Food Program (WFP) to help cover increased costs of operating worldwide.  A portion of these funds will surely be used in Haiti.  The Saudi donation is welcome, appreciated, and will help the agency to meet the $755 million increase in projected costs this year as a result of rising food and fuel costs.  But there are still gaps and increased support from other donors is needed as well.  Meanwhile, WFP is searching for sources of affordable rice.  It is not easy. According to the US Commodity Futures Trading Commission, the price of rice over the past 12 months has soared 122 percent. For wheat, the increase has been 95 percent; for soybeans, 83 percent; and corn, 66 percent.
USAID announced that it had freed up $25 million more for food assistance to Haiti.  Henrietta Fore, the U.S Director of Foreign Assistance (including USAID) flew from Washington to Miami to personally deliver the news, inviting Haitian-American leaders to the USAID warehouse in West Miami-Dade County.  According to Fore, the funds will provide for 36,000 tons of food staples to 2.5 million Haitians through three types of programs targeting the disabled, orphans, mothers, children and the elderly.  WFP, Catholic Relief Services, and World Vision will pay Haitians with food in exchange for rebuilding irrigation systems and roads to boost domestic production efforts.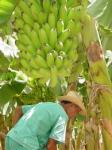 Some, such as Marleine Bastien, executive director of Haitian Women of Miami, noted that these are short term measures only, and that the only long term answer is to revive the agricultural sector.  Thankfully, Fore said the agency was re-evaluating its work in Haiti and had recently formed an executive task force to review programs and redirect efforts to help Haitians produce domestic crops.  She was urged to include Haitian farmers on the task force as well.

The Inter-American Development Bank (IDB) announced a $500 million credit line to ease the impact of rising food prices on countries in Latin America and the Caribbean.  According to the IDB the full impact of extenral prices will take time to filter into domestic markets. In the meantime, the region has a window of opportunity to implement measures that protect the most vulnerable and encourage greater domestic food production including further developing agricultural sectors.  Haiti is, once again, the canary in the mine for the rest of the Americas when it comes to food insecurity.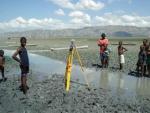 IDB is emphasizing that countries should boost assistance to farmers by providing technical assistance, better credit access and improved ports, road and irrigation infrastructure. IDB will also set aside a $20 million social fund to study ways in which early childhood nutrition and other government programs can be made more efficient.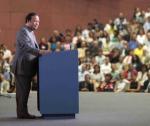 Smaller foundations are doing what they can as well.  The Prem Rawat Foundation (TPRF) for example has offered a US$50,000 challenge grant through the Facebook "Causes" page to provide food assistnace to Haiti.  TPRF's challenge to Facebook members is to raise an additional $50,000, for a total of $100,000, which can supply food for 60,000 people for one month.

As we discuss about food security in Haiti, let's consider this sobering article in the New York Times that describes the astonishing amount of food wasted by Americans - an estimated 27 percent of the food available for consumption via supermarkets, restaurants, and cafeterias.  This means about a pound of food wasted per every American every day.   While others have so little, we continue to waste massive quantities of food.
As always, we'll keep you posted on new developments concerning food security in Haiti.
Bryan