Haiti Earthquake Update (2/7/2010)
Posted on:

7 February 2010

By:

Bryan Schaaf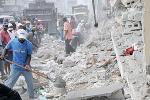 Immediately after the earthquake, information came out of Haiti in a trickle.  It is now more like a flood.  As of February 3, the Government of Haiti (GOH) increased its death toll estimate to over 200,000.  300,000 are reported to have been injured, 250,000 homes destroyed, and 30,000 businesses disrupted.  Assessments carried out by MINUSTAH now indicate a 15-20% population increase in the South, Grand Anse, Nippes, and Central Plateau departments due to displacement from Port-au-Prince.  Below is a summary of where things stand in terms of emergency response and recovery. 
The security situation is holding.  Still, there have been isolated incidents of looting and attacks on food convoys.  There have also been protests against officials who have been, rightly or wrongly, suspected of demanding bribes to release donated food.  MINUSTAH and partner militaries have been trying to prevent incidents by providing escorts to convoys and protecting food distribution points.  Some of the 3,000 criminals who escaped from the National Prison have remained in Port au Prince but many will have gone to the countyside.  MINUSTAH and the Haitian National Police are attempting to apprehend the escapees who remained in Port au Prince.
The biggest source of tension concerns the distribution of assistance.  During his February 6 visit to Haiti, Bill Clinton vowed to speed up sluggish aid deliveries.  The American military, with the consent of the Haitian government, has been running the airport, which is open only for humanitarian and military cargo.  The military has been running the airport 24/7, landing up to 150 flights per day.  If you've seen the Port au Prince airport, you know this is a major accomplishment.  The U.S. Department of Defense (DOD) deserves more credit than they have received  for this.  Given the damage to the main port, and the lack of good, secondary ports, the demand for flights still remains high.  According to the American Red Cross, there is a waiting list of 1,000 flights to land at Haiti's airport.   Many organizations have opted to move their staff and cargo through the Dominican Republic via the Jimani crossing instead.  Getting commodities into Haiti is one thing though and distributing them another.  Warehouses throughout Port have been destroyed.  Security escorts are required to move cargo.  Moving anything by truck is difficult and time consuming.
Receiving so many planes over such a compressed period of time is taking a toll on the Port au Prince airport.  The Federal Aviation Administration (FAA) is working with the Haitian government to assess how and when to re-open the airport for commercial flights.  Until then, the only ways into Haiti is through the Dominican Republic or to take Lynx Air or Florida Coastal Airlines into Cap Haitian.
In terms of health, the Office for Coordination of Humanitarian Affairs (OCHA) reports that there are presently 91 identified functioning hospitals; 59 of which are in the Port-au-Prince metropolitan area (4 public hospitals, 34 NGO or private-run hospitals providing health care and 21 field hospitals). Fifty-six of the 59 facilities in Port-au-Prince have surgical capacity. A database of hospitals is being created and will include information on essential drugs provided by PROMESS (the GOH Pharmaceutical Unit), the number of beds, medical specialities, the type and quantity of medical human resources, and the number of consultations.
There have not yet been any major disease outbreaks.  The GoH Ministry of Health (MoH), the U.N. World Health Organization (WHO), and the U.N. Children's Fund (UNICEF) have begun coordinated immunization campaigns.  Access to post-operative care needs to be improved.  Physical therapists are needed.  The United Nations Population Fund (UNFPA) is working to improve access to reproductive health services.  Take a look at this PBS Special on Motherhood in post earthquake Haiti.  Some Haitians may be delaying care-seeking behavior for fear of having a limb amputated.  Attention is starting to turn to the psychosocial needs of a traumatized population.  The health infastructure was weak even before the earthquake – now it requires major reconstruction.
Water is being distributed to an estimated 519,000 individuals per day in Port-au-Prince, Léogâne, and Jacmel.  Food distribution efforts started out shakey but are improving.  Progress is being made now as the UN and other actors are adopting a more women-centered approach.  Women now receive colored and dated vouchers that can be exchanged for a 25 kilogram rice ration – approximately enough to feed a family of six for three weeks.  The World Food Program (WFP) reports that 100,000 women have picked up rations this way.  WFP also reports that people are having difficulty in the North and North-East departments to meet their basic food needs due to an increase in food prices.  WFP is reinforcing food assistance in the South West, North and Artibonite departments which are hosting significant numbers of displaced people from Port-au-Prince.
Concerning health and sanitation, Dr. Paul Farmer, the deputy special envoy to Haiti, said "…the key is going to be to create community-based solutions, which basically means hire Haitians and lots of them to begin tracking infectious diseases, doing follow-up on treatments, as well as building latrines and water infrastructure. It shouldn't be seen as some radical notion that we need to inject the money into the Haitian population, because they are the ones who can actually do the follow up."
According to Souleymane Sow, UNICEF Water/Sanitation/Hygiene Coordinator, "The rainy season is going to make sanitation problems into water problems if we don't find a way to get more latrines built…the rain will wash the waste into the area where people are living and may cause people to become very sick."
The government and the United Nations are going ahead with plans to move people out of the spontaneous, post-quake settlements into planned temporary camps just outside the city.  While organized settlements have been established for 42,000 displaced people; the International Organization for Migration (IOM) reports some 460,000 people remain in 315 spontaneous settlements.  Transitional shelter materials are being provided but people are not waiting around for the international community - they are building with whatever they can find.  Those who receive remittances will be able to rebuild faster than others.  The beginning of Haiti's first rainy season in April is the hard deadline for shelter solutions.  It is also important to keep in mind that the hurricane season is from June 1 to November 30.  Tents are unlikely survive both the rainy and hurricane seasons.  Structures will need to be constructed in such a way as to be resistant to hurricanes, floods, and landslides.  Together, these phenomena account for the vast majority of disasters in Haiti.  Assistance also needs to be provided to the host families of the hundreds of thousands who have returned to the countyside.  With some assistance, these families could expand their homes, making it less of a burden to take in the displaced.  This could be one way to minimize returns to Port au Prince, which is by no means prepared to receive them.  
President Preval has set in place "Operation Demolition", a large part of which concerns clearing rubble.  It includes provisions to remove people living in unstable buildings, by force if necessary.  The government has announced a ban on rebuilding until it completes damage assessments and introduces a new and much needed building code.  The International Federation of the Red Cross and Red Crescent Societies (IFRC) is going to be playing an increasingly active role in the shelter sector.  IOM reports more than 55 aid agencies are working to reach those in need of shelter.  The number of international shelter experts on the ground has increased dramatically since the earliest days of the response.
According to the United Nations Devleopment Program (UNDP), as of February 1, cash-for-work programs employed approximately 32,000 people in Carrefour, Carrefour Feuilles, Martissan, Gressier, and Léogâne.  Ninety percent of the displaced who fled Port au Prince to the countryside are staying with host families.  Another way to help both the displaced and their host families is to ensure that cash for work programs exist throughout the countryside.  United States Agency for International Development (USAID) partner CHF International commenced cash-for-work activities in Petite Goâve on February 1, employing 429 people with plans to hire more.  In total, UNDP has identified 15 NGOs to implement cash-for-work activities at a rate agreed with the government.
Before the earthquake, there were 300,000 orphans in Haiti.  Many children have lost parents and care-givers, becoming vulnerable to human trafficking, abuse, and exploitation.  The International Committee of the Red Cross (ICRC) and the Haitian Red Cross are working to help people re-establish contact with family members and search for loved ones.  Radio broadcasts have started announcing the names of people transferred to the Dominican Republic for medical reasons.  At two internet cafés, residents can post "safe and well" messages or launch a search request on the ICRC's family links site . The site currently lists over 26,300 names, including some 3,600 of people reporting that they are alive and safe.  ICRC and Haitian Red Cross tracing teams, working in close cooperation with the authorities, other agencies, interim care facilities and foster families, continue to look for unaccompanied children.
Some areas, such as education and agriculture, have received less attention and support than others.  This is a problem.  As far as agriculture goes, the planting season is just one month away.  The Food and Agriculture Organization (FAO) states that this largely urban disaster could produce a rural tragedy if the March to May planting season is interrupted.  About 40% of Haiti's food staples are grown domestically and the rest is imported.   Eighty five percent of rural Haitians make their living by farming.   Approximately 500,000 Haitians have returned to the countryside, which is already straining rural food sources in the countryside and inflating prices.
Ways must be found to integrate the displaced into rural communities, where economically speaking, agriculture is the only game in town.  The FAO is trying to source seeds and tools from the Dominican Republic.  In addition, it seeks to rehabilitate Haiti's agriculture ministry, increase urban gardening (as Cuba does), and support agriculture programming for the displaced.  The Haitian government is asking for US$700 million to rejuvenate the agricultural sector.  This would include boosting small gardens, fixing irrigation canals and giving farmers seeds and tools, as well as constructing roads and reviving sweet potato cultivation and aquaculture.
The International Fund for Agriculture Development (IFAD) signed a grant agreementof US$5.7 million to support agricultural production in some of the poorest regions located in the North of Haiti.  The grant agreement was signed in Santo Domingo by Joanas Gué, Minister for Agriculture of Haiti and the Director, Latin America and Caribbean Division of IFAD, Josefina Stubbs. The grant will supplement IFAD's ongoing project to increase agricultural production by modernizing irrigation infrastructure.  Strengthening irrigation systems, including those reportedly damage by the earthquake, will provide improve access to water resources for small farmers.
Haitians value education.  Ensuring access to education will be a major relief to parents and recreate a sense of normalcy for children.  The Ministry of Education estimates that 450,000 children have been displaced by the earthquake.  OCHA reports that up to 4,600 schools were affected.   Directors of the Departments which were not affected have been requested to register displaced children so they can access schools.  Although schools in non-affected areas re-opened on 1 February, the attendance rate has been very low, according to UNICEF.   Parents are interested to send their children back to school but there are still fears of aftershocks.  Education partners are working with the Ministry of Educaiton to broadcast plans to provide incentive packages for children and cash to teachers to encourage both to return to school.  There is a concern that if schools do not open by March 31, the school year will be too short for full completion.
The United Nations Educational, Scientific and Cultural Organization (UNESCO) is appealing for donations to rehabiliate the educational system – primary, secondary, technical, and vocational.  Brazil, Bulgaria, Israel and the Norwegian Refugee Council have made pledges to UNESCO for Haiti programming already.   For the time being, UNESCO is providing temporary work space and equipment to the Ministry of Education and will train Ministry officials on emergency response preparedness and response.   Restoring the educational system will help create hope for a  better future.
In Washington DC, the World Bank has set up a Haiti Situation Room.  According to Reuters, the Situation Room contains materials assembled by thousands of volunteers from 103 organizations including universities, government and private aid agencies, and companies helping the earthquake-devastated nation. The software specialists, scientists and technicians from around the world have joined disaster experts and urban planners at the World Bank.  According to Reuters, by working with groups like Google, Yahoo, NASA and Microsoft, ImageCAT and the Earthquake Engineering Research Institute, the World Bank had halved the preparation time for disaster damage assessments.
The World Bank notes that the first challenge is to ensure the government, still operating out of a police station, can function properly and play a leading role in the recovery.  The Government took major losses.  Some have estimated up to 40% of senior civil servants in Haiti died during the earthquake.  All but two Ministry buildings were destroyed.  The government reports that approximately 60% of its buildings have been destroyed.  World Bank, EU, Canada and the US have offered to help with the relocation and reconstruction of buildings for the Government authorities.
While no Ministers were killed, they lost friends, families, and senior aides.  The government is extremely sensitive to the assertion that they were slow in responding or that they have not responded at all, which is clear in the following Al Jazeera video entitled "Hope Among the Rubble."  On a side note, you can find more video footage at Reliefweb.
To be fair, the emergency response capacity of the government was basically wiped out.  Still, the Haitian people wanted to hear early on from their government (read: President) that their suffering was acknowledged and that helping them was a high priority.  A speech, a radio address, or a well timed public appearance would have made an enormous difference.  The lack of visibility has damaged the credibility of the government.  Preval is a good man who has done much for Haiti, but he is now dealing with protests and calls (from some parties) for his resignation.
So far, the international community has pledged 2 billion for the Haiti response.   Still, the international community often makes pledges to Haiti which never produce contributions.  Bill Clinton will need to put pressure on donors, publicly if need be, to live up to their commitments.
Africa has shown solidarity with Haiti.  Several African countries, despite their own challenges, made financial contributions to the Haiti response.  Senegal has offered to resettle an unspecified number of Haitians, noting the historical links between Haiti and west Africa.  The Democratic Republic of Congo (DRC) has also offered land, but to my knowledge, no-one has taken them up on that offer.
The Caribbean has shown solidarity with Haiti.  Many Cuban medical staff were on the ground before the earthquake, and they have been actively responding to the health needs of survivors.  Cuba has established five field hospitals in Haiti already including in Croix des Bouqets, Carrefour, Leogane and Jacmel.  The Dominican Republic is serving as a logistics hub for getting cargo and staff into Haiti.  It has also allowed medical referrals for injured Haitians to be treated in the Dominican Republic.  Haiti also accepted a handful of Dominican peacekeepers, something unthinkable before the earthquake.  Guyana pledged US $1 million to support the rebuilding of Haiti's health care system.  Antigua and Barbuda is granting visa waivers to allow Haitians to join their relatives.  The Jamaican military opened a base within two days of the earthquake in order to assist with response efforts.  The Jamaican government announced it would withdraw troops, but retracted that decision when the Caribbean Disaster Emergency Management Agency (CDEMA) agreed to provide J$40 million to cover expenses incurred up to January 30.  The Caribbean Community (CARICOM) has been involved since the onset of the disaster and has emphasized that Haiti is one of its top priorities.
Latin America has shown solidarity with Haiti.  Brazil is the backbone of the MINUSTAH peacekeeping force.  The Organization of American States (OAS) will assist Haiti's rebuilding process by: (1) supporting good governance and state institutions; (2) providing technical assistance during elections; (3) building capacity for trade, tourism, and investment; (4) promoting education throughout scholarships and exchanges with universities in the Western Hemisphere; and (5) advancing food security.  OAS intends to strengthen its presence in both Haiti and the Dominican Republic.
Canada has agreed to accept more Haitian immigrants and there are calls from advocacy groups for the United States to do the same.  The United States government has made the Haiti response a priority.  Responding agencies include the Department of Defense, the Department of Health and Human Services, the Department of Homeland Security, the Department of Transportation, the Agency for International Development, the Department of State, and others.  Americans have been very generous in their support of the non-governmental and international organizations responding in Haiti.  Israeel deployed search and rescue teams immediately.  The European Union has provided strong financial support to the response as have its member countries.  France, with whom Haiti has traditionally had a rather strained relationship, has provided 1,000 tons of humanitarian aid via Martinique and Guadeloupe and deployed over a thousand emergency responders, police, and soldiers to assist.  The United Kingdom, through its Department For International Development, is also playing an important role.  The G7 nations, which includes the US, UK, France, Germany, Italy, and Japan have pledged to write off Haiti's debts. There are calls for other countries and institutions to follow their lead. 
The list of other countries that have responded in some shape or form is a long one.  It includes Taiwan, China, Russia, Venezuela, the United Arab Emirates, Saudi Arabia, Thailand, Sweden, Guatemala, Korea, Japan, Spain, Venezuela, Ireland, Denmark, Hungary, Mexico, Sri Lanka, Australia, Switzerland, Poland, the Netherlands, Finland, Luxembourg, Colombia, Germany, Greece, Portugal, Norway, Italy, Estonia, Indonesia, The Phillipines, Beglium, El Salvador, Panama, Costa Rica, Argentina, Bolivia, India, Peru, Iceeland, Ecuador, and Singapore.   You can learn more about their involvement at Reliefweb. 
I am often asked whether anything postive will come out of this tragedy.  This has been upsetting to think about, given the massive loss of lives and livelihoods.  Still, the earthquake happened and we can't change that now. We have to look ahead and be strategic.  With that in mind, here are some ideas.  There is an oppportunity for a more neighborly relationship with the Dominican Republic.  Donors are more likely to commit to long term committment and coordination now.  Choice Hotels and several other companies have announced they will still invest in Haiti - which tells me private sector investment is not off the table.  If the cash for work programs are scaled up, they could produce something akin to the Haitian Civilian Conversation Corps that Haiti Innovation, Robert Maguire, and other Haiti watchers have been advocating for years.  There is more attention now to vulnerable children then every before in Haiti - enough so that the government will be more likely to develop and enforce policies concerning restaveks, orphans, trafficking, etc.  Port au Prince can be rebuilt with urban planning in mind, to make it a more livable and disaster resistant city.  Haiti might now be able to develop its own construction industry.   Haiti' s population has "ruralized" for the first time since independence.  Haiti's secondary cities like Cap Haitian and Jacmel will become more economically and socially important.  The Diaspora will become more important to Haiti's future than they ever have before.  The debt forgiveness process is being expedited.  Haitians in the United States have Temporary Protected Status (TPS) now and can't be deported for the immediate future.  All this doesn't change the fact that Haiti would be so much better off without the earthquake having happened, but we have to work with the hand that we've been dealt.
If all goes well, I'll be in Haiti within the next few days.  Thank you for reading, for your support and encouragement, and for all you are doing to help Haiti.  Mesi anpil.
Bryan              
 *Photo Credit: Adam Rogers/ UNDP