Former President Clinton to be Named Special Envoy to Haiti
Posted on:

18 May 2009

By:

Bryan Schaaf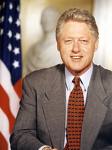 According to the Cable, former U.S. President Bill Clinton will be named a U.N. special envoy to Haiti this week.  Clinton made his fourth trip to Haiti in March with U.N. Secretary-General Ban Ki Moon.  He had told the Miami Herald, "I've been following this country for more than three decades...the message I want to send is Haitians work hard and they work smart.  Haiti is a good place to invest."  
The Cable goes on to note that Haiti is important to the former president and was the first place his administration intervened abroad.  In 1994, Clinton ordered the U.S. military to intervene in Haiti to restore Jean-Bertrand Aristide to power several years after the former president was ousted in a military coup. nThe UN took over the lead on the peacekeeping mission in 1995, and some 9,000 UN peacekeepers currently remain in the country.  Hurricanes last year killed an estimated 800 people in Haiti and caused an estimated $1 billion in damage.
Clinton has good relations with the African-American community; he had a history with Haiti when he was the governor of Arkansas; and it was one of the first issues that bubbled up when he was president, the former official said.
Clinton's March visit to Haiti, where he remains popular, came as four south Florida lawmakers met with Department of Homeland Security secretary Janet Napolitano, seeking temporary protected status for some 30,000 Haitians who had been scheduled to be deported back to Haiti.
Secretary of State Hillary Clinton visited Haiti last month, where she pledged an additional $57 million in U.S. aid for the Caribbean country as part of a $324 million Inter-American Development Bank aid package.
According to the Miami Herald, because of his marriage to U.S. Secretary of State Hillary Rodham Clinton, State Department lawyers must approve and review some of Clinton's international activities under an agreement between the U.S. Senate and the Clinton Foundation, which works in Haiti on health care, HIV/AIDS, the environment and economic development.
Officials said the State Department is aware of the appointment but could not immediately say if its lawyers have signed off on it. U.N. officials did not immediately comment.  Haiti does not currently have a special U.N. envoy, and it is not clear what Clinton's duties will be. The Miami Herald, which first reported the appointment, said he will visit the Caribbean country at least four times a year.
While President, Bill Clinton invested a great deal of time and resources in Haiti.  Without a coherent, whole of government approach, however, his efforts yielded mixed results.   Now he has a new chance to help advance democracy, human rights, and development in Haiti.  To any extent, Haiti is a family affair for the Clintons.  Perhaps it is time for Chelsea to visit?
Bryan