Digicel Celebrates Third Anniversary With 2.1 Million Customers
Posted on:

5 May 2009

By:

Bryan Schaaf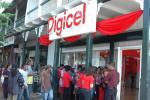 According to Marketwire, Digicel is celebrating the third anniversary of its launch in Haiti with a customer base of 2.1 million.  Digicel's initial investment of US$260 million is the singled largest (legal) investment ever made in Haiti.  Digicel is proof that foreign investment can be accountable, profitable, and benefit society.  We hope it is a model others will follow.
Digicel broke the monopoly of Teleco, which was hugely unreliable and expensive when it did work.  If you lived in a rural area and wanted to check on market prices or call a loved one in Haiti or abroad, you had to go to your local Teleco station.  You would then ask the person at the counter "pa gen sikwi?", inquiring whether the circutis were functioning. 
If they did, which was often not the case, you would go up to the counter and pay for a certain period of time in one of the cabins.  Needless to say, not a lot of privacy.  You could call collect but this was hugely expensive.  Teleco had no interest whatsoever in providing a good service, only getting as much money from the consumer as possible.  This very much limited the number of phone calls a Haitian could make.
Digicel introduced affordable handsets coupled with innovations like free incoming calls and free activations.  Digicel has provided good value, good coverage, and good service where none of those existed before.  Today, Digicel also offers further innovations like Call Me, Blackberry services, Top U Up and CaribFLEX designed to make the lives of mobile customers easier, including by letting friends and families in the Diaspora cover the cost of minutes.
The demand for better communication was always there and uptake was quick.  Digicel attracted one million subscribers in a period of just eight months.  Today, Digicel serves over 2.1 million customers...not bad for a country of slightly over 8 million people.  Mobile penetration has rocketed in the country from under 5% to over 30% as a result.
Digicel is doing very well but it is also doing good.  The company commited $1 million to hurricane relief efforts in 2008, donated $100,000 to Concern to improve school conditions for 4,000 children in the Cite Saint Martin neighborhood, established a foundation which built 20 schools in a year (two for each department of Haitii), sponsored the Haitian Football Federation, and launched the Digicel Stars show, the most watched televsion program in Haiti.
Colm Delves, Group CEO of Digicel, states "We're very proud of what we have been able to achieve in Haiti to date...Haiti is a country rich with opportunity and promise.  Before the entrance of Digicel, owning a mobile was something most people could only dream of."
Thanks to Digicel, Haiti has been able to "leapfrog" technologies, bypassing landlines and going right to mobile phones.  As a result, Haitians are better able to maintain their relationships and businesses.  Combine this with improving access to the internet and there are more choices in Haiti than ever before. Bon bagay!
Bryan