Bourik with Ti Gid
Posted on:

23 March 2008

By:

Bryan Schaaf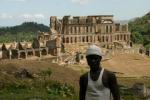 Bourik's (BOS) recent hoofing to the Citadel was expected to be one quietly spent with the remaining visible history of Haiti and with the phantom winds that cool the mountain fortress. Instead Bourik encountered a breed of humans he is less than fond of, teenagers, hundreds of them who happened to be on Easter break ransacking this UNESCO World Heritage site as would most of their breed worldwide who aren't interested in anything that happened yesterday let alone over 100 years ago, they were also stripping Bourik's patience. Although the Citadel was impressive Bourik wasn't able to fully find solace until he returned to the Palais du San Souci below in the town of Milot. This is where he met Josie, the Ti Gid. (Disclaimer- Ti Gid's knowledge and history of Henri Christophe, the Citadel and the Palais de San Souci were more detailed and accurate than what is transcribed here.)
BOS: Hello
Ti Gid: Alo, Dis is da San Souci Palais. Dat is dee Church Notre Dame. Dat is dee school. Dat is…
BOS: Wait. How long have you been giving tours?
Ti Gid: Oh you speak Kreyol! Now I can explain much more to you about the Palais de San Souci and Henry Christophe!
Ti Gid: This is the room where Henri Christophe killed himself.
BOS: Why did he kill himself?
Ti Gid: One day he was off to the Church in Plaisance to attend mass. The mass didn't start on time and King Henri fought with the priest. The priest sad you're not the boss of me and struck the king in the side. The king fell to the ground and was then rushed to the palace. He was partially paralyzed from the blow. After three months he never recovered and fearing a coup by his nemesis in the south Alexandre Petion he said, "I will not be killed by another human." So he shot himself.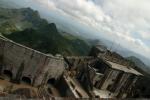 BOS: How long did it take to build the palace?
Ti Gid: Henri built it in 7 years. And he built the Citadel in 7 years. But he built the palace first.
BOS: So how old is the palace?
Ti Gid: You see that tree there, the one that Henri used to judge prisoners and soldiers under? That tree is more than 215 years old. It is older than the palace.
BOS: That bust in the courtyard. Who is that bust of?
Ti Gid: That isn't of anyone. It looks facing the citadel behind that mountain there.
BOS: How old are you?
Ti Gid: I'm on my 18th year.
BOS: Do you go to school?
Ti Gid: No, I was going but my parents have too many children and… problems.
BOS: Yes problems. So how long have you been a guide here?
Ti Gid: I received the information when they gave it a few years ago but I'm a little guide. You have the big guides that work with the office and then you have little guides like me that find people like you.
BOS: So how long have you been doing this?
Ti Gid: I've been learning about the history since I was a little kid. Over there is where King Henri would bathe his wife, in that fountain.
BOS: Hmmm. Ok. So where do you live?
Ti Gid: I'm from O'Palais. Just up the road to the Citadel. Over here is where they would mix the lime, sugar cane syrup, and bulls' skin because they didn't have cement back then.
BOS: Bulls' blood? Yeah ok. Can I get a picture of you?
Ti Gid: If you want me in the picture, sure.
Krèyol Version
BOS: Hello
Ti Gid: Alo, Dis is da San Souci Palais. Dat is dee Church Notre Dame. Dat is dee school. Dat is…
BOS: Tann mwen. Konbyen tan ou genyen wap fè sa a?
TG: Oy! Ou palè Krèyol! Kounye a m ka eksplike ou plis sou Palè San Souci e Henri Christophe.
TG: Isit se chanm kote Henri Christophe touye tèt li.
BOS: Poukisa lit e touye tèt li?
TG: Paske yon jou li te ale legliz la Plaisance pou mes la. Men mes la pat komanse sou lè a e Wa Henri te goume avek pè a. Pè a te di ou pa met mwen epi li te bat wa Christophe sou bo sa a. Wa a te tonbe e yo te tounen touswit nan palè ave l. Lakoz de baton sa a li te paralyze. Apre twa mwa li jame geri e li tap pe Petion, enmi li nan sud ap fè yon koudeta e li te di, "M pap kite yon lòt moun touye m." Epi li tire tèt li.
BOS: Konbyen tan li te prann pou fè palè San Souci?
Ti Gid: Henri te fè li nan set an. E li te fè Citadel nan set an. Men li te fè Palè a anvann.
BOS: Ki laj palè a genyen?
Ti Gid: Ou wè pye bwa sa a la? Anba pye bwa sa a Henri te jije prizonè e solda yo. Pye bwa sa a gen plis pase 215 an. Li gen plis laj pase palè a.
BOS: Estati sa a nan lakou a, se kiyes?
Ti Gid: Se pa yon moun. Men li gade nan direksyon Citadel ki deye morn sa a.
BOS: Ki laj ou genyen?
Ti Gid: M gen 18 tan.
BOS: Ou nan lekol?
Ti Gid: Non, m te ale men paran mwen gen twoup timoun e… pwoblem.
BOS: Wi pwoblem. Depi kilè wap fè gid la?
Ti Gid: M te resevwa fòmasyon an lè yo te bay li sa fè kek ane men mwen se yon ti gid. Ou gen gwo gid yo ki travay avek biwo a epi ou gen ti gid kom mwen ki jwen moun kom ou menm.
BOS: Konbyen tan wap fè sa a?
Ti Gid: M tap swiv istwa sa a depi m te timoun nan zon sa a. Laba se kote wa Henri tap wouze madam li. Nan fontenn sa a.
BOS: Hmmm. Ok. Kote ou rete?
Ti Gid: M rete O'Palè. Jis sou wout pou al Citadel la. Laba se kote yap fè lacho, kann sik, e po bef yo paske yo pat gen siman nan lè sa a.
BOS: Po bef? We, ok. Eske m ka prann yon foto?
Ti Gid: Si ou vle nan foto, m pa gen pwoblem.