Book Review: Brother I Am Dying
Posted on:

19 October 2007

By:

Bryan Schaaf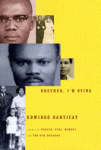 Breath, Eyes, Memory; Krik? Krak!, and The Dew Breaker among other books by Edwidge Danticat include her characteristic folktale prose woven into her larger themes. And with each book's evolution and the perfection of such prose more and more is revealed about the author, realizing it or not in what seems to develop as a series of memoirs.
Brother I'm Dying the latest of Danticat's books is a climax of that characteristic folktale and memoir unveiling, at least until the next book. In telling the story of her Uncle and her father, the two men responsible for raising Edwidge, she leads us to feel the individual struggles of immigration and then exposes the cold machine of immigration policy. But she consistently writes with great objectivity and understanding from the perspectives that keep not only the issues of immigration, the individual and the machine, defined but also the personal decisions of individuals, her uncle and father, on deciding to immigrate or not to immigrate.
In these choices a story unravels of many lives affected by the hardships Haiti is subjected to and in the end, although hope immerges with the birth of Mira, Danticat's baby girl who inherits her father's ti nom, immense sadness prevails. This couldn't be more analogous to Haiti, which is drowning in chronic struggles but kept afloat by the hope of an infinitely compressible people.
HII Co-Found Rob Miller is acknowledged in the book for his effort to assist Danticat's 81 year old Uncle Joseph in being released from Krome detention center. The end result reveals the cruelty of a system when officials act as part of a machine and without consideration for brothers, sisters, mothers, fathers, uncles, aunts or children of their own.
Matt