Treating Malnutrition, Saving Lives in Cap Haitian
Posted on:

23 April 2008

By:

Bryan Schaaf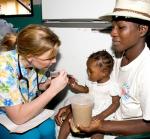 Malnutrition is a threat to health but it is treatable.  The cure is the appropriate kind of food.  There is no reason why children should die either from malnutrition or infectious diseases they are vulnerable to because  malnourishment has weakened their immune systems. Earlier we wrote about Plumpynut, a Ready to Use Therapeutic Food that has revolutionized the way we treat malnourished children - and saved many of their lives in the process.  Current sent us a video about Meds and Foods for Kids,  organization in Cap Haitian that decided to make their own version of Plumpynut from local ingredients.  They have been very successful and now the World Bank is supporting them to provide "Medika Mamba" nationwide.  It is an innovative idea that is now having a nationwide impact.

Current is a thiking person's YouTube.  A search for "Haiti" reveals videos about efforts to electrify Haiti, the efforts of the MINUSTAH force in Haiti, second hand clothes, food shortages, village banking, governance,and other issues.   We encourage you to take a look at what they have to offer.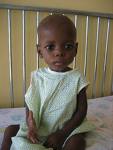 When it comes to food security, Haiti is stuck in a rut.  As a result of its dependence on imported food commodities and continued environmental degradation, the country does not yet have the capacity to feed itself.   With enough political will and international support, Haiti will be able to ensure that its people live in dignity, free from hunger.  In the meantime, it is the children who suffer food emergencies most acutely.
Many organizations are doing admirable work to ensure that Haiti's most vulnerable children receive the food they need to be healthy and thrive.  Meds and Food for Kids started in Cap Haitian but is now supplying Medika Mamba nationwide.  Project Medishare is supplying Ready to Use Therapeutic Food for Thomonde and soon the entire Central Plateau.   The Haiti Micah Project ensures that the street children of Mirebalaise have access to food, shelter and education  The World Food Programme is a very efficient organization with a worldwide mandate for feeding vulnerable populations worldwide including in Haiti.  Unfortunately, they have only 13% of the funding they need to protect Haiti's hungriest.  In the Northwest, CARE is feeding people in the most environmentally degraded part of the country.  And the list goes on.  Feel free to post other organizations you know if in the comments section.  But each of the organizations above is reputable, effective, and in need of funding.  
Many thanks to Current for sending us this inspiring video.   Be sure to check out their other Haiti related videos as well.
Bryan