Sphere Handbook Now Available in Kreyol
Posted on:

2 September 2010

By:

Bryan Schaaf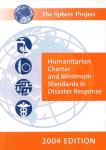 Imagine you are working in a setting affected by a natural disaster, conflict, or both.  How would you determine the number of liters of water per day beneficiaries need?  How many calories of food per day?  How many latrines for how many people?  What level of malnutrition signals an emergency? Look no further than the Sphere Handbook, a set of minimum standards and indicators that represents the strong consensus of the international humanitarian community on these and other issues.  The handbook is a useful tool for planning, carrying out, and evaluating humanitarian assistance programs.  As of today, it is available in Kreyol.  Please share with your Haitian counterparts. 
Sphere is based on two core beliefs: first, that all possible steps should be taken to alleviate human suffering arising out of calamity and conflict, and second, that those affected by disaster have a right to life with dignity and therefore a right to assistance. Sphere is three things; a handbook, a broad process of collaboration, and an expression of commitment to quality and accountability.
Concerning the Handbook, it is admittedly not something you would want to read straight through.  Instead, you can use it as a reference guide to learn more about the sectors that are relevant to you, your programs, or your interests.  The Sphere Handbook is currently undergoing a revision, but is presently divided into the following sections:
1) water supply and sanitation
2) nutrition
3) food aid
4) shelter and site planning
5) health services
Achieving minimum standards may not always be feasible depending on politics, security, and financial, human, and material resources.  Still, these minimum standards provide a target to work toward and an opportunity to articulate what would be required (financially, politically, etc.) in order to reach them.  In addition, each chapter lists specific points that should be considered when applying the standards. Cross-cutting issues throughout the handbook include: (1) children; (2) women; (3) disabled people; (4) gender; (5) protection; (6) HIV/AIDS; and (7) the environment.
Want to learn more?  Attached is an introductory powerpoint.  You can also download the handbook for free, take an online course and/or sign up for the online newsletter.
Bryan