Pumping Up in Port au Prince (New York Times)
Posted on:

19 March 2008

By:

Bryan Schaaf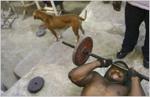 A recent article in the New York Times took a look at two gyms in Port au Prince - a Gold's Gym in the wealthiest suburb of Port au Prince and one of the home-made gyms which are far more  common both in the city and the countryside.  The homemade gyms are nothing compared to a Gold's Gym - but they are testament to Haitian creativity and possess a sense of camraderie that you will not find at an establishment that caters to the rich. Exercise can be empowering and as Haitian bodybuilder Julien Mr. Spencer puts it, "You can't buy fitness." 
Funny thing about being in the Peace Corps.  Your hobbies turn out to be as important as your skills.   I missed working out and mentioned to some other guys in my part of the town that I wish we had a gym.  We sat around and brainstormed what we would need - free weights, benches, bars, mats, and a place where no one would think of stealing them. 
The last part turned out to be easy.  We asked my neighbor, a former solider (of sorts) if we could place the equipment on his roof.  He agreed so long as we didnt drop anything through his roof.  We went to the markets and bought about ten of the banana leaf mats (phenomenal for taking naps) and placed them around the roof.  We had some wooden benches, chairs built and placed them on the roof.  We also found a seriously questionable ladder to get started with.
Next, we found about 15 car batteries.  Recycling doesn't really exist yet in Haiti so people tend to throw the batteries into ditch and we scooped them up. The remainder we paid a few gourdes for.  We melted the lead from the batteries down, poured it into different size cans and inserted metal bars.  Once solid, we did the same with the other end and voila - free weights.  This was enough for a small set. 
The barbells were trickier.  There was no way we would be able to get enough lead.  Instead, we filled PVC pipes with cement to make them strong.   Then we filled large buckets with cement and placed them into buckets (also full of cement) to dry overnight.  Once solid, we flipped them over and did the same for the other side.  Now we had some barbells.
We rarely had electricity in Thomonde, but the week before elections (as was ususally the case) we did.  One of my friends was able to find some welding equipment.  We took apart a Toyota truck that had crashed into a ditch and had been abandoned.  Many of the pieces turned out to be fairly useful for weightlifting.  We also were able to make a respectable dip bar and bench press rack with some of that scrap metal.  Not perfect, but good enough.

Haiti heats up quickly, so we would get up early in the morning, definitely before five o clock.  People would climb the ladder up to the roof and we would do as much as we could before the sun came up.  By seven o clock the sun would be too strong to continue. The ages of those who used the rooftop gym ranged from 12 - 35.  They would exercise, debate politics, talk religion, joke around - they had a daily routine and a good time.

We had a few good laughs too.  The Dominican Republic sells a cheap red wine called "Fuerza" with a picture of an enormously muscular man on the front of the bottle.  One of the kids insisted he had to drink it while working out to get bigger.  Another said that was ridiculous and only Guinness could do that.  Most agreed that a combination of weight lifting and eating flour was what made a person muscular. 

When I came to Port au Prince, I would occasionally work out at a nice gym.  Having a shaved head, I didn't have any problems getting into the Marine House to exercise either.   My workouts were better but I always did miss the sense of community that one got from working out with a bunch of friends on the top of a roof and watching the world (or at least the town) go by on the road below. 
This article brought back fond memories for me.  Instead of sitting around waiting for a gym or hoping that someone would give us one we were able to make it with a little effort and a lot of creativity.  Chita pa bay.
Bryan