A Postcard from Saint Joseph's
Posted on:

14 November 2011

By:

Bryan Schaaf
Below is a guest blog from Nina Persi, an art student who visited Haiti to document the lives of orphans living in Saint Joseph facilities in/around Port au Prince and Jacmel.  Having returned to Pennsylvania, she is using her photos to raise awareness about vulnerable children in Haiti (of which there are many) and to raise funds for the Saint Joseph Family, an organization doing exceptional work caring for them.  More information on her trip, the Saint Joseph Family, and how you can get involved follows.  
The first time I visited Haiti was ten years ago.  Despite it being a two hour plane ride from Miami, I knew next to nothing about the country.  While my time there was short, it was enough for me to experience the beauty, pride, and kindness of the Haitian people.  While there, I was also impressed with the range and quality of Haiti's amazing and colorful artwork, everything from paintings to metal-work.  As they say, Haiti has teeth, and it had bitten on to me.  I'd always thought about going back somehow.  After the massive 2010 earthquake, I felt helpless.  Like many others, I made contributions to international organizations and non governmental organizations that were providing humanitarian assistance - but I also wanted to give my time, my energy, and myself.  Ten years ago, I was just finishing a Ph.D. at Ohio University.  Flash forward to the present and here I am again at a university, although this time as an art student, pursuing a personal passion.  In a country where art is everywhere, I wondered how I could use it to make a difference.  Ultimately, photography provided a way.
First, I had to find the right organization to partner with.  After some extensive research, I made contact with the Saint Joseph Family.  The Saint Joseph Family is devoted to the care of Haitian orphans, including those with disabilities.  Saint Joseph's took me in and allowed me to document, through photography, the daily lives of children under their care.  I didn't want to do this just to complete the requirements of my degree but to also start a long-term partnership with the Saint Joseph Family, first so I could raise awareness about vulnerable children in Haiti and second to raise funds with which they can maintain and expand the much needed services they provide to vulnerable children.
Having completed my work in Haiti, I am now preparing the photos for submission to local galleries in the Pittsburgh area and will also speak at local schools and service organizations such as Rotary, Lion's Clubs and other groups.  At these events, I will be talking about the Saint Joseph Family, the work they do, and why it matters so much.  But before going much further, let me provide some background on the organization's history, its work, and the positive impact that it is having in Haiti.  Twenty-six years ago, Michael Geilenfeld, a former brother with the Mother Theresa order, took in several Haitian boys who were current or former restaveks from the streets in Port au Prince. In a rental home located in Pétionville, a suburb of Port au Prince, Michael provided these five boys with an education, food, shelter, and most importantly, compassion.  Michael, who is the founder and executive director of the St. Joseph Family, oversees three sites that serve the children of Haiti.  The first Saint Joseph Home for Boys, which housed 20 children, was destroyed by the earthquake.  A small number of boys currently live next door to where St. Joseph's is being rebuilt while most of them were relocated to their Trinity House in Jacmel.  The main outreach of the Trinity House is the Lekòl Sen Trinity, a school which serves the poorest children in Jacmel. Education is supposed to be free in Haiti but the costs associated with schooling are anything but.  Due to the economic situation of their families, these children would not otherwise have the opportunity to go to school.  The School's children also receive two meals per day (a definite incentive for families to keep their children in school) and other basic assistance.
The third site that St. Joseph operates is Wings of Hope, a home for mentally and physically challenged children and young adults in Fermathe.  Unfortunately, individuals with special needs are often stigmatized as being manifestations of evil spirits and thus do not receive proper care.  At Wings of Hope, the children are given physical and educational therapy along with health care and emotional support.  Besides the three physical sites, the St. Joseph family operates the Resurrection Dance Theater of Haiti, a professional dance company composed of children from each of the three homes.  The company has toured in the United States and Canada and also entertains visitors who stay in the guest lodgings at the St. Joseph Home for Boys.  A four-part a cappella choir made up of residents and graduates of the St. Joseph Home for Boys, known as the Resurrection Singers, also performs at the St. Joseph Home for Boys.  Lastly, the St. Joseph's Community Arts Center is a facility where residents of the home, and the larger community, can come to express themselves artistically.  Artists, both from Haiti and abroad, often lend their skills and expertise with the intent of cultivating a love of the arts in children
I returned to Haiti Sunday August 14th.  Upon arrival at the airport I had my first Haiti flashback.  As before, the intense heat hit me almost immediately and an army of porters waiting to assist anyone with a bag was still there.  I knew that I was to look for a one-armed porter named Jackson who would take me to the driver, named Eres, that the St. Joseph organization arranged.  I quickly found Jackson (how many one armed porters can there be?)  even before I saw he had a sign with my name on it, and there he was with a wide smile and a friendly voice.  "It's good to see you again!" he said.   While we had not met before, I was happy to say that it was good to see him (again) as well.  While happy to be back, I knew I would undoubtedly be emotional when seeing the camps for the displaced, rubble, and other all too real reminders of the damage caused to lives, livelihoods, and infrastructure by the 2010 earthquake.  From reading online reports and watching the news, I knew recovery efforts were not as far along as most had hoped for.  While driving through Port-au-Prince, Eres deftly maneuvered the mini-van through damaged streets, around piles of garbage, and the occasional stray dog or chicken.  Port au Prince is still very much a city in recovery.  But there was also the hustle and bustle in the streets as people coming from church, shopping in the markets, and going about daily routines.  I remember the energy - people walking arm in arm with other in the streets, smelling the fried street food in road-side stands, all set to a soundtrack of greetings, banter, and bartering as people went about their business.
The drive to the St. Joseph Home for Boys takes about 45 minutes.  Michael greeted me with a hug and a cold glass of clean water, something that far too many of us take for granted in the United States.  Safe drinking water is indeed a luxury in many parts of Haiti.  After discussing ideas for the photography project, we determined it was best that I spend some time at each of the sites St. Joseph operates.  I would spend a few days at Wings of Hope, at the Trinity House, and then come back to the St. Joseph Home before returning home.  Michael, who is originally from Iowa, radiates positivity and warmth and is absolutely committed to the children who are a part the St. Joseph family.  He defers praise to those who work along side of him and is quick to point out that he only "planted the seeds" for the organization and the future of the St. Joseph largely depends on Haitians themselves.
I spent the first night at the temporary location for the St. Joseph Home for Boys.  The facility, which has an impressive collection of Haitian art, operates a guest home for visitors, which is in turn a source of funds.  The new St. Joseph Home is being built strong enough to withstand any future earthquakes.  Michael, who generally oversees the needs of guests, has turned over the day to day operations of the St. Joseph House to Bill Nathan, a former child slave.  Bill was nearly killed after falling off the sixth floor of St. Joseph's during the earthquake.  His story of being enslaved as a child was featured in Ben Skinner's book, A Crime So Monstrous.  Bill's commitment to the children, community, and country were obvious.  With his education and impeccable English, he probably could have made a good life for himself in the United States.  Instead, he continues to work in Haiti as an advocate, a role model, and a leader.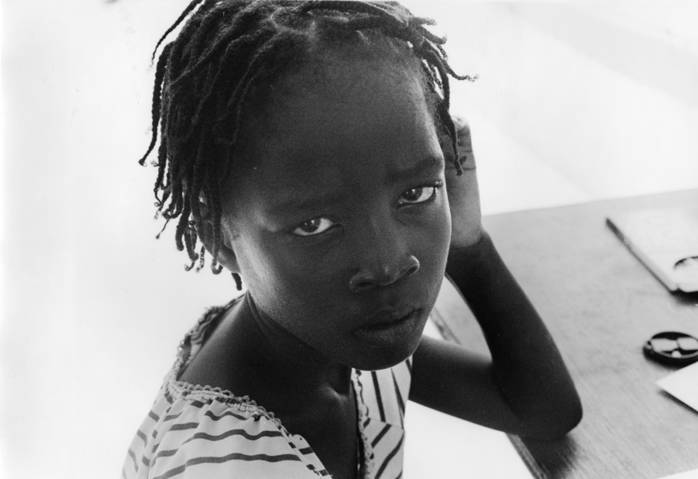 Mornings start early in Haiti and the Saint Joseph's Home is no exception.  After waking up early and taking a bucket shower, I was on my way to Wings of Hope.  As we moved away from the more crowded areas of Pétionville, it was lovely to see all of the gorgeous flowers and tropical plants.  As the minivan approached the gates of the Wings of Hope site, I could see children on the balcony.  Most of the children are used to visitors and excited to have new guests.  Among the Haitian staff of Wings of Hope are former children of St. Joseph's who are now caregivers and therapists.  Two women ex-pats also  live there as well.  Renee Dietrich, a former photojournalist, has been in Haiti for nine years, and runs the grants and development aspect of Wings of Hope.  KC Barch, who has been in Haiti for seven years, oversees the educational aspects of the children of Wings of Hope.  Both are extremely dedicated to the children at Wings of Hope.  There are presently about thirty children, all of them are dealing with some mental or physical challenge.  Most of the children have had very difficult histories, but are now in a setting where they are cared for and loved.  The former Wings of Hope facility was badly damaged during the earthquake, so the children and the staff are doing the best that they can with temporary housing.  The Wings staff has an ongoing collaboration with professionals from the Cotting School in Boston, Massachusetts.  Doctors, administrators and therapists from the Cotting periodically visit Haiti and Wings of Hope to train and share their technical expertise on caring for and educating special needs children.
At first, I put my camera away so that the children would be comfortable with me.  But they are like any other children.  If you have a smile on your face, and are willing/able to be goofy, children will want to spend time with you and get to know you better.  I brought along a sketchbook and a small tray of watercolors, and soon, I had a group of children who wanted to watch me paint or try it out for themselves.  One child in particular, Steve, was particularly enthusiastic and added his own flourishes to any image that I drew.  He tried teaching me some Haitian-Creole and he wanted to know what the English name was for everything I drew.  Along with just hanging out with the children, I also tried helping out with the feeding of the children who needed assistance.  There is no such thing as too much help at Wings of Hope, and there are often groups of volunteers who come to the facility and help lighten the load of staff members for a time.  Even in the most modern of facilities, working with a special needs population can be challenging – but also very rewarding.  When taking my photographs of the children, I would always ask if they were ok with taking their image.  If a child was unable to give permission, I would ask their caregivers if I could take the photos.  I very much enjoyed my time with the children and their care-givers.  After spending a couple of days at Wings of Hope, I woke up early in the morning to head out for a two hour bus ride to Jacmel.  I was accompanied by a young boy named Patrick who speaks English fluently, and was very patient in trying to teach me Haitian Kreyol 101 in order to get by.  The ride on the public transportation to the Trinity House (a minivan with 19 people total) went through a winding and weaving path through the mountains.  I was told that the path has 200 twists and turns, and this may well be true although I had my eyes closed for most of them.  I was excited when we arrived at Jacmel. Most of the boys who are at the Trinity House first lived in and around Port-au-Prince, and it is on purpose that they are taken from the city and relocated to Jacmel, far removed from the chaos of Port au Prince. The mountains and the beaches are breathtaking, but the impact of the earthquake was felt in Jacmel as well.  Fortunately, the Trinity House was not damaged at all by the earthquake and the building remains safe and strong.
The ages of the children at the Trinity House range from nine to 21 and most have had difficult lives.  The St. Joseph family web-site provides biographies on each of the children who live at the facilities and the children who attend the school in the event that someone would want to sponsor them financially for a year. I'm glad that I did not read the information about them until after I had come back as it would have made me even more emotional than I was.  For example Emmanuel was born in Les-Cayes and was raised by his grandmother because his mother died when he was a baby. When Emmanuel was 11-years-old his grandmother sent him to Port-au-Prince to live with his uncle because she was no longer able to care for him.  Emmanuel's uncle treated him very badly, beat him and used him as a child slave.  After being oppressed by his uncle for two years, Emmanuel had the courage to run away.  He lived on the streets for two months before he met a kind Haitian woman who befriended him and brought him to the St. Joseph Family.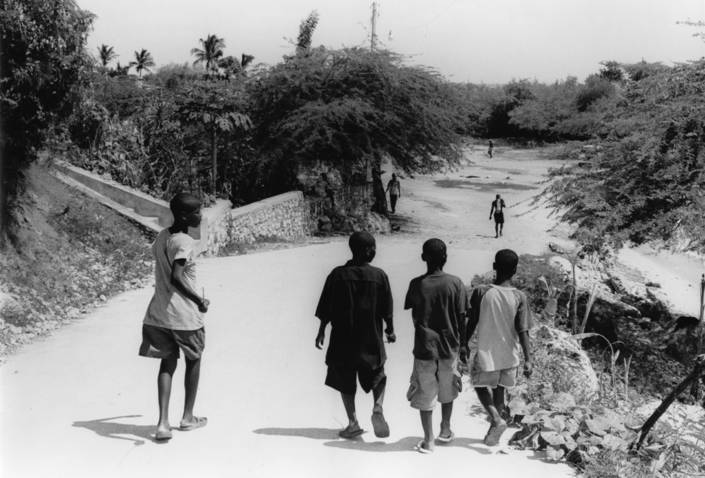 Here too, I kept my camera out of sight, at least initially. I was welcomed with open arms immediately and given a plate of beans and rice for lunch.  Malchi, who is a previous resident of St. Joseph, currently runs the Trinity House, made me feel very much at home and had nothing but good things to say about his experiences with Michael and the organization of St. Joseph as a whole.  After I had time to get situated, Malchi had all the boys assembled for the daily affirmation and prayer time.  While the children say prayers before each meal, children are not forced to follow a particular religion or path.  The children are encouraged to pursue a spiritual or religious path that they are most comfortable with.  My personal philosophy has always been faith is best expressed through actions rather than words, but I felt very comfortable praying and attending church with the children.  With my sketchbook in tow, I made friends almost immediately with some of the boys that were the youngest of the group.  Gasti, Lulu, Wislem, and Steven were by my side in the first few hours of my time at the Trinity House and became my shadows.  In fact, two of the boys, Lulu and Wislem were so charismatic and playful that my favorite image of their antics serves as the postcard and invitation for my gallery exhibition.  Lulu was leaping over the wall that surrounds the Trinity House and I wanted to capture his energy and movement.  Unbeknown to me, Wislem was on the opposite side of the wall.  Just as my camera shutter clicked, Wislem's head popped up and he startled me so much I almost dropped my camera.  He laughed at me and I am so happy that moment is forever frozen in time.  The children were fascinated by my film camera, which I tried my best to explain.  Most were used to seeing digital cameras and I did have one of those with me.  I let them take turns taking pictures which they obviously enjoyed.  In the future, I would love to come back to Haiti with digital cameras, perhaps sponsored by a company such as Nikon or Cannon, and have a formal photography class to help the children express themselves through the lens of a camera.
The schedule for the boys, even in the summer when school is out, is still full.  In keeping with the tradition of documentary photography and getting to know your subjects, I kept  the same schedule as they did.  Wake-up time every morning is at 6:00 am, followed by chores which include sweeping, filling the water buckets, preparing for breakfast, and bathing.  After breakfast, there was dish washing, more sweeping, and mopping the floors.  In between chores, the boys play soccer, marbles, and twice a week there are art and Bible classes.  Lunch was served at noon, with other chores to follow.  The afternoons consisted of going to the market, walking around, going to a nearby beach, or a quick game of basketball.  Dinner was around 4:00 and prior to that, all of the boys were assembled in the great room.  Each boy would choose another boy and say something positive about him, and in short time, all had received a compliment. Michael Geilenfeld instituted this routine early on with the first set of boys under his care as he felt it was important for the boys to know their value and worth, as most had been unappreciated by their original families and/or degraded by the families that took them in as restaveks.
After dinner, there are chores, a shower, and then the boys are allowed free time.  For two of the evenings that I was there, myself, KC, Tracy (a woman from Miami whose family is from Haiti who will be managing a bakery connected to the Trinity House) and some of the boys attended a free instrumental concert put on by the only music school in Jacmel.  During most other evenings, the boys crowded around a television set or the computer of one of the staff members and watched movies such as "High School Musical 2", "Shrek" or "Avatar."  The boys knew all of the words to the songs in "High School Musical 2" and did a convincing job acting out some of the scenes.  I absolutely loved each and every minute I spent with the boys at the Trinity House.  All of them were very gracious and kind and opened their home up to a strange lady with a camera who was taking pictures of what they might consider uneventful days.  I can only hope that when the boys look at my finished prints, they will feel as if I captured their day to day lives respectfully and accurately.  Following my week at the Trinity House, I spent one more night at the St. Joseph Home for Boys before heading back to the Port-au-Prince airport.  After my eleven day adventure, I am already thinking and planning when I can come back.  They boys and the staff at St. Joseph are in my thoughts daily and I feel honored to have been a part of their lives if only for a brief moment of time.
I am hoping that by reading this you will want to become involved as well.  First, you are welcome to attend my exhibit.  My first exhibition will take place at the AABC Art Center which is located at 344 S. Main Street in Butler, Pennsylvania 16001. The exhibition runs from November 21-30 with the opening reception from 6:00 - 9:00 pm on Monday, November 21.  I will also be posting my photos in a forthcoming online portfolio.  For the time being, the Haiti photographs can be viewed at flickr.  Additionally, all of the prints in my exhibition will be for sale with all proceeds benefitting the St. Joseph Family organization.
Second, you can provide financial support directly to the Saint Joseph Family.  I can attest that they are doing amazing work in raising vulnerable children, teaching them skills, and helping them grow up to be responsible, ethical adults who can leaders in their communities.  You might consider sponsoring one of the children's studies for example –  education may be the only development activity that is never wasted.  The children need it to provide for themselves, their future families, and to be leaders in their communities. You can learn more about Saint Joseph Family online or emailthem at sjfamily@hotmail.com.  If you are interested in donating in-kind goods or services, please contact St. Joseph's first to see what their current needs are.
Third, you can stay at the Saint Joseph Guest House when you go to Haiti.  You will be supporting their operations while interacting with the children and taking classes they offer, for example, on learning Haitian Kreyol.
Fourth, you may also consider volunteering.  Opportunities exist to volunteer at Wings of Hope where you can help in the daily care giving tasks of the children.  Additionally, there are volunteer opportunities at Lekòl Sen Trinity where you would assist in teaching the children and participating in daily chores such as preparing for meals and cleaning.
Finally, by spreading the word about what they are doing and why their work merits support through your social networks (churches, facebook, twitter, etc) then you will be helping them out immensely.  Do feel free to email me if you have any questions at ninapersi@hotmail.com.  Like the Haitian proverb says, "children are riches" and I certainly feel enriched for being able to spend two short weeks with them.  I look forward to going back and to being involved with the Saint Joseph Family.  Mesi Anpil.