PAZAPA Fundraiser for Disabled Haitian Children (11/8/2008)
Posted on:

13 October 2008

By:

Bryan Schaaf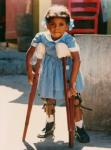 Disabilities are part of the human condition.  It has been said that any of us lucky to live long enough will experience a disability.  However, disabled children and their families have unique needs that often go unmet, especially in the developing world.  PAZAPA is a school in Jacmel that provides support to more than 300 disabled children. On Saturday, November 8th a fundraiser will be held from 2:00 - 5:00 at  3181 Porter Street, NW 20008 in the Cleveland Park neighborhood of Washington DC.  If you can come, please RSVP to Anne Grimmer at aegrimmer@aol.com.  If not, please take a look at the PAZAPA website and consider donating to this unique organization.
PAZAPA, meaning "step by step" in Haitian Kreyol, is a a non-sectarian, public 501(c)(3) foundation supported by individual donors and organizations.  With support from North American and European volunteers in all fields, local and international organizations, churches, and individuals, PAZAPA has provided help to over a thousand children since 1987.  
In providing quality services to disabled children and their families, PAZAPA partners with many other organization in Haiti including the Bon Repos School for the Deaf in Port-au-Prince, the Centre Education Spéciale in  Port-au-Prince, Catholic Relief Services, Ecole St. Vincent in Port-au-Prince, Hôpital Ste. Croix in Léogâne, Hôpital St. Michel in Jacmel and PLAN Haiti.
PAZAPA is able to keep its operating costs low largely because of the support of its volunteers. Volunteers allow PAZAPA to offer services free of charge that would be out of the reach of virtually all Haitian families.  Haiti Innovation often receive emails from individuals looking for organizations to volunteer with. PAZAPA would be an excellent organization to consider, given its established track record in providing services to the disabled.
Although Peace Corps/Haiti was closed due to political instability, PAZAPA had a long tradition of working with Peace Corps Volunteers.  Matt Marek, one of our Board Directors, was among them.  Jonathan Scholes was another Peace Corps Volunteer who worked with PAZAPA from 1996-1998.  At age 33, Jon passed from cancer.  He was passionate about PAZAPA and this fundraiser is a way for us to honor his life, work, and memory.      
The fundraiser will feature wine, light refreshments, and many pieces of Haitian art for purchase. 100% of proceeds will go directly to program activities. Of immediate concern are the 40 PAZAPA families who lost their homes and/or livelihoods in the recent hurricanes' devastation.
Attached is a PAZAPA brochure.  Please pass it on to others who would be interested in learning more. Don't hesitate to contact us with questions. Thanks!
Bryan