Pap Padap Dirèk Dirèk- Mobile Communication
Posted on:

20 December 2011

By:

Bryan Schaaf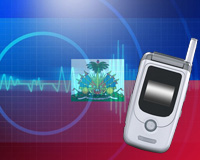 Thanks to Digicel and Voila Comcel, obtaining a cell phone is the least of your worries when traveling to Haiti.  Almost immediately after arriving at the Toussaint Louverture International Airport in Port au Prince, one spots red and neon green beach umbrellas, under which man holding a string of calling cards and other mobile phone related products.  Need a cell phone? No problem. 
Pap Padap is onomatopoeia, referring to Digicel minutes that you can purchase from a street vender. Dirèk Dirèk would be the equivalent for Voila.  About 85% of Haitians own a cell phone.  Haiti is Digicel's largest customer base to date.  Digicel, an Irish company based in Kingston serving the Latin America, Caribbean and South Pacific regions, launched in Haiti in 2006.  Voila was launched earlier in 1998 and serves over 1 million users.  With brilliant marketing strategies, Digicel and Voila advertise cell phone products using Haitian musician celebrities as their spokespersons.  You can even purchase ringtones featuring your favorite Haitian band.  Digicel had a Barikad Crew (Haitian Hip-Hop Group) cell phone that came with the group's rap song as a ringtone already installed! Even the Haitian President Michel Martelly got in on the action during his campaign.  Haitians would joke "Sweet Mickey called me personally and told me to vote for him." Martelly's campaign team was crafty in using cell phone prerecorded voice messages or text as a marketing tool in reaching millions of Haitians.
During carnival season or at large music festivals you can witness hundreds of people in the crowd wearing either Digicels signature color red or Viola's neon green t-shirts. You don't want to be left out of free marketing merchandise such as backpacks, key chains and rain ponchos!  Although both mobile telecommunication companies are grossing millions of dollars a year in a very poor country, they both have a sense of Corporate Social Responsibility.  Both companies have contributed economically by creating jobs for thousands of independent vendors selling pap padap or dirèk dirèk minutes. Voila, through the Voila Foundation, launched a pilot project to provide the disabled community in Haiti with a source of income by providing them with mobile phones to sell minutes.  Within 24 hours of the earthquake Digicel launched text and voice donation lines. The Digicel Haiti Relief Fund received and continues to receive support as they collected over USD $500,000 Voila had set-up a new text services specifically for disaster relief and, in collaboration with UniBank, Haitians are able to access mobile banking.  Both organizations also have foundations that have a variety of projects for sustainable community development.
Overall, Digicel and Viola have had and continue to have a positive impact in Haiti. It pleases me that both companies are culturally aware enough to feature models in their advertisements that accurately reflect the Haitian people and and culture in a positive way.  Their approach is profitable, treats the Haitian people with respect, invests back into the community, and is corporate social responsibility at its best.
Jasmine