On Line Auction to Support the Training of Haitian Teachers (starting 11/6/2007)
Posted on:

6 November 2007

By:

Bryan Schaaf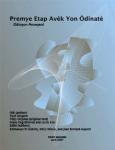 Auctions can be an excellent way for small organizations to raise seed money with which to start pilot programs.  Sometimes these new programs will work, and can be expanded.  Other times, the decision will be made to discontinue but it will still have been an important learning experience for the organization.
Pwof Ansanm (Teachers Together) is a small organization with a proven track record of improving the effectivness of teachers with innovative training techniques.
It would be a dis-service to call what many children are subjected to as education.  The most qualified often avoid the profession, especially in rural areas.  Who wants to go months without receiving a paycheck? The poorly trained teachers who accept the positions lectures the students in broken French who recite endlessly, but do not analyze and critique, the information they are presented.  Questions are discouraged.  Haiti would benefit from a cadre of Carribean Socratic instructors.
This is why programs such as Pwof Ansamn are so important.  They train instructors, expose them to alternate methods of pedagogy, and provide them with culturally appropriate resources in Kreyol, not French, with which to instruct students.
Starting today, and ending in 2 weeks, Pwof Ansanm is holding an online auction to support their expansion.  Items for auction include art, dance lessons (kompa?), vacation getaways, and tickets to sporting events.  
The advantage of online auctions is that one need not be present to participate. You can view and make bids on any of the items by clicking on the Pwof Ansanm marketplace.  Definitely do take a look at their website - it is in Kreyol, French, and English.  Throw in a smattering of Spanish, and that's Haiti for you.
Pwof Ansanm is doing good, and much needed work, to ensure that teachers are catalysts for social change, and not just the keepers of the status quo.  Take a look and if you have any question, please feel free to contact Raven Travillian directly at ravensar@myuw.net.
Bryan