Konbit Sante Secures Funds for Pediatric Emergency Room in Cap Haitian
Posted on:

21 March 2008

By:

Bryan Schaaf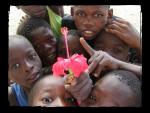 The Maine based Konbit Sante group continues to make a difference in Northern Haiti by investing in the human and physical infrastructure that the Hospital Justinien needs to become the hospital that Cap Haitian deserves.  In recognition of their efforts, Konbit Sante was recently awarded a $30,000 grant from the Dorthea Ross Haus Foundation to build a pediatric emergency room at Justinian Hospital. The project, which is expected to take six months to complete, will also help improve water and sanitation in the pediatric facility.


Despite considerable challenges, Konbit Sante has accomplished much.  For example, they received a grant to advance hookworm treatment in Haiti.  Why does this matter? Hookworm is a parasite that affects the poorest of the poor - siphoning off much needed nutrients, slowing both cognitive and physical development.

Nobody would want to be treated in a hospital which did not have clean water and effective means of sterilizing equipment.  But this is was the reality.  This is changing as Konbit Sante has devoted considerable time and energy to ensuring that both health care providers and their patients are protected from infections in the hospital.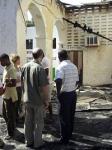 Health care providers associated with Konbit Sante also train their Haitian counterparts on best practices in medicine.  As opposed to sending wave after wave of American providers to Cap Haitian for medical missions, Konbit Sante is building the capacity of their counterparts.  It is a partnership.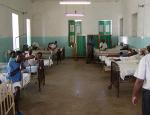 There are many ways to be involved both stateside and in Haiti.  Konbit Sante welcomes cash contributions and in kind donations.   But you can also volunteer.   If you have building, electrical, or mechanical skills your assistance would be welcome in rehabilitating the various buildings of the medical campus - especially given the large fire that destroyed an entire wing of the hospital.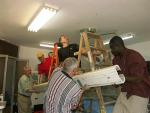 If you are a clinician interested in training people to better perform their work, instead of doing it for them, you would be a welcome member of the team.  Non clinicans can help by raising awareness about what Konbit Sante is doing and helping to form partnerships with other organizations who want to make a difference in Northern Haiti.  Stateside, volunteers are needed for committees concerning equipment and supplies, fundraising, and volunteer activities.  You can view a wish list of needed supplies and equipment here.   Also take a look at the    The Konbit Sante Volunteer Guide, a useful resource.
Konbit Sante is still going strong and we congratulate them on their success. The entire press release is below and the contact information of Nathan Nickerson, the Executive Director of Konbit Sante, is listed as well. 
Maine Group Secures Funds for
Pediatric Emergency Room in Cap-Haitien, Haiti (Portland, ME) Konbit Sante Cap-Haitien Health Partnership, a Maine/Haiti health partnership, has been awarded a $30,000 grant from the Dorthea Ross Haus Foundation to build a pediatric emergency room at Justinian Hospital, the largest public hospital in Cap-Haitien, Haiti's second largest city.  The project, which is expected to take six months to complete, will also help improve water and sanitation in the pediatric facility. Haiti, with a population of 8.6 million people, is widely recognized as the poorest country in the Western Hemisphere.
The United National Development Index ranks it 153rd out of 177 countries based on its low life expectancy, poor access to education, inadequate standard of living, and limited political empowerment.   This international children's fund grant will improve and expand critical pediatric care at this 250-bed teaching hospital. "Justinian Hospital's crowded pediatric facility has a normal inpatient population of about 30 children, with beds often within a foot or two of one another," notes Nate Nickerson, Konbit Sante's executive director. 
"This new facility will represent a great improvement in our Haitian colleagues' ability to provide good and timely care to critically ill children."    Konbit Sante works with Haitian partners to improve all aspects of Cap-Haitien's resource-poor health care system, and pediatric support has been a particular area of concentration. Konbit Sante volunteers have trained pediatric residents in medical care and respiratory therapy, installed a pediatric oxygen delivery system, installed a backup power supply for oxygen concentrators and incubators, constructed a pediatric outpatient facility, and re-started a feeding program for severely malnourished inpatients. 
In addition, Konbit Sante supports a Haitian pediatric educator as well as a pediatric nurse educator, both of whom have been hosted in Portland for training at Maine Medical Center and the University of Southern Maine's College of Nursing and Health Professions. "The children served by Justinian Hospital are in dire need," continues Nickerson. "In Haiti, one in five children does not survive to age five and children suffer from low daily caloric intake, low immunization rates, and high incidence of tuberculosis and HIV. 
With Konbit Sante's help, services at Justinian Hospital have been improving, and there has been a dramatic increase in children served as word reaches the community.  While the number is still unacceptably high, the rate of children dying within 24 hours of arrival at the Justinian Hospital is now lower than the national average."  Started in 2000, Konbit Sante works to improve the public health care system in Cap-Haitien.  Rather than developing a second, parallel system, Konbit Sante's mission is to help build local capacity for Haitians to care for Haitians.  Konbit Sante also has ongoing programs in internal medicine, women's health, and public health.   For more information, please visit www.konbitsante.org or www.healthyhaiti.org. 
Nathan M. Nickerson, RN, MSN, DrPH, Executive Director
Email: nnickerson@konbitsante.org 
Office: 207-347-6733