Haitian Education and Leadership Program Update (5/18/2009)
Posted on:

18 May 2009

By:

Bryan Schaaf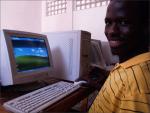 The Haitian Education and Leadership Program (HELP) is Haiti's largest provider of scholarships for talented youth who would not otherwise be able to afford a higher education.  Digicel, a major supporter of education programs, has taken note and provided HELP a $10,000 grant as well as two new phone lines with $1,200 of prepaid talk time.  In addition, an anonymous donor has recently offered HELP a $25,000 challenge grant.  This is an excellent opportunity for HELP to expand educational opportunities to a new generation of future community, corporate, and government leaders.
A challenge grant is when a donor offers to provide a sum of money equivalent to what an organization can raise within a certain period of time.  In this case, HELP's anonymous donor will match dollar for dollar whatever HELP can raise between now and July 31st.  This represents a substantial sum of money, particularly during difficult economic times.  Now is an ideal time to contribute to HELP as your dollar will have double the impact.  You can make a donation online by clicking here.  
Apart from the challenge grant, HELP has been involved in a number of other fundraisers.  On April 29, 35 HELP supporters gathered in Manhattan to celebrate HELP's accomplishments at a special sponsorship event featuring performances by Haitian artists Michou and Atibon.  HELP alumni Florenal Joseph and Syndie Pierre-Canel also spoke at the event.  In total, $30,275 was raised toward for continued sponsorship of 10 current HELP students. 
During her presentation, Syndie said, "HELP created in me, and in so many others, the desire to help our country and other people in need.  With my training I will bring new ideas, new opportunities and new ways to see things and solve problems in our environment.  Today my life is what it is because HELP saw my potential and gave me the privilege to fulfill it.  HELP exists only because people like you understand that our limit should not be just a high school diploma and a sewing certificate, that we have a natural desire to lead successful lives and invest our knowledge in others."
Conor Bohan, the head of HELP, noted in an email to supporters, "...I am now working full time for HELP in the U.S., concentrating on fundraising and public relations.  The more I speak to people about HELP the more I realize what a strong and effective organization our students, staff and supporters have built.  Our current challenge is to maintain support for our existing students until graduation.  We always tell incoming students that we cannot guarantee support from one year to the next but that we have never had to let a student go for financial reasons. In order to maintain this track record, we need your continued support; for just as all of our past success is a direct result of your contributions, so all of our future success is not possible without you.  Thank you for making HELP what it is today, and please join us in making it even better tomorrow."
Haiti's challenges include rehabilitating the environment, developing the private sector, making government accountable, modernizing infrastructure, protecting human rights, and promoting public health. These challenges are all significant, but with leadership, are not insurmountable. 
Through HELP, a new generation is receiving the knowledge and skills needed to improve their lives, communities, and country.
Thanks!
Bryan