From Haiti to Rwanda - Paul Farmer Again Moving Mountains
Posted on:

20 April 2008

By:

Bryan Schaaf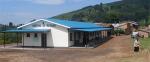 Thought you might enjoy reading a Boston Globe piece about progress being made by Partners in Health in Rwanda.  It really is an inspiring story.  Rwanda was torn apart during the Genocide, but is coming together again.  Health is clearly playing an important role in the reconciliation process.  Working closely with the Clinton Foundation, the Government of Rwanda, and a large team of dedicated communicate health workers, there are making a real difference with the knowledge and experience they gained in their +20 years of experience in Haiti.
I have copied below (in italics) the opening of the article from the Boston Globe:  
Farmer, who teaches at Harvard, was taken to Ruhengeri, in the country's northwest corner. But there was already a clean hospital there, with employees and even an X-ray machine. "No, no, no. You don't understand," Farmer recalls saying. "Find me the worst possible place in the country."
So they took him to Rwinkwavu, a remote area two hours east of Kigali. Even Farmer - who works in the world's worst regions - was taken aback. The "hospital" consisted of derelict buildings that had been used by a Belgian mining company decades earlier, then as military barracks during the genocide in which 800,000 people were killed in 100 days. Bullet holes pocked the walls, which were also scarred with hate messages left by the killers: "Those we don't kill, AIDS will get."
There were no beds, no patients, no staff, no medical equipment. "It was abandoned, dirty and scary," Farmer says. There were 200,000 people in the district and not a single doctor.  It was the perfect place for Farmer.
Five years ago, Farmer became reluctantly famous with the publication of Tracy Kidder's best-selling book, "Mountains Beyond Mountains," which told the story of the brash Harvard Medical School graduate who changed the face of healthcare in rural Haiti. Now 20 years old, Partners in Health, with its emphasis on treating poverty as well as disease, has expanded to nine countries
Partners in Health has a budget of $50 million annually.  Like any non governmental organization, they worry about being able to raise enough funds each year.   So far they have been able to do so.   They continue to punch above their weight - It is not an exxageration to say that Partners in Health has, on a global level, changed the way we treat patients with TB and/or HIV/AIDS in low resource settings.  The world is better for their work.  
In Haiti, Lesotho, and Rwanda, Partners in Health has been instrumental in organizing communities to address health concerns.  In rural Rwanda, as in rural Haiti, there are the biggest employer in the area as well.   Their health agents check on discharged patients and identify others at risk.   They ensure that medications are taken on time, and if anything should prevent them doing so, they work with the patient to resolve the problem.  They also visit those with chronic illnesses such as HIV/AIDS.  All told, Partners in Health/Rwanda has 1,500 employees including 825 community health workers.
Paul Farmer is always on the go these days and speaks frequently.   Check out the PIH website for details.   On April 22, he will speak at the Harvard School of Public Health with Dr. Agnes Binagwaho, head of Rwanda's National AIDS Control Commission.  On April 27 he will receive the 2008 Spirituality and Justice Award and deliver a sermon at All Saints Parish in Brookline.  Can't make it?  No worries - PIH often posts the webcasts, or a minimum, the transcripts. 
Also, take a moment to view the multimedia section of the PIH website.  It gives a good tour of PIH's work in Haiti, what diseases they have been treating, and how. 
I feel proud to know that an organization started in Haiti is making a difference in several countries in Africa.   By supporting PIH, you can be making a difference in Haiti and Africa at the same time.  They are one of the best organizations operating in Haiti, and now Africa as well.  
Bryan