Haiti to Plant Millions of Trees to Boost Forests, Reduce Poverty
Posted on:

28 March 2013

By:

Bryan Schaaf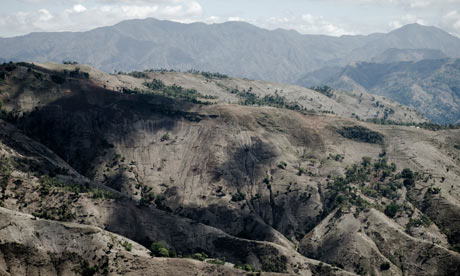 Below is an article by Rashmee Roshan Lall of the Guardian concerning the Haitian government's plan to promote the planting of 50 million trees a year. The success of this campaign will largely depend upon giving people accessible, affordable alternatives to charcoal.  Other countries have launched successful reforestation campaigns - hopefully, Haitian government and civil society can now do the same. 
Haiti aims to plant 50m trees a year in a pioneering reforestation campaign to address one of the primary causes of the country's poverty and ecological vulnerability. President Michel Martelly will launch the drive to double forest cover by 2016 from the perilous level of 2% – one of the lowest rates in the world. Despite scepticism engendered by past ill-fated campaigns, there are hopes that the high-level push will mark a turning point after hundreds of years of degradation. Haiti was once covered in verdant forests but land clearance for colonial plantations was followed by tree felling for cooking fuel. It is estimated that 30m to 40m trees a year are cut down. Until now, efforts to address this problem, which worsens with floods and mudslides, have been sporadic, small-scale projects, mostly run by foreign non-governmental organisations. But the government has said it will spearhead the new initiative, which starts on 1 May.
"In three years, this level of planting will give us forest cover of 4.5%; in 10 years, it will be 8% to 10% and in 50 years, we hope to be at the level of Cuba, a regional role model, and have 29%," Jean François Thomas, the environment minister, said.  The tree-planting drive, which seeks "to turn every Haitian into a forest guard", is independent of scattered international efforts by USAid, the UN development programme and the Mennonite church, going back at least 30 years. But the government is backing another new project – the Haiti forest social initiative – which was launched in early March by the Clinton Foundation in collaboration with Nobel prize-winning economist Muhammad Yunus's social business initiative and Sir Richard Branson's Virgin Unite. "The Haitian government has agreed to commit 10,000 hectares to the agroforestry initiative, which is currently at the feasibility study stage," said Clémentine Lalande, Haiti head of investments for Yunus Social Business. More tree cover is considered essential if Haiti, the poorest country in the western hemisphere, is to raise living standards.
"Deforestation and poverty are very closely linked in Haiti," said Lalande. "It has been clearly identified in various studies as one of the main causes of poverty here, leading to degraded soil, decreasing agricultural yields, water scarcity, decreasing farming income and potentially malnutrition, in particular in rural areas." It also worsens the impact of natural disasters such as earthquakes, floods and the recent hurricane Sandy. "Just one day of continuous rain is devastating, it can cause catastrophe," said Thomas, referring to the frequent mudslides that roll down Haiti's brown, bare mountains, burying thousands, in the rainy season from May to October. The global average of forest cover is 9%-12%, with countries such as Suriname and Bhutan exceeding 60%. The Dominican Republic, Haiti's neighbour on the Caribbean island of Hispaniola, has lush forests but satellite photos show Haiti is all but bare. "This is a Haitian problem: every Haitian is guilty. We did not fight to prevent it, we are used to it now and we live with it as a natural problem," Thomas said.
The campaign to change the Haitian mindset will include education through radio programmes and pamphlets and an environmental protection component in the school curriculum from September. Solar, kerosene and propane stoves will be advertised as green and sustainable alternatives to wood or charcoal for cooking. The environment ministry will put its dormant environmental surveillance corps on the alert to stop illegal logging from protected areas such as Pic Macaya, one of Haiti's two national parks and its last stand of virgin cloud forest. "We will cut off access to the two markets – Port-au-Prince and Cap Haïtien – where the trucks illegally carrying the wood go to get good prices," said Thomas. He added that his government would also dust off environmental legislation dating back to 1920 and enforce fines and prison terms for cutting down trees.
It is fighting talk consistent with his government declaring 2013 the year of the environment and creating a catchy creole slogan, "Yon ayisyen, yon pye bwa" (one Haitian, one tree), as the theme for the pre-Lent carnival. But many are sceptical. "The Haitian government does not have a consistent record in terms of medium- to long-term projects, particularly in terms of controlling the drivers of deforestation (sharecropping for cash crops, charcoal, pasture, illegal poaching) on the land," said ecologist Joel Timyan, who works with the non-profit Société Audubon Haïti founded 10 years ago by a group of professionals concerned about the degradation of Haiti's ecosystems. Timyan, whose book Bwa Yo is a standard reference text on Haitian trees, added: "Reforestation would proceed more effectively without tree-planting if mechanisms were enacted to restrict access to land." The minister agrees. "Maybe if we emptied the island for 10 years, we would reforest without doing things. But that is not possible. So we're doing this."