In Haiti, a New Stadium Will Rise
Posted on:

16 May 2012

By:

Bryan Schaaf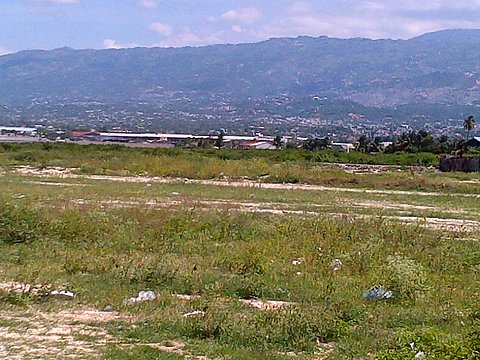 Haitians may yet have a stadium to match their passion for soccer. Below is a New York Times blog about a stadium scheduled for construction in Cite Soleil.  The majority of the $5 million dollar project will be financed by Delos LLC as part of the Clinton Global Initiative.  The stadium will seat 12,000 but could be expanded to 20,000 over time.  Best of all, it will be built with local materials and by local workers, maximizing the economic impact. 
5/16/2012 
New York Times
By JACK BELL
From the rubble, literally, of the earthquake that struck Haiti in January 2010, plans to build the first professional soccer stadium in the country are taking shape. The appropriately named Phoenix Stadium is set to rise in Cité Soleil, an area designated by the United Nations as a red zone — an impoverished town in desperate need of economic development.  The entire project, which has an estimated cost of $5 million, will have the majority of its financing provided by Delos LLC as part of the Clinton Global Initiative. Additional financing will be secured from corporations and individual donors. The stadium is only the first component of a project that will result in the construction of a youth soccer academy, an elementary and middle school, and infrastructure projects that will include agriculture, composting and water treatment. Part of the impetus for the project came from the long-term efforts of Boby Duval, the founder of L'Athletique D'Haiti, a nonprofit youth development program that has been providing children with education through sports.
"This is like a dream come true," Duval said in a telephone interview from Haiti. "This project will change people's lives. I started this 18 years ago when I came back to Haiti from college in the States." He added: "I know this is working. We have more than 2,000 kids we're serving here. They've gone to Brazil, the U.S., the women's team were champions of the Homeless World Cup. Sports is the universal language. The kids may be poor and barefoot, but when they walk on the field I guarantee you, you don't know who's rich. For an hour on the field, they are people who make a difference. This is not rocket science."
Since Haiti is the poorest country in the Western Hemisphere, sports has organically taken a back seat to the struggles to simply put food on the table, for many people. On the global soccer stage, Haiti has had meager success: the country has no national stadium (playing in Stade Sylvio Cator in Port-au-Prince), it has played in only one World Cup (1974 in West Germany) and its ability to field a credible national team has been hampered by little, if any, infrastructure on the youth level. "They do have a national stadium, but it was built 60 years ago and it costs too much to see a game there," said Morad Fareed, a New York-based businessman and former national team player for Palestine (making three appearances during qualifying for the 2006 World Cup). Fareed cofounded Delos, which bills itself as a builder of Wellness Real Estate. "This stadium is not for the national team," he said. "It is intended for a new 10-team league run by Bobby Duval".
"I have seen how transformative sports can be in the most desperate places in the world. My company looks for high-impact, philanthropic projects, and this one is just bold enough. It has an exciting potential to have an impact on many people. Besides the essential infrastructure, we are trying to focus on simply enabling children to grow and develop character." The stadium (capacity 12,000, expandable to more than 20,000) will be part of the first phase of the development that builders hope will spread over more than 15 acres. The plan, put forward by the well-known architect Carlos Zapata — whose projects include the renovation of Soldier Field in Chicago and the design of the Bitexco Financial Tower in Ho Chi Minh City, Vietnam — will use rubble from the 2010 earthquake in the construction process.
CZ Studio Carlos Zapata, who designed the reboot of Soldier Field in Chicago, above, is on board as the architect the new stadium in Haiti. "It's a very unlikely project, if you think about it," Zapata said. "Some people would say a soccer stadium in Haiti is something they don't need. I've really been moved by this project. What they don't need is another government building. We're all in support of Boby, who is trying to give the kids a chance." In Zapata's conception, the project will incorporate labor and materials from Haiti while also creating at least 500 jobs at the start, instead of "importing steel from Miami and a crew from Miami, to put it together and leave." He said it is about using the current landscape, "the geometry of the land," to mold the space and create hills for people to see the field. "Architecture is poetry," he said. "It goes beyond the basics of building. I believe it can be a beautiful place that doesn't need to be compromised. It's a new opportunity to build something that is an inspiration for everyone, not just Haiti. We aspire to do great things."
When it came to redeveloping Soldier Field in Chicago, Zapata said it took some innovative thinking and planning. "We did about six iterations in six different locations," he said. "Some were done in an asymmetrical way because we needed to control costs. We started thinking a long time ago about contracting the footprint, doing it in pieces of a ring. That's what were going to use in Haiti, first one stand, then lockers, all support the game, then the hills. "Before Soldier Field, there was always a desire to take the N.F.L. module and just plop it on top, the footprint was way to wide. Some people proposed cutting the colonnade in half, or taking the whole thing down. It didn't fly. The Bears at the time had to cut costs, as we do in Haiti. So you try and cut redundancies, and discover that the ring is unnecessary." Can a dose of world-class architecture give Haiti a crop of world-class players? The people, and the children of Haiti, are waiting for a beautiful surprise.