The Haiti Jatropha Corner (10/13/2008)
Posted on:

13 October 2008

By:

Bryan Schaaf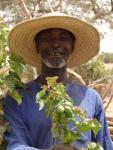 We frequently receive inquiries concerning the use of Jatropha as a biofuel in Haiti.  So far, cultivation has been limited to a handfull of pilot projects. This blog lists these organizations and summarizes several recent articles on the subject.  A previous blog on biodiesel resulted in over 225 comments from people throughout the world interested in Jatropha. If you are interested specifically in jatropha cultivation in Haiti, please post a comment describing your interests.  In that way, this blog can become a conversation about tapping the potential of Jatropha for Haiti.
At present, there are several organizations in Haiti involved in Jatropha production. Working with Share, S.A., Rome Foundation is supporting a jatropha nursery in Ti Goave. Winrock International is supporting several different biofuel projects which you can read about here.  Others include Biocarburants d'Haiti, Centro Hispaniola de Investigacion en Bioenergias y Agricultura Sostenible (CHIBAS), Haytrac, Terminal Varreux, the Integral Rural Development Organization (ODRINO) which operates from Northwest Haiti, and Entreprise Exploitation Jatropha, a Haitian-based biofuel firm that has planted 10,000 seedlings in Lhomond. Green Microfinance LLC founded Jatropha Pepinye, a non-profit Haitian business in Terrier Rouge.  The use of biofuels in the developing world has been actively promoted by the Centre for Management Technology which holds Jatropha World conferences in different locations throughout the world. 
Farmweek ran an interesting interview with Kathleen Robbins, the Director of GreenMicrofinance.  Robbins will discuss her company's Haitian Jatropha project Oct. 21 as a luncheon speaker at the Biofuels and Sustainability Conference at the University of
Illinois. The conference will be Oct. 21-22 at the I Hotel and Conference Center, 1900 S. First St., Champaign. Her project involves Haitian farmers growing native jatropha trees for seeds. Oil from the seeds can be refined to produce biodiesel. The jatropha not only can help reduce erosion in Haiti, but it also could help supply diesel for transportation and power generators. Although much of Haiti was devastated by recent hurricanes, the project's crops and people working them are reported to be fine. Robbins small farmer approach is culturally appropriate in Haiti where the plantation system of agriculture was destroyed during the long struggle for independence.
Conference co-chair Tim Lindsey, the associate director of the Illinois Sustainable Technology Center, will discuss the conversion of waste vegetable oils into fuel. The registration fee is $250. For an agenda and on-line registration, click here.  For questions on registering, contact Amy Hubbard at hubbrd@illinois.edu or call
217-244-9687.
The Miami Herald also ran an article on Jatropha, noting the reverence that Vodouisants have for its mystical properties.   Some believe that Jatropha can purge evil spirits and release the trapped souls of the dead.  The author, Jacqueline Charles, goes on to state that Haiti suffers from chronic shortages of diesel fuel, electricity - just about everything except Jatropha which grows rapidly, even in harsh environments.
The article notes the agreement that the United States and Brazil signed last year to help Haiti, the Dominican Republic, El Salvador and St. Kitts/Nevis explore Jatropha (and other biofuel-producing plants) as an energy source.  Mark Lambrides, the Chief of Energy and Climate Change Division at the Organization of American States (OAS) stated that Jatropha offers a great opportunity for Haiti.
Jatropha is already used by many Haitian farmers as a fence to ward off ever-hungry goats. Any wide scale reforestation program will have to protect young saplings from the goats which eat everything they come into contact with, except jatropha which has a horribly bitter taste. Jatropha can be grown along side, and even protect, corn, sugar cane and other crops without being in competition with them like food based biofuels such as corn ethanol.
According to Charles, Haiti last year imported about $200 million in diesel fuel, with half going for transportation and the rest to run generators. Burning nearly 3.5 million gallons a month of diesel fuel and 219,976 gallons a month of other fuel oil, Haiti's electrical company produced (barely) enough electricity to run the power grid for eight hours a day in Port-au-Prince.  Outside of Port, provision of electricity is much lower than that if it is available at all. There is clearly a need for a new approach. 
Reginald Neol, a Haitian biofuel pioneer, is quoted in the article as saying "'There are about 1.5 million acres of dry and arid land, which is suitable for Jatropha plantations and would create thousands of rural jobs...we can satisfy our energy needs in this country and divert money to our farmers.''  He notes however that Haiti needs the right technology and the right variety of plant.  The Government can best help by creating an environment conducive to investing.  I am not certain where the Haitian Agriculture Minister stands on biofuels but am looking into this.  After hurricane relief operations wind down, an official policy statement by President Preval, an agronomist by training, would be most welcome.
Gael Pressoir, a Haitian plant genetics specialist, is raising funds to build a nonprofit institute that would help determine which varieties grow best in Haiti's climate, which has two rainy seasons a year.  He estimates that 500,000 acres of high yield jatropha could substitute all of Haiti's imported diesel fuel. 
The U.N. Food and Agricultural Organization released a statement urging the Western World to rethink its rush to biofuels, which the agency claims has pushed up food prices significantly.  The agency believes growing demand for biofuels will boost prices of agricultural commodities over the next 10 years.  By way of example, if demand for biofuel agricultural feedstock rose 30 percent by 2010 from 2007, it would drive sugar prices up by 26 percent, maize prices by 11 percent and vegetable oil prices by 6 percent, according to their estimates.
FAO is also concerned that, with the exception of sugar cane ethanol production in Brazil, biofuel production only thrives when subsidised. This is certainly the case with America's nascent ethanol industry. But the article also urges support for second generation biofuels such as non-food plant matter like straw or algae. 
This is the beautiful thing about Jatropha - for Haiti, it would represent technology leapfrogging.  Just as Haiti bypassed telephone poles for cellular phones, so to could the country move aggresively into energy production with a non-food based biofuel. In an agricultural country, a biofuel crop that can survive along side staple food crops in even arid, eroded settings is a blessing. 
Bryan
-Photo Credit: Renewable Energy World