Haiti Innovation Flickr Update (10/23/2009)
Posted on:

23 October 2009

By:

Bryan Schaaf
Don't just read about Haiti, see it! Matt has uploaded a number of interesting new photos to the Haiti Innovation Flickr Site.  They include shots of a Vodoun ceremony, Port au Prince's fragile but beautiful gingerbread houses, coastal life, and grafitti art in Port au Prince.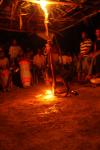 Ah, Vodoun - a vibrant and misunderstood faith.  The spiritual connection to Africa, a celebration of one's roots, the religion of resistance, and for Haiti, of independence. It is very about being alive, being in the moment, being together - a belief system as beautiful and as legitimate as any other in the world.  The crossroads are sacred to Vodoun and here it thrives at the intersection of North America, Latin America, Africa, and the Carribean.  The drums speak to us, can you hear what they are saying?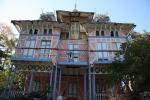 The Gingerbread Houses of Port au Prince are beautiful and fading. The World Monument Fund (WMF) recently placed them on their 2010 Watch List.  Recognize the photos on their site?  Here is what WMF has to say about the Gingerbread Houses: "Nestled in the winding streets of Port-au-Prince's Bois Verna neighborhood, just blocks away from the city's overcrowded downtown, sit elegant, turn-of-the-century houses detailed with fretted wood and intricate latticework. These faded gems of Haitian architecture were nicknamed "gingerbread" houses by American tourists in the 1950s. This period and iconic style of Haitian architecture came to an end in 1925 when new timber frame construction was banned in the city to prevent fire...
...The Gingerbread Houses reflect a time of prosperity and creativity during which Haiti was a vibrant part of the international community, hosting the Paris Exposition in 1900 and incorporating foreign influences into its indigenous art and architecture. The intricate patterns found in the fretwork of these houses are thought to be representative of the traditional vévé patterns traced on the floor to call the spirits to a vodou ceremony...
...Political instability and economic strife have precluded substantive preservation programs in the country for some time, and many of the Gingerbread Houses have fallen into disrepair, including those that have been adapted for commercial uses. The Haitian Education & Leadership Program and the Association of Haitian Architects and Urbanists have proposed restoring a Gingerbread House to serve as a model and resource center for continued preservation efforts and training in the community."
I am a moun mon.  I like the plateau and mountains of rural Haiti.  But there is something very calming about the coast, the steady rhythm of the waves that continue unabated, day and night, no matter what is happening in the over-crowded, every-busy city of Port au Prince.  Being on the water is an opportunity to center and unwind.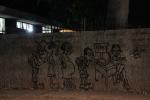 The range of graffiti in Port au Prince has traditionally been pretty limited - "Long live Aristide for 50 years!", "Long Live Aristide in Prison!", "Dont pee on this wall!", and so on.  But Jerry, is unique in that he combines graffiti art and social commentary.  After several weeks, Matt was able to track Jerry down and talk to him about his work....but that's a blog for another day.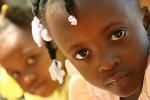 And finally, check out the pictures of children in the countryside.  The future of Haiti depends on whether their rights are protected, whether they receive an education, and whether they can fulfill their potential in their own communities so that they do not feel compelled to move to Port au Prince.
You are welcome to use these photos but please credit Matt Marek and Haiti Innovation.  If you have photos of Haiti, consider sharing them through Flickr as well. 
Thanks!
Bryan